Commentary: Staying open to China travellers is a huge economic gamble for Southeast Asia
Southeast Asia needs Chinese travellers for its post-pandemic economic recovery but staying open to China is a huge gamble with equally big returns, says business writer Raini Hamdi.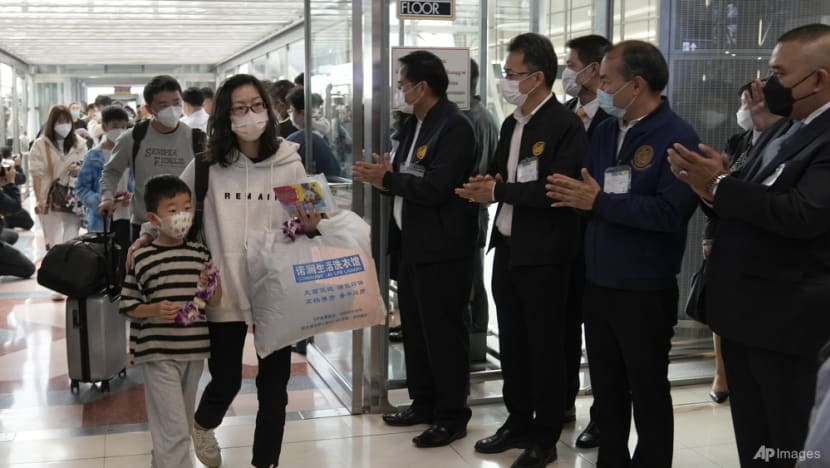 SINGAPORE: Having pined for a return of Chinese tourists, the global tourism industry must now deal with the headaches of having its wish come true. 
Countries are now choosing whether to participate in the Great Reopening immediately, or wait to see how the risks of a fresh COVID-19 wave play out elsewhere. There is already a clear divide.
Southeast Asia seems all for it, with most not imposing any measures. On Monday (Jan 9), Singapore Health Minister Ong Ye Kung affirmed no changes to Singapore's border measures – all travellers are required to be fully vaccinated or have a negative pre-departure test (PDT) result. 
Malaysia is an outlier, announcing on Tuesday it would operate special lanes for China travellers at its international entry points with on-arrival testing. Elsewhere, the United States and some European Union countries have imposed a PDT requirement on travellers from China.
But this is not an East and West divide: Japan was among the first countries to announce a negative PDT requirement; Morocco makes history by being the first country to ban all arrivals from China.
A HUGE ECONOMIC GAMBLE
What it is, is a huge economic and political gamble. Southeast Asia needs Chinese travellers desperately for its economic recovery.
In 2019, the region received around 32 million Chinese visitors, or 23 per cent of its total arrivals, according to ASEAN Statistics Division. Thailand, Vietnam and Singapore were the top three ASEAN destinations for Chinese arrivals, in that order.
By 2020, all received only a fraction of what they used to get in 2019: Thailand, just 1.2 million in 2020 down from 11 million in 2019; Vietnam 900,000 down from 5.8 million and Singapore, 357,000 down from 3.6 million pre-pandemic.
Thailand would be happy if it received just 5 million Chinese tourists this year. A Singapore Tourism Board spokesperson said forecast figures are not available currently. 
But there could be unintended consequences. Could others be deterred from travelling for fear of increased exposure to COVID-19 infection? Will China squeeze out markets such as Indonesia and India, which supported Singapore's tourism industry last year?
Every country is weighing up the potential economic gains against the possibility of offending China. Beijing, bristling from entry restrictions by a string of countries, has warned it would apply "countermeasures based on the principle of reciprocity", saying the restrictions imposed "lack scientific basis". On Tuesday, it suspended visas for South Korea and Japan arrivals.
What narrative the science sells depends on where you are. Western politicians and health experts argue that millions of Chinese increase the risk of another "game-changing" variant emerging.
Those in Southeast Asia assuage such fears by flagging high immunity and vaccination rates, along with more than two years of experience in handling COVID-19. Singapore said about 40 per cent of the population have been infected, 56 per cent with up-to-date vaccination, while healthcare capacity has also been boosted.
NO GREAT REOPENING PLAYBOOK
But there really isn't a crisis management playbook for the Great Reopening. If Southeast Asia is taking this big gamble, what is left is for it to deal with the decision, prepare and adapt to reopening as it unfolds. 
There will be confusion. Thailand announced on Saturday a requirement for all international arrivals, not just from China, to be fully vaccinated – only to rescind it just two days later, on the day it was to take effect, after the tourism sector pointed out the fallout.
There will be unease. One is the psychological discomfort of serving Chinese travellers among frontline workers, which Arthur Kiong, CEO of Far East Hospitality Management, told me "is real".
"We assure them that Singapore has herd immunity and that all incoming travellers are vaccinated while those who aren't are tested prior to entry. We ensure they have received their latest booster shots. It is natural to have the psychological fear initially but our team members will be masked up and their medical costs are relatively well covered in the unlikely event anyone falls ill," Kiong told me.
The hope is that any anxieties will gradually fade as the momentum of Chinese travellers gradually picks up. Singapore currently runs less than 10 per cent of the pre-pandemic number of weekly flights from China and is looking to "carefully restore" air connectivity.
SOUTHEAST ASIA COULD WIN BIG
But what do Chinese travellers think of the world's reaction to their regained travel freedom? If they are anything like avid and intrepid tourist Wendy Min, international trips by Chinese will shoot up faster than Thailand's about-turn.
Min works with an online travel agency, but speaking as a traveller, told me that she would rather go through the paperwork and COVID-19 tests than be stuck without any international travel after all this time. 
She described new border measures as "only temporary", adding that her Chinese friends are more worried about losing their luggage, facing flight delays and cancellations in Europe, and experiencing bad customer service due to labour shortage. Just like all travellers.
"Personally, I think there's a significant drop in Chinese-speaking staff such as drivers and guides, and rehiring them to meet the demand of Chinese travellers will be a challenge. I observed this while travelling in Australia and Southeast Asia," said Min. 
Unfortunately, not all Chinese travellers may think the same way. Some are avoiding places that are not letting them in easily, favouring more "welcoming" countries, according to a CNBC report. 
This could give Southeast Asia a big win, especially if Beijing takes further retaliatory action against countries that impose new restrictions on Chinese travellers.
Beijing has in the past issued travel bans or warnings in state media that can hold Chinese tourists back from specific destinations. In 2019, it warned citizens not to travel for work or study to the US as trade tensions between the two economies escalated.
Trip.com Group CEO Jane Sun is "prudently optimistic" travel volumes will be back by the end of this year. 
But a subsequent COVID-19 wave and how this is portrayed within the differing reopening narratives might undermine Singapore's hitherto strong stature in how we have handled COVID-19 and set our reputation back, as hotel CEO Kiong noted.
No gamble is risk-free.
Raini Hamdi is a Singapore-based business journalist who writes on hospitality, travel and tourism in Asia. She is Pacific Asia Travel Association Journalist of the Year and has authored two books on hospitality.