Chinese tourists yet to make hotel bookings in Singapore amid uncertainties over rules
Around the world, China's emergence from isolation is getting mixed reactions, with Europe abuzz with excitement and Thailand cautiously optimistic.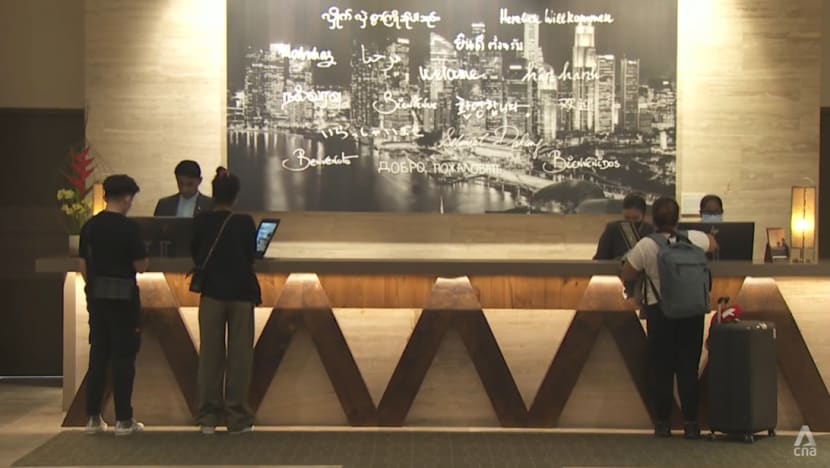 SINGAPORE: Hotels in Singapore are anticipating tourist arrivals from China as the country reopens its borders after three years.
Enquiries are coming in hot, exceeding pre-pandemic figures, but an increase in bookings has yet to materialise, hotel representatives told CNA.
Sales and marketing director at Pan Pacific Singapore Luke Li said that there is a "surge of visitors" to its brand's website.
"However, the real bookings are coming in at a slow pace currently," he said.
"A lot of Chinese tourists are still waiting, adopting a 'wait and see' attitude. So, I think they are not really making the bookings yet."
While there is interest from Chinese tourists to visit Singapore, China's Culture and Tourism Ministry has not indicated whether tour groups can organise outbound trips to these places, said Mr Steven Zhao, who used to run his own tour agency in China.
Uncertainties over logistics remain as well, and Chinese tourists are worried about higher costs if policies change.
"Will a visa be given out by the Embassy of Singapore in China? And if the visa has been approved, and the hotel room has been booked - what if the Singapore government does not allow Chinese citizens to pass its borders?" Mr Zhao asked.
Mr Li said the hotel is preparing to handle an influx of tourists if it happens.
"We are always recruiting staff and also training our staff to make sure that when demand comes back, we are ready for it," he said.
THAILAND LOOKS FORWARD TO CHINESE TOURISTS
Around the world, China's emergence from isolation is getting mixed reactions.
Europe is abuzz with excitement, while other countries like Thailand are cautious about having high expectations.
Thai tourism authorities are keeping their expectations low, as they do not expect the relaxing of restrictions in China to translate to droves of Chinese tourists flocking to their country immediately.
"We don't expect (that) a million Chinese will be visiting Thailand in one month," said Mr Tanes Petsuwan, deputy governor for International Marketing Asia and the South Pacific at the Tourism Authority of Thailand.
Instead, the country expects a gradual increase, with 60,000 Chinese tourists in January, 90,000 in February and more in the following months, he said.
"We believe that in March, the operation of flights will stay in good shape. Perhaps we'll move over six digits - so 150,000 would be expected for the Chinese for March. The whole number in the first quarter will be around 300,000," he added.
Overall, Thailand expects 5 million Chinese visitors in 2023. Tourists from mainland China accounted for a quarter of all arrivals in Thailand before the pandemic.
Chinese-speaking tour guide Saichol Chounchou is buzzing with excitement.
"I already had lots of people calling me and I told them all they can come. If you don't have COVID, you can come. Thailand is now wide open for everyone now," he said.
MIXED REACTIONS FROM SOUTH KOREA, EUROPE
While Thailand has not introduced any special measures for Chinese tourists despite an ongoing COVID-19 wave in China, South Korea is among the countries that have.
South Korea has tightened immigration requirements for visitors from China since Jan 2, which now include a negative COVID-19 test result before they board their flights for the country.
They are also kept separate from others at the airport and have to undergo a COVID-19 test upon arrival that costs 80,000 won (US$64) at their own expense. They can proceed with their travels if the result, that takes a few hours, shows that they are free from the virus.
Positive cases, however, will have to quarantine themselves for seven days at their own expense at designated facilities.
Meanwhile, cities in Europe like London, Paris and Berlin are preparing for a boom in business, as they hope that the multi-billion-dollar travel sector between the continent and China will soon flourish once more.
"We've missed the Chinese market immensely. Pre-pandemic, it was a very big segment for us. Without that business over the past two years or so, it's obviously been very noticeable so hopefully when China does fully reopen, we hope to see a big return to a lot of Chinese travel," said Mr Fergus Stewart, chief executive of Lancaster Landmark Hotel Company.
Additional reporting by Lim Yun Suk and Trent Murray