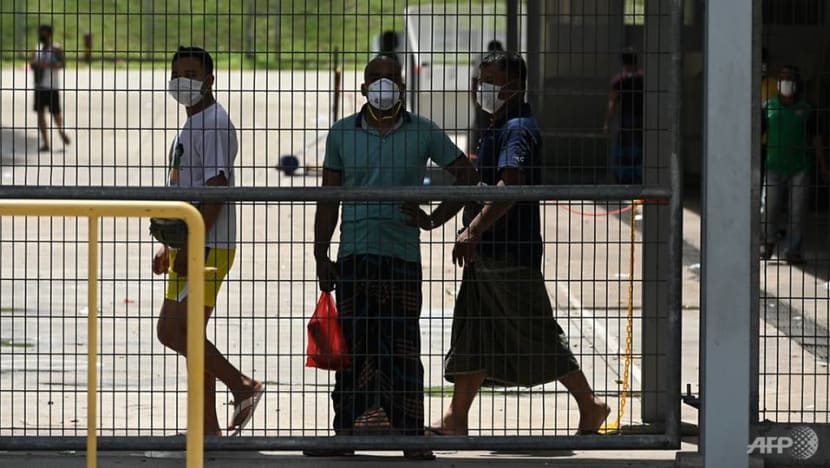 SINGAPORE: Migrant worker Ahmed Shamim wants to go to East Coast Park next month to cycle and enjoy the fresh air, something he has been unable to do for at least a year.
The 32-year-old was happy to hear the announcement last week that come Dec 3, more workers like him, who live in dormitories, can make community visits.
Last Monday (Nov 15), Manpower Minister Tan See Leng said at a COVID-19 multi-ministry task force press conference that restrictions for migrant workers living in dormitories will be gradually eased.
Expanding on a pilot programme, authorities will allow 3,000 vaccinated migrant workers a day to visit any location in the community, for up to eight hours a visit. This is up from 3,000 workers a week currently, with visits limited to Little India and Geylang Serai.
The workers have to take a pre-event antigen rapid test before they leave their dormitories as an added precaution.
For months now, Mr Ahmed's life has revolved around work and his dormitory, and visits to the recreation centre near his dorm.
"(Being) able to go somewhere, maybe once a month, is something good for us, for mental health," he told CNA.
He misses being able to meet his friends on Sundays and public holidays, he said.
But he also spoke about how he only has days off on Sundays and his hours are long during the rest of the week, which means he has a limited window in which to book a slot to leave his dormitory.
"If they allow us to go every day, we cannot go ... we don't have time," he said. "Sometimes Sunday also, we need to work."
Activists and non-governmental organisations (NGOs) for migrant workers also expressed such concerns.
Mr Alex Au of TWC2 called the daily quota of 3,000 workers "micro-management by bureaucrats".
"It would be more helpful to employers and workers if we simply relaxed all controls and let workers leave their dorms on any day," he said. 
"All we have to do, especially since 98 per cent of them have been fully vaccinated, is to ensure that they observe the same safe distancing measures applied to other Singaporeans."
Former Nominated MP Anthea Ong said she is "slightly relieved" at the latest easing of restrictions but highlighted that 3,000 workers a day is a small percentage of the roughly 300,000 workers living in dormitories.
"More than a few migrant brothers have shared how they feel anxious, disappointed, sad, discriminated against and hopeless because they could not understand why they are confined for so long when they are vaccinated like the rest of Singapore," she said.
Responding to CNA queries, the Ministry of Manpower (MOM) said workers can choose their timeslots to visit the community and recreation centres using the Exit Pass system.
On the issue of the workers' rest days, the ministry said it has encouraged employers to stagger days off across the week for workers who reside in dormitories. 
"This will allow the workers to plan ahead and apply for an Exit Pass via the SGWorkPass mobile application to visit the community and recreation centres," said an MOM spokesperson.
According to MOM's advisory, employers can choose and stagger the workers' designated rest days online. Workers deployed to projects and works that can't take place on Sunday will be assigned Sunday as a rest day. 
These include renovation work and projects that are affected by the National Environment Agency's No Work Rule on Sundays and public holidays.
One construction firm owner CNA spoke to, who declined to be named, said that their building works are often affected by such regulations and thus their workers can only rest on Sundays.
For such workers, employers can appeal for them to rest on Sundays, according to MOM's website.
The Migrant Workers' Centre (MWC) said the rules that prohibit works on Sundays at construction sites are to protect public health, which explains why many migrant workers are off on Sundays.
Therefore the staggered rest days during the week may not be maximised, but there are also safe management measures at worksites that include staggering the number of workers at the worksite at any time.
"This might leave employers with no option but to schedule off days during the week for workers not rostered for work," said MWC executive director Bernard Menon.
"At the MWC Recreation Club, we see an increase in migrant workers coming every day throughout the week. We have gone from practically zero on any weekday to 2,000 and more."
This indicates that rest days or not, migrant workers are coming out of the dormitories and into recreation centres much more than before, he added.
MOM said that its Assurance, Care and Engagement (ACE) Group is also collaborating with NGOs and community partners to increase the variety of activities at the recreation centres, such as organising futsal games and movie and sports screenings in the coming weeks. 
"MOM will continue to monitor the situation and ease restrictions progressively and safely," it said.
SOCIAL ISOLATION WORRYING: NGO
Mr Michael Cheah, executive director of HealthServe, said that life has been tough for this marginalised group and the social isolation has led to a worrying increase in their mental distress and even suicide risk. 
"It is a relief that vaccinated workers are finally, gradually being allowed back into the community. This sense of autonomy, freedom and independence, which they have not been able to experience for almost two years, is very important for their overall well-being."
The medical NGO expects to see a backlog of workers who have not been able to receive timely or proper treatment for chronic medical conditions and other health concerns.
"Given the high vaccination rate among migrant workers, we hope to see further easing of restrictions progressively," he added. 
"For one, allowing workers living in dormitories to cook their own food, which may be a small gesture to some, can be very empowering for them."
Finance Minister Lawrence Wong, who co-chairs the COVID-19 task force, said on Saturday that the Government is taking an incremental approach to easing restrictions for migrant workers as with the rest of Singapore.
"We are very aware that our migrant workers need that time, need that space to go outside. And that's why besides allowing them to go out to the community, we also have eased up considerably their time in recreation centres," he said at a press conference where the relaxing of dining-in and social gathering restrictions was announced for the wider community.
Authorities will monitor the new measures for migrant workers over the next one to two weeks, and continue opening up gradually if the situation remains stable, he added.