SINGAPORE: Residents in Ang Mo Kio, Bishan and Toa Payoh can now cycle more conveniently between and within their towns with the completion of 14.5km of new cycling paths.
In a media release on Saturday (Oct 1), the Land Transport Authority (LTA) gave an update on the ongoing development of cycling paths in Singapore.
Seven kilometres of cycling paths have been added in Ang Mo Kio, expanding on the existing 4km, LTA said.
"The new paths will provide stronger first-and-last-mile connectivity to Mayflower and Lentor MRT stations."
The wider cycling path network also provides easy access to amenities in the area such as town centres, hawker centres and parks, as well as schools including Ang Mo Kio Primary and Secondary, Townsville Primary and Pathlight Schools.
LTA noted that creating space for new infrastructure in mature towns may require more extensive works. The authority added that it worked closely with other agencies and organisations to repurpose road space along Ang Mo Kio Street 22 and 43. 
"In particular, two lanes along Ang Mo Kio Street 43 were converted to new cycling paths to provide a safer and more comfortable experience for walking and cycling. Such measures help us create a more inclusive land transport system, that benefits pedestrians, cyclists, and the community."
Works are still ongoing for another 16km of cycling paths, slated for completion in 2026. These paths will cover most main roads in Ang Mo Kio town, the new Linear Park running along Ang Mo Kio Avenue 8 and within Ang Mo Kio Town Garden East, which will connect the park to Ang Mo Kio MRT station.
Barrier-free access to the park will also be provided for seamless connectivity. When implemented, the total network of cycling paths for Ang Mo Kio Town will span 27km, LTA said.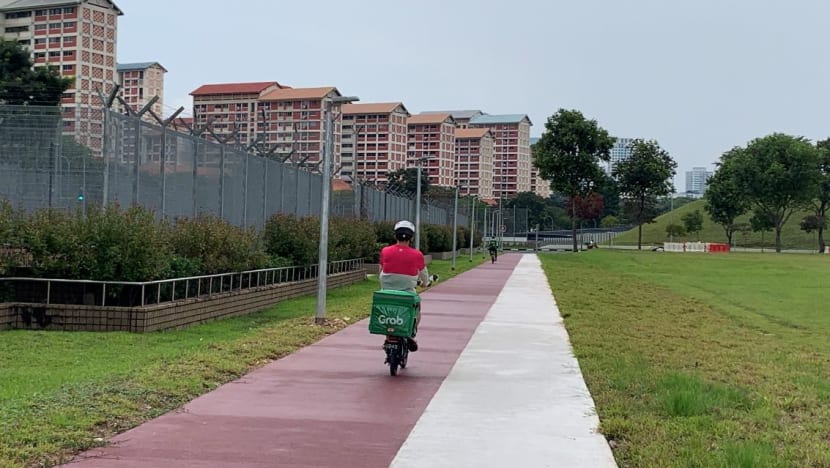 BISHAN AND TOA PAYOH
Close to 4km of the planned 7.7km Bishan Town cycling path network has been completed, LTA said. Residents can cycle from Ang Mo Kio to Bishan town, with access to Bishan MRT through the park. 
The network also complements the existing Kallang Park Connector, providing Bishan residents with active mobility connectivity to Kallang Riverside Park.
The remaining 3.7 km of the cycling path is expected to be completed in 2023. When finished, Bishan residents will be able to cycle seamlessly to reach key amenities within the town, said LTA.
About 3.5 km of cycling paths in Toa Payoh Town have been completed, with the remaining 5.5km slated for completion in 2023.
LTA said that completed cycling paths will progressively open for use once they are ready for residents to immediately enjoy their benefits.
"When fully completed, the Toa Payoh cycling path network will provide active mobility connectivity to Braddell and Toa Payoh MRT stations, key amenities such as HDB Hub, markets, parks as well as schools in the town."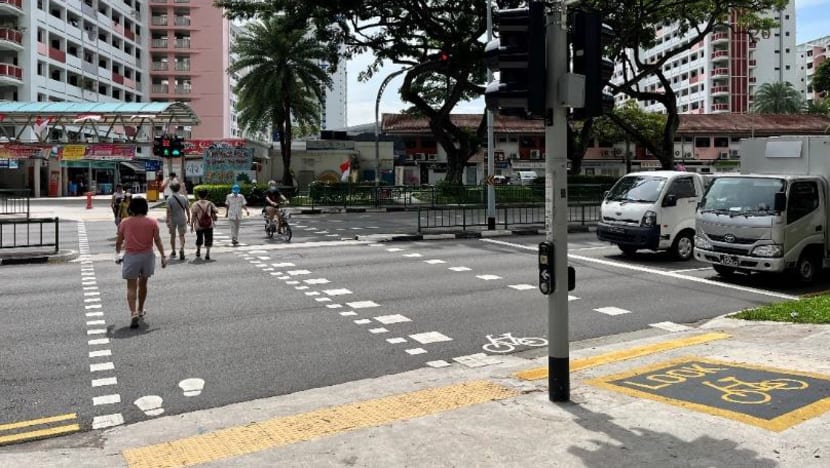 THE ISLANDWIDE CYCLING NETWORK PROGRAMME
The LTA's Islandwide Cycling Network programme aims to expand the cycling paths island-wide to around 1,300km by 2030, allowing active mobility users to travel safely and seamlessly to their destinations.
The programme is a key pillar in efforts to foster a safe and gracious active mobility landscape, LTA said.
"Our infrastructural enhancement efforts go hand in hand with regulatory measures to address path and device safety concerns."
The authority noted that regulations on device specifications, speed limits and where devices can be used are firmly in place. 
Other measures to detect and stem the inflow of non-compliant devices, including periodic inspections of e-scooters and import controls on motorised personal mobility devices and power-assisted bicycles, have also been introduced.
These efforts have resulted in a significantly safer active mobility landscape, LTA said, adding that the number of active mobility-related accidents on public paths and fires incidents have dropped by around 50 per cent over the last two years.
The number of offences detected on public paths have also decreased, as the public grows accustomed to the new active mobility rules after "after strict enforcement and concerted public education efforts".
"The number of accidents on paths fell from 303 in 2019 to 155 in 2021, while the number of fires involving motorised active mobility devices fell from 116 in 2019 to 63 in 2021," said LTA.
"LTA will continue to promote the take-up of active mobility through expanding our cycling infrastructure as well as keeping up our public education and enforcement efforts to ensure safety for all path users."