DBS raises interest rates again for Multiplier savings account
Interest rates for the DBS Multiplier accounts have been increased to up to 4.1 per cent per year.
SINGAPORE: DBS raised its interest rates again for its flagship Multiplier savings account on Tuesday (Nov 1), increasing the maximum interest rate to 4.1 per cent per year from 3.5 per cent. 
This comes after OCBC increased its interest rates for its 360 savings account to 4.65 per cent per year on the customer's first S$100,000 when they credit their salary, save, and spend with the bank. 
The DBS Multiplier scheme offers customers tiered interest rates of up to 4.1 per cent on the first S$100,000 in their account. The interest rates are tiered according to salary, spending and transactions in categories.
To achieve the maximum 4.1 per cent, customers need to credit their salary, dividends or SGFinDex to the account. They also need to spend S$30,000 or more in any three categories. The categories are credit card spending, home loan instalments, insurance and investments.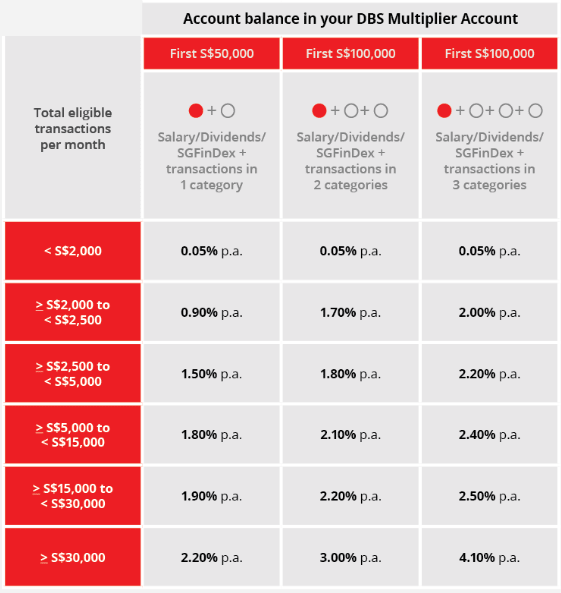 DBS, Singapore's largest bank, said it raised its balance cap to S$100,000 so that customers can earn higher interest. DBS last raised interest rates for its Multiplier account in August before the latest move.
Mr Jeremy Soo, DBS' managing director and head of consumer banking group for Singapore, said: "The impact on our customers' wallets due to persistent market volatility and surging inflation cannot be ignored, so there isn't a more crucial time than now to enable our customers – via our comprehensive range of solutions – to manage their finances prudently and make their hard-earned savings work harder for them."
Amid an environment of high interest rates, banks in Singapore have been making a push to remain competitive in the fight for deposits. 
UOB last announced higher interest rates for its flagship savings account in August.
In response to CNA's queries, UOB said on Tuesday: "We are committed to help our customers build up their savings with the suite of deposit offerings we have, including current and savings accounts and fixed deposits.
"We are constantly reviewing our deposit rates, to ensure that they remain competitive in view of market developments."