Death of NSF Dave Lee: SAF to enhance prevention, management of heat injuries following review
Measures such as the Arm Immersion Cooling System and the use of the purpose-built cooling pads will be extended across the Singapore Armed Forces from this August.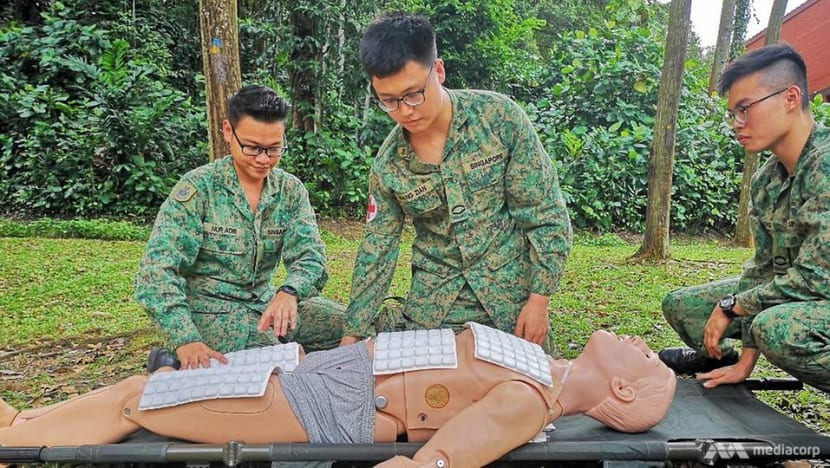 SINGAPORE: The Singapore Armed Forces (SAF) will be implementing several measures to fine-tune its management of heat injuries.
These would include preventive and early detection, providing effective cooling for those with heat injury as well as the rapid evacuation of such cases, as recommended by an external panel looking at its heat injury management processes.
This was announced by Defence Minister Ng Eng Hen as he delivered a statement in Parliament on Monday (Aug 6) regarding training deaths during National Service. 
The Ministry of Defence (MINDEF) had in May commissioned an external review panel – which includes medical professionals from Singapore General Hospital, Changi General Hospital and Khoo Teck Puat Hospital - on heat injury management to examine the SAF's heat injury policies and processes. 
This was after the death of Corporal First Class (CFC) Dave Lee on Apr 30 nearly two weeks after "displaying signs of heat injury" following a fast march at Bedok Camp.
In its report that was presented to Defence Minister Ng Eng Hen on Jul 23, the panel found that the SAF's heat injury measures were "generally sound and aligned with prevalent industry and foreign military practices". The army's Training Safety Regulations (TSR) on hot weather operations were broadly similar to regulations by advanced army forces like those in the US, UK and NATO, it added.
The organisation last did a major review of its heat injury prevention measures in 2013 to address a rising trend of heat injuries, and "succeeded in reversing the trend", the panel observed.
In its report, the total number of heat injuries declined from 27 in 2012/2013 to 20 in 2017/2018. However, heat stroke cases – while dropping from eight to five in the same period – saw a rise from zero cases in 2015/2016 to five in 2017/2018.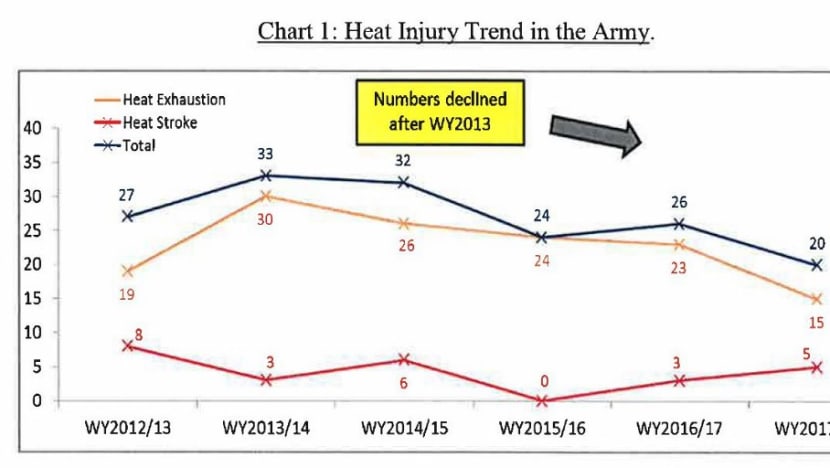 SAF, the panel said, has put in place a broad range of heat injury measures and invested "substantial resources" to prevent and treat heat injuries such as in research studies, improved load-bearing vests and uniforms, specialised cooling equipment and a responsive casualty evacuation system.
The training provided to SAF medical officers and medics are "in line with national requirements", it added. 
Colonel Tong Yi Chuen, head of Army Safety Inspectorate, said in a media briefing that from its investigations of the number of heat stroke and heat exhaustion cases over the past few years, it has found that the "causal factor for most of these cases is highly motivated soldiers". 
That said, the five-strong panel made several observations and recommendations that it bundled under three key themes:
Finetuning the SAF's heat injury prevention measures
Ensuring early recognition and evacuation of heat injury cases
Providing effective cooling to heat injury casualties
ENHANCING PREVENTIVE MEASURES
On the point about SAF's heat injury prevention measures, the panel was informed that the US Army and Australian Defence Force, for one, has implemented a cooling measure known as Arm Immersion Cooling System (AICS) for soldiers training in hot conditions to immerse their arms in cool water of a recommended 10 degrees Celsius during rest breaks.  
SAF, too, has promoted this measure as a best practice and used selectively during strenuous training in units like the Basic Military Training Centre (BMTC), Specialist Cadet School and Officer Cadet School, the panel noted, and recommended for this to be implemented across the whole SAF.
On its part, SAF said AICS has been found to be effective in cooling body core temperature as water removes heat more effectively than air.
As such, it will be implementing AICS across the army in phases from this month, starting with BMTC. This will be mandatory for all fast marches and route marches spanning 12km and more, although SAF will continue to evaluate its use for other activities like the Standard Obstacle Course (SOC).
COL Tong also said as part of SAF's internal reviews in the past three years, the other heat prevention measures included the introduction of the Heat Stress Monitor in 2015 to allow commanders to monitor atmospheric temperature. He also pointed to the hybrid uniform for army combat units that better help dissipates heat.
REDUCING BARRIERS FOR SELF REPORTING
The SAF will also be strengthening the open reporting system by more actively encouraging soldiers to report safety concerns using the Army service hotline. COL Tong said this would include emphasising to commanders about the hotline and getting them to encourage soldiers under their charge to use it where necessary.
Besides phoning in their concerns, soldiers can also report via WhatsApp, Telegram or Viber, he added.
He said the hotline was established since 2011, and it receives an average of 50 calls every year. Some of the calls were to inform of safety hazards while others were made by concerned parents, COL Tong added.
Commander of Army Training Doctrine Command (TRADOC) Brigadier-General Kenneth Liow also stressed in the same briefing that every report made will be investigated.  

This was an area highlighted by the external panel, which said in its report that many soldiers may be reluctant to opt out of training for a variety of reasons, including individual volition, peer pressure or desire to avoid weekend make-up training.
"The panel's view is supported by the army's finding that many heat injury cases arose as a result of over-zealous soldiers pushing themselves beyond their limits," it said in the report.
"The army would need to address the barriers that are discouraging soldiers from self-reporting if they are feeling unwell."
It also recommended to expand the army's list of risk factors that may predispose someone to heat injuries, which currently stands at 16. The additional factors, gleaned from foreign military guidelines, include: Inexperienced soldiers, alcohol intake, use of supplements and salt depletion.
Chief Army Medical Officer Colonel (Dr) Edward Lo explained that while its current list of risk factors is comprehensive, the external panel's recommendation showed that they did not want to leave any stone unturned.  
PROVIDING MORE EFFECTIVE COOLING EQUIPMENT
The external panel noted that Body Cooling Units (BCUs) are currently used in 30 SAF medical centres and are the main equipment used for treating heat injury casualties. They are also used in three hospitals: Singapore General Hospital, Changi General Hospital and Ng Teng Fong General Hospital.
However, while BCUs have served SAF well, the panel said research suggests newer and more effective cooling methods are available in the market. One such option is the EMCOOLS Flex.Pad, which is a portable cooling system "superior to the BCU".
SAF, in turn, has accepted the recommendation and said it will replace the current use of six ice packs to this purpose-built cooling pad as its on-site cooling measure when there are suspected heat injuries. 
It said these pads cool 15 times faster than ice and 58 times faster than water, while in a study done by the SAF and DSO National Laboratories, the pads demonstrated a cooling rate of 0.12 degrees Celsius per minute, which is about four times faster than the 0.03 degrees Celsius per minute by ice packs.
These pads will be implemented across SAF from August, starting with BMTC in Pulau Tekong.
During a demonstration of cooling pads, Major (Dr) Teo Rui Ming said BMTC will be the first recipients as it has the "highest risk of heat injuries".
The pads are not new though, as it is used in overseas training and by the Emergency Ambulance Services, MINDEF said.