Deliveroo, foodpanda rider accounts for sale on Carousell that could allow foreigners to work illegally
Only Singapore citizens and permanent residents are allowed to work as delivery riders for companies like Grab, Deliveroo and foodpanda.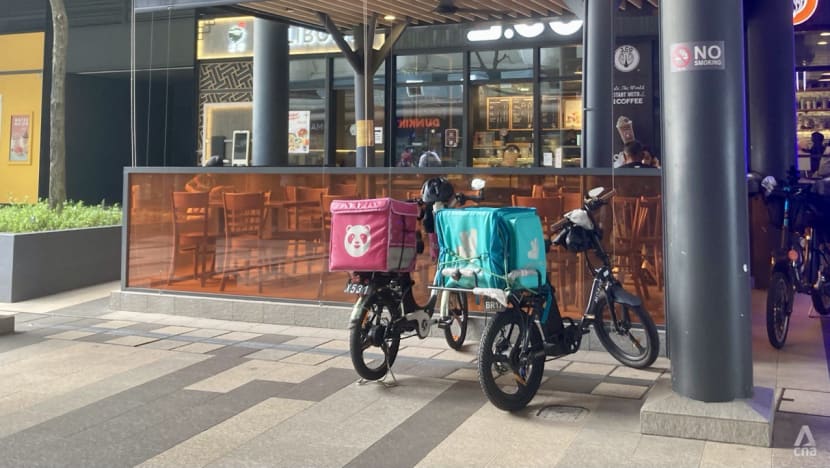 SINGAPORE: Deliveroo and foodpanda rider accounts which could allow foreigners to work illegally for the delivery companies are being offered for sale on Carousell, with listings being posted as recently as last week, checks by CNA found.
The listings are by individuals who are offering full access to rider accounts.
For S$1,100 (US$820), one seller offered to hand his entire account over to this reporter posing as an interested buyer – "everything change except name".
A different listing read: "1 time payment & account is yours."
Others charged a weekly or monthly rent to use the account.
"Renting out foodpanda account to those who want to earn extra income, payment is on every Wednesday," a listing stated.
A seller who responded to this reporter's questions said rent would be charged at S$60 a week or a discounted monthly rate of S$210.
Money earned through making deliveries on the app would be transferred to the buyer after deducting the rental fee, the seller said.
Yet another listing detailed four monthly plans that renters could choose from, in addition to the option of buying the account over. 
CNA found 10 listings in total, all selling or renting foodpanda or Deliveroo rider accounts. No GrabFood accounts were listed.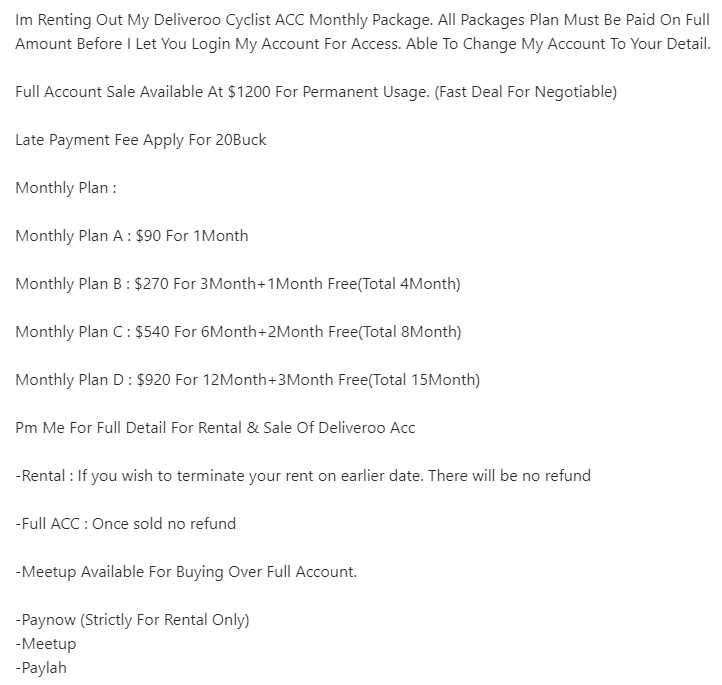 What was left unsaid on the Carousell listings is that people interested in obtaining such accounts are likely to be foreigners. Only Singaporeans and permanent residents can legally work as riders for food delivery platforms. 
Mr Luqmanul Hakim, a local delivery rider, told CNA he also found food delivery rider advertisements in a Facebook group for Malaysians looking for jobs in Singapore. When he replied to one such listing by posing as an interested buyer, he was told he would be working as a rider for foodpanda or Deliveroo.
When CNA contacted the same person, she said vacancies were closed, but that she would reach out if a delivery rider position opened up.
SECURITY MEASURES IN PLACE: DELIVERY PLATFORMS
In response to queries from CNA, foodpanda said it has measures in place to detect improper use of its accounts.
For example, it introduced a "selfie verification" feature in October 2022. Delivery riders must take a selfie of themselves before the start of their shift. Those who are caught exploiting the verification process may have their accounts suspended or potentially blacklisted, foodpanda said. 
Deliveroo's website states that riders are allowed to appoint substitutes to use their accounts, but these substitute riders have to meet age and residency requirements, among others.
"We have a number of measures to identify fraudulent behaviour and keep these measures under regular review, including (trialling) and rolling out facial verification checks across our international markets with the aim of bringing this to Singapore soon," Deliveroo said.
The company added that it encourages riders to report anyone they believe to have violated the rules.
In response to queries, Carousell said it is "not privy to and not in a position to enforce" the agreements made between the food delivery platform and the rider.
"However we will review on a case-by-case basis if the platform is able to provide evidence of known illegal activity," its spokesperson said.
When chatting with two sellers of Deliveroo accounts, this reporter asked what would happen if there was an in-person spot check by the platform.
In both cases, the sellers said only Grab does spot checks.
"They won't," one said, adding that others have used the account before with no issues. "Don't have to worry, not like Grab."
Grab staff have been known to do spot checks in person to ensure that verified riders were the same people using the accounts.
The company introduced selfie verification in 2019 to prevent account sharing, a spokesperson said. 
The feature prompts riders for a selfie when they log in, and at random intervals every few hours or days. The verification process was stepped up in 2022 to prompt riders for a selfie check after they complete certain bookings.
As to how foodpanda riders are able to circumvent the selfie verification check, local delivery rider Mr Luqmanul showed CNA a foodpanda memo where riders were told to upload their photo on the app for future selfie verifications.
"If your daily Selfie Verification does not look like the personal picture you uploaded previously, please re-upload your personal picture by 14 May 2023," the memo said.
Mr Luqmanul said he was given the login details to a foodpanda rider account and told to change the account's photo to one of himself. According to the instructions he was given, after uploading his photo, he could start booking shifts.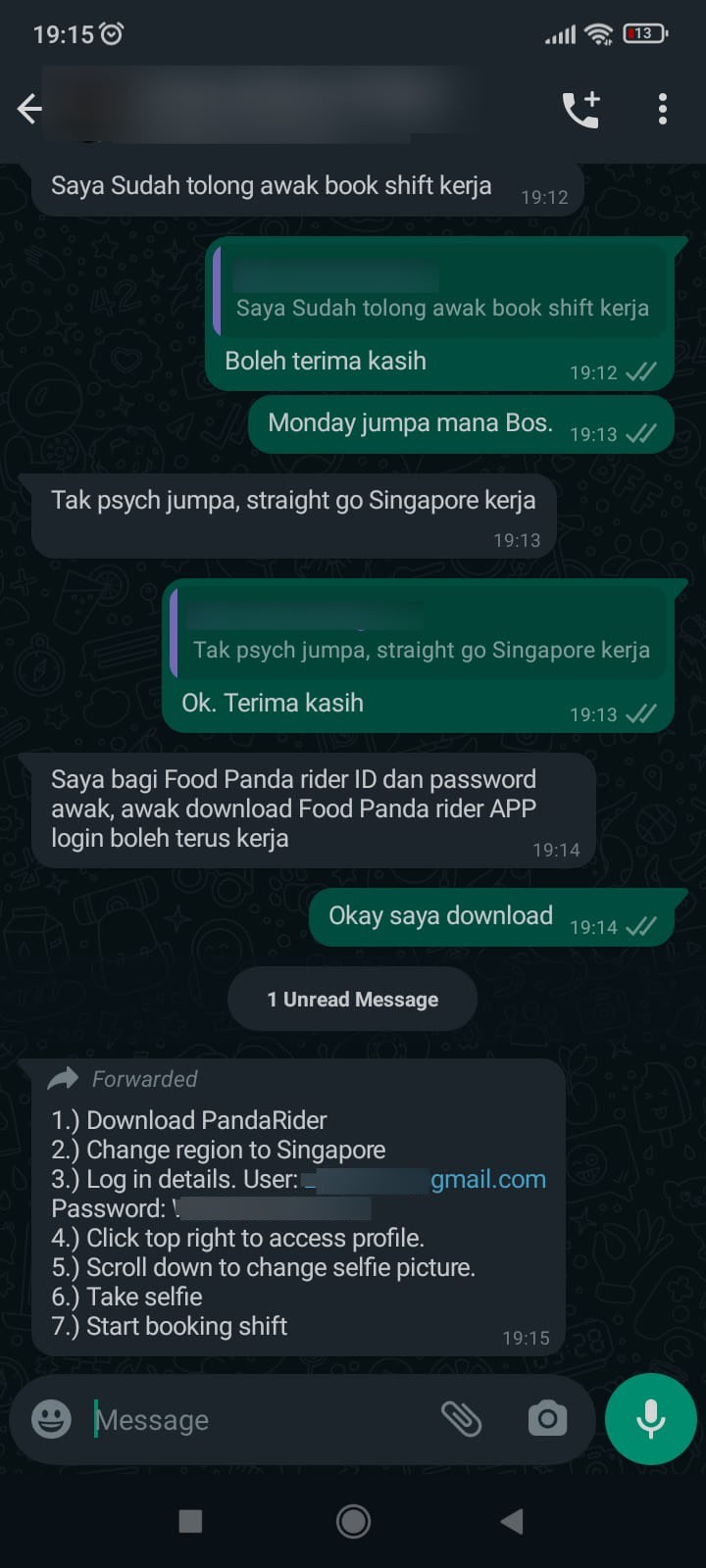 PAST CASES
In 2020, a Singaporean man was fined S$5,000 for letting a Malaysian man use his foodpanda and Deliveroo rider accounts.
The issue returned to the spotlight in March this year, after Facebook page SG Road Vigilante posted a video of a man confronting a rider for "doing our local delivery job".
"You are not supposed to come to Singapore (to) do this," the man said.
The Ministry of Manpower is investigating the matter.
CNA has also contacted authorities to find out if others have been caught selling their accounts or doing food deliveries illegally in Singapore.
Under the Employment of Foreign Manpower Act, foreigners found to have worked illegally as food delivery riders – and anyone who abets the offence – can be jailed up to two years and fined up to S$20,000.