NEA, Temasek Foundation arm students with mosquito repellents as dengue cases spike
Almost 22,000 cases have been reported so far in 2022, compared to a total of 5,258 in 2021.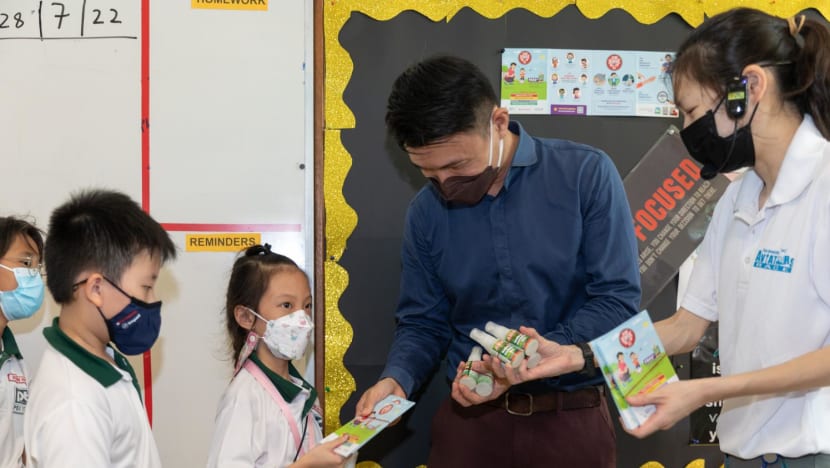 SINGAPORE: The National Environment Agency (NEA) and Temasek Foundation will provide mosquito repellents to all students in pre-schools and primary and secondary schools from Thursday (Jul 28), amid a surging number of dengue cases as well as the traditional peak season for the virus.
Almost 22,000 dengue cases have been reported in 2022 so far, compared to a total of 5,258 cases reported last year, said NEA and Temasek Foundation in a joint statement on Thursday.
Senior Parliamentary Secretary for Sustainability and the Environment Baey Yam Keng urged students, parents and caregivers to "take urgent collective action in the fight against dengue" as he kicked off the distribution of 30ml repellent bottles to about 800,000 students islandwide.
Each bottle of repellant will come with an educational pamphlet.
Beneficiaries of ComCare assistance can also collect the mosquito repellents from their nearest social service office.
Schools have also taught their students how to prevent mosquito breeding. For institutions located in dengue cluster areas, parents have been strongly advised to ensure that their children have applied mosquito repellent before they leave for school, said NEA and Temasek Foundation.
"With dengue infections on the rise, we cannot remain complacent. Let's break this cycle of transmission," said Temasek Foundation's head of community networks and partnerships Woon Saet Nyoon.
"We can stay prepared by encouraging each other to take conscious measures like applying mosquito repellent when we are outdoors and ensuring that our homes do not provide breeding grounds for the Aedes mosquito."
DENGUE UPDATE
NEA and Temasek Foundation noted that the risk of dengue transmission remains high with 400,000 households located in close to 300 clusters islandwide.
In June 2022, the Aedes aegypti mosquito population was also about 2 per cent larger than in the same period last year.
Last month, it was announced that specially bred male Wolbachia-Aedes mosquitoes would be released in eight more public housing locations, covering an additional 1,400 HDB blocks in July.
These male mosquitoes are infected with the Wolbachia bacteria and when they mate with urban female Aedes aegypti that do not carry Wolbachia, the resulting eggs do not hatch.
In their joint release on Thursday, NEA and Temasek Foundation encouraged members of the public to download the myENV app to alert them when a dengue cluster or high mosquito population is near their homes.
"Every individual's action matters, and together, we can fight dengue and protect ourselves and our loved ones," they said.