'Should have started this years back': Most hawker centre diners clear trays on first day of enforcement
Diners at hawker centres must clear their tables of used trays, crockery and litter after their meals, with enforcement starting from Sep 1
Cleaners said the situation at hawkers centres is "better", with more diners clearing their tables
Diners welcomed the move as a "good" practice
SINGAPORE: Most patrons at hawker centres have been clearing their trays and leaving behind clean tables, as enforcement rules against table littering kicked in Wednesday (Sep 1), observed workers at these public dining places.
There were a handful of diners who did not do so, but most cleaners and patrons CNA spoke to said they welcomed the new regulations and that the clearing of trays was a "good" practice to cultivate.
The National Environment Agency (NEA) announced in May that diners at hawker centres must clear their tables of used trays, crockery and litter after their meals, with enforcement starting from Sep 1. This comes after a three-month advisory period.
First-time offenders will receive a written warning. Second-time offenders will face a composition fine of S$300, while subsequent offenders may face court fines.
However, enforcement will not be taken against those who are "clearly unable" to return their trays, such as the frail elderly or young children who are unable to purchase and carry their own food to the table, said the National Environment Agency in an update on Monday.
From Jan 1 next year, the table littering rule will also be enforced for diners at coffee shops and food courts, after an advisory period from Nov 1 to Dec 31.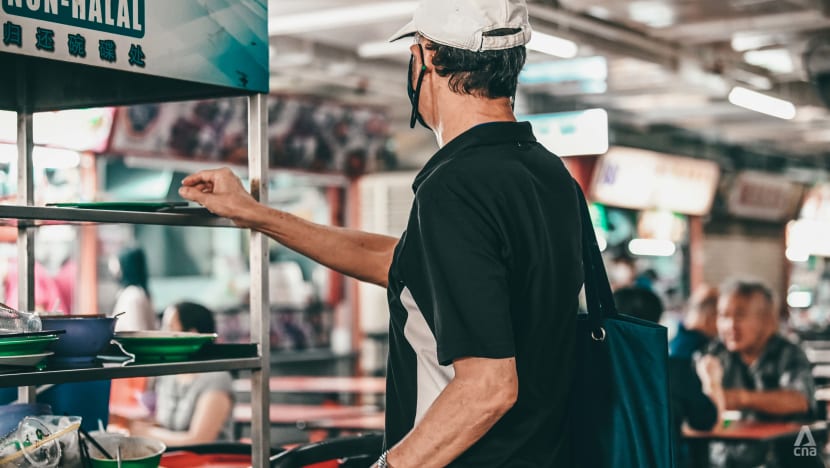 MORE DINERS CLEARING THEIR TABLES
When CNA visited Chinatown Complex Food Centre at about 11am, there were some empty plates and bowls left behind on tables.
Mdm Lim Kim Huan, a cleaner at the hawker centre, said that cleaners had been instructed not to collect trays and crockery that had been left behind. However, she noted that the situation was "better", with more diners cleaning up after themselves.
CNA also visited Amoy Food Centre and Maxwell Food Centre during lunch hour. Despite the crowd, most diners at both hawker centres were observed putting their trays and cutlery back at the tray collection point.
Mdm Lee, a cleaner at Amoy Food Centre, said that more people have started clearing their tables since August. 
"Almost everyone returned their trays (today)," she told CNA in Mandarin. "Only some foreigners or young people don't read the news so they don't know."
Another cleaner from Maxwell Food Centre, who declined to give his name, said that he had seen a marked improvement from Tuesday, the day before enforcement kicked in.
Although there were about 20 per cent of patrons still leaving their trays behind, he said: "So far so good."
DINERS WELCOME THE NEW REGULATIONS
Mr Pang, 67, a retiree who was dining at Chinatown Food Complex, said that the new rules were "very good".
"We should have started it 20 years ago. It's very pleasant when you want to look for a place (and) there's a clean place to eat," he said, adding that he personally has been returning his trays after a meal since he was a student.
Marketing manager Winnie Parsons, 38, who was having lunch at Amoy Food Centre, said that she has been cleaning up after herself for a "couple of years now".
She started the habit after working near the hawker centre Timbre+, where patrons would have to return their trays to get their S$1 deposit back. She has also taught her children to return their trays.
"It's a good practice. Should have started this years back," she said, adding that it helps with "mindfulness", it clears the tables faster and encourages more diners to be responsible.
One diner, who only wanted to be known as Mr A.D., 57, did not take his cup with him as he left. When approached by CNA, he promptly returned it, saying that he had forgotten.
He added that he usually returns his trays and crockery, and started doing so because of the new enforcement measures.
He said that the policy was "very good", but noted that he was part of an older generation that are not used to returning their trays. 
"(The officers can) just ask them to take (the trays and crockery)," he said, adding that many of them may not be doing it on purpose, but have forgotten.