Multilateralism gives Asian countries agency to shape regional developments amid big power rivalry: DPM Wong
ASEAN has responded to rising tensions in the region by cooperating more on defence and security, and providing platforms for dialogue.
TOKYO: Multilateralism puts Asian countries in a good position to tackle challenges and shape developments in a region increasingly dominated by big power rivalry, said Singapore's Deputy Prime Minister Lawrence Wong.
Speaking at the annual Nikkei Forum on the Future of Asia in Tokyo on Thursday (May 25), Mr Wong highlighted three global challenges that could threaten stability in the region: geopolitical tensions, economic protectionism and climate change.
He called the Taiwan Strait the most dangerous flashpoint in the region, which has the potential to drag Asia into any confrontation between the United States and China.
However, he said that Asia has the ability to navigate multiple storms.
The Association of Southeast Asian Nations (ASEAN), in particular, has responded to rising tensions by cooperating more on defence and security, and providing platforms for dialogue.
ASEAN'S STRATEGY
Leaders of the bloc also regularly engage with major powers outside the region, including the US, China, Japan and India.
Mr Wong said the grouping employs this active multi-engagement approach to strive for common ground among key players and advance cooperation on regional peace and stability.
In the face of great power rivalry, he stressed it is "more important than ever for ASEAN to maintain its centrality".
"We engage with all major powers, and we avoid exclusive commitments with any single party," he said, adding that multiple summits hosted by the regional bloc offer neutral platforms for dialogue.
With partners in Asia and beyond, ASEAN's aim is to have many overlapping platforms that a variety of countries can take part in, Mr Wong said. It is a set-up that embraces multilateralism and rejects dominance by any single power.
"These diverse arrangements form a dense mesh of cooperation and interdependence, as well as interlocking circles of partnerships between the region and our external partners," he said.
"This gives all of our partners concrete stakes in Asia's peace and prosperity, and we believe this makes for a more stable and balanced region."
ECONOMIC COOPERATION
ASEAN is taking similar steps on the economic front, as globalisation in the last three decades threatens to give way to a more fragmented global economy.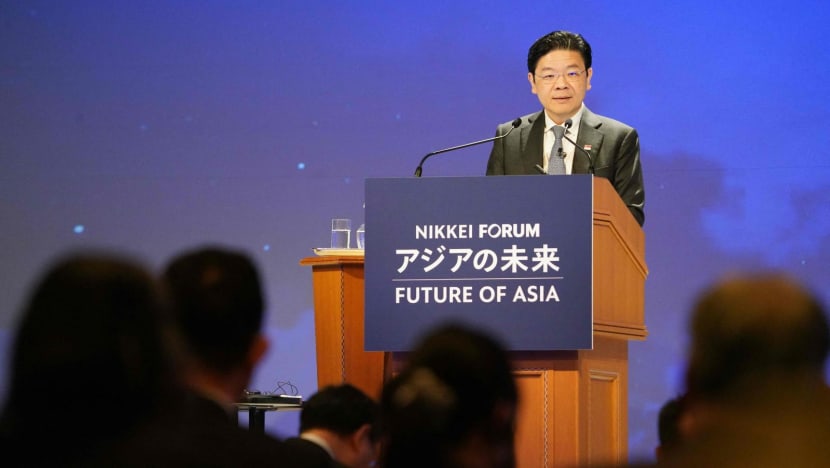 Mr Wong, who is also Singapore's Finance Minister, warned that competing regional blocs will make it harder for Asia's developing countries to sit at the same table as more advanced nations.
To prevent this, the bloc is working to maintain more open economic cooperation, with broad participation across the globe.
While still actively engaging long-standing partners within Asia, the US and the European Union, ASEAN is also forging new ties in other regions including Africa, the Middle East and Latin America.
In his speech, Mr Wong called on economies to not undermine the multilateral trading system, saying rising protectionism will leave all countries worse off.
While he said it is understandable why nations and companies want to de-risk or diversify, Mr Wong also warned that taking it too far could prompt reactions and unintended consequences.
"No one wants to be overly reliant on a single supplier for raw materials, key components, or technology," said Mr Wong.
"But it is hard to see how de-risking, at its current ambition and scale, can be strictly confined to just a few 'strategic' areas without affecting broader economic interactions ... Over time, we will end up with a more fragmented and decoupled global economy."
The term "de-risk" was introduced at the recent Group of Seven (G7) summit, where leaders pledged to de-risk without decoupling from China to reduce economic reliance on Beijing.
ENGAGEMENT WITH JAPAN
On Wednesday, Mr Wong visited Japanese companies working on a hydrogen supply chain network.
As a leader in green technology, Japan can play a key role in facilitating sustainability financing and projects in Southeast Asia, he said.
Mr Wong also welcomed Japan's intention to cooperate more in regional security.
"Japan has historically adopted a low-key posture in security. But with the passage of time, there is scope for Japan to make a greater contribution in this area," he noted.
"We hope that Japan will continue to build on the momentum of its recent engagements with regional countries and further contribute to Asia's stability, security and growth."
Mr Wong said that despite an increasingly dangerous and troubled world, there are reasons for optimism. 
"Asia's dynamism, shaped by its diverse cultures, resilience and adaptability, offer hope," he said.
"We can also take heart that countries in the region share a deep commitment to collaboration and a common interest to work together."
On Friday, Mr Wong is expected to meet Japanese political leaders including Prime Minister Fumio Kishida to further strengthen bilateral ties.