Panel proposes cutting speed limit for PMDs, making helmets compulsory for cyclists on roads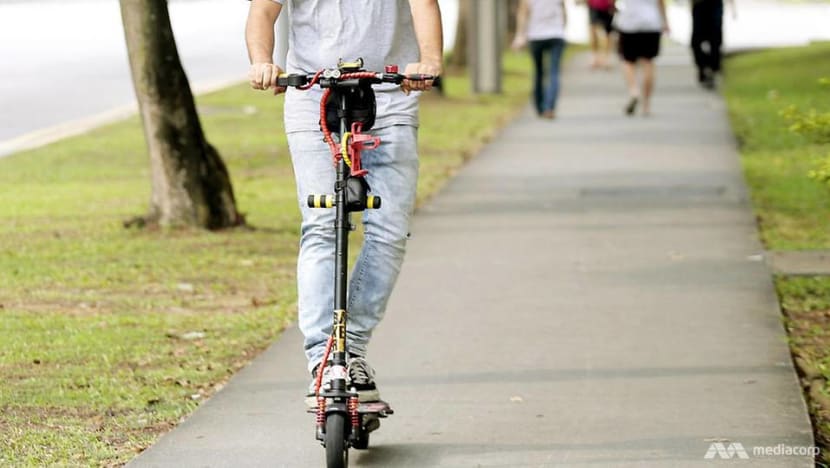 SINGAPORE: Users of mobility devices such as e-scooters will soon have to slow down when riding on footpaths, while cyclists on roads will have to wear helmets – if the Government accepts a proposal put forward by an advisory panel.
Under six new recommendations submitted by the Active Mobility Advisory Panel on Friday (Aug 24), the speed limit for personal mobility devices (PMDs) on footpaths will be lowered from 15kmh to 10kmh.

This will give riders more reaction time to prevent accidents and reduce the severity of injuries in the event of an accident, the panel said.
In its report, the panel wrote that it has heard "strong concerns" from the public that 15kmh is too fast for footpaths, due to heavy pedestrian traffic on some paths and vulnerable path users like the elderly and children.  

"Some users expressed concern that a lower speed limit may dampen the uptake of active mobility," it said. "However, given the significant increase in active mobility accidents, we are of the view that this lower speed limit is necessary at this point in time to improve safety on public paths."
The panel also proposed making it mandatory for cyclists to wear helmets when travelling on roads. The rule will not apply to cyclists who are crossing the road as part of their journey on footpaths and cycling or shared paths, or those who are temporarily on the road to avoid an obstruction.

"On roads, cyclists travel alongside larger and faster vehicles, and are the most vulnerable users. In the event of an accident, wearing a protective helmet would reduce the impact and injuries suffered by the rider," it said.

It also recommended making mandatory the practice of "stop and look out for oncoming traffic" at road crossings. This would "improve the predictability of behaviours" at crossings and reduce the risk of accidents, it said. 
The panel said it decided against making third-party liability insurance mandatory for PMD users, as greater focus should be placed on the prevention of accidents.
"Nevertheless, the panel strongly encourages all frequent active mobility device users to purchase third-party liability insurance to protect themselves against claims made by a third party in the event of an accident," it said.

The panel said existing avenues of seeking compensation should also be made more accessible to victims of PMD accidents, while educational efforts for both pedestrians and riders on the safe sharing of public paths and roads should be stepped up.

Panel chairman Muhammad Faishal Ibrahim said in a Facebook post on Friday that the regulations for PMDs are reviewed from time to time to ensure that they remain relevant.
The latest round of recommendations came after a public consultation that received more than 6,000 responses, focus group discussions, feedback from about 100 participants in a study and "various industry engagements", he said.
In a separate statement, the Ministry of Transport said it has received the panel's recommendations. 
"MOT will study the recommendations and issue our response in due course," it added. 
In February, the advisory panel recommended the mandatory registration of e-scooters to deter reckless riding. The Government subsequently took up the recommendation, and said that the registration regime will be implemented by the end of this year.