NUS academic 'truly sorry' for 'flawed and biased' article on recent political controversies, retracts it from website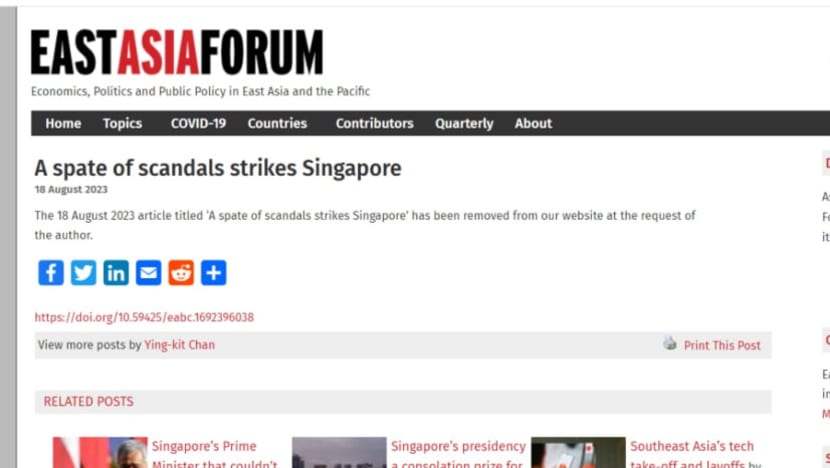 Dr Chan Ying-Kit who wrote an article for East Asia Forum website has issued an apology saying that his oversight of facts led to it conveying false and misleading information to readers
The assistant professor from the National University of Singapore has also retracted the article from the site
The article was written on his own volition without the university's knowledge, he added
He is "remorseful and deeply sorry" to the university, Prime Minister Lee Hsien Loong, the Corrupt Practices Investigation Bureau and everyone who was distressed by the article
SINGAPORE: Dr Chan Ying-Kit, who wrote an article for East Asia Forum, an Australia-based academic website that was issued with a correction direction from a Singapore government agency on Sep 13, has apologised for the distress it has caused.
In response to TODAY's queries on Monday night (Sep 18), the Singaporean academic from the National University of Singapore (NUS) said in a statement that the Aug 18 commentary titled "A spate of scandals strikes Singapore" has also been retracted from the website.
Dr Chan said that he "sincerely and unreservedly apologise" for the errors, omissions and false statements made in his article, which was written on his own volition without NUS' knowledge.
"I am remorseful and deeply sorry to the prime minister, CPIB (Corrupt Practices Investigation Bureau), NUS, and all the persons whom I have named for my actions and the distress my article has caused."
On Sep 13, Ms Indranee Rajah, Minister in the Prime Minister's Office, instructed the Protection from Online Falsehoods and Manipulation Act (POFMA) Office to issue the correction direction to East Asia Forum over the article, which she said contained various false statements on recent political controversies in Singapore.
The controversies included the rental of bungalows on Ridout Road by two Cabinet ministers, the extramarital affair between former Speaker of Parliament Tan Chuan-Jin and Member of Parliament Cheng Li Hui that led to their resignations, and a CPIB investigation of Transport Minister S Iswaran for alleged corruption.
The falsehoods pertained to the independence of CPIB and Prime Minister Lee Hsien Loong's approach in addressing certain matters.
Three days later, the Ministry of Communications and Information (MCI) announced that internet service providers in Singapore would be ordered to block access to East Asia Forum, after it failed to comply with the correction direction.
As of midnight on Tuesday, the website remains blocked to some users, but is accessible to others. 
Elaborating on the parts of his article related to CPIB, Dr Chan said he had "failed to consider the fact that the government approaches allegations of corruption and misconduct in personal lives differently, and that the PM has indeed not conflated the issues of corruption and marital infidelity".
"I have also neglected to mention the safeguards that are indeed in place to ensure that the CPIB can independently conduct and decide on investigations."
As for his comments on a past controversial case in the 1990s regarding the purchase of properties by the late founding Prime Minister Lee Kuan Yew and then-Deputy Prime Minister Lee Hsien Loong, where they were given unsolicited discounts by Hotel Properties Limited, Dr Chan said that he had overlooked the open parliamentary debates that had disclosed the full facts on this entire episode.
He also claimed to have ignored that both CPIB and Senior Minister Teo Chee Hean were responsible for investigating the Ridout Road case, and that the matter was debated openly in parliament.
"My neglect and oversight of the facts have resulted in a flawed and biased article, which lacked academic rigour and conveyed false and misleading information to its readers.
"I will exercise greater prudence in my scholarship and hereby undertake that I will not contribute to speculations and unverified rumours."
He then went on to thank PMO for its corrections and said: "I am truly sorry and have retracted the article from East Asia Forum."
TODAY has reached out to MCI for comment on the status of the website.
This article was originally published in TODAY.