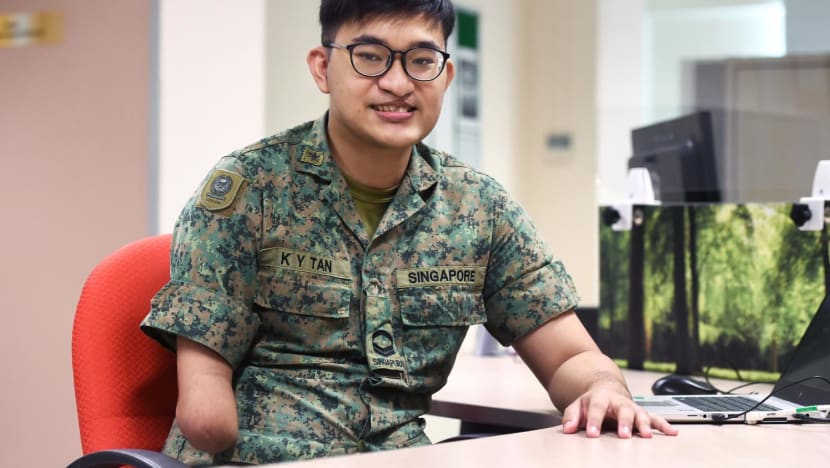 SINGAPORE: Corporal (NS) Tan Kok Yew remembers that moment in 2017, when the medical examiner at his pre-enlistment screening exercise told him he did not need to serve two years of National Service (NS).
CPL (NS) Tan, now 21, lost his right arm to an infection as a kid. So at the Central Manpower Base (CMPB) on Depot Road, the medical examiner gave him two options: Serve NS tailored to his medical condition or be declared medically unfit for any form of service.
"When I found out I could be exempted, I was like (some of) those pre-enlistees; I thought that NS would waste two years of my time," he told CNA. "I was happy that I could use those extra two years to further my studies."
Despite that, CPL (NS) Tan was still not fully convinced about his thoughts, so he told the medical examiner he needed some time to think it over.
After a discussion with his family, he pondered and made a decision. When he returned to CMPB, he said he wanted to enlist. It turned out to be something he did not regret.
"I feel proud that I chose to serve," he said.
LOSING AN ARM
But there is more to this story than why CPL (NS) Tan decided to serve. There are parts about living with one arm, about making good friends and some not so good ones, and about persevering and emerging better for it.
CPL (NS) Tan does not remember much about how his condition came to be. He was three years old when he injured his arm. And the next thing he knew, it needed to be amputated to save his life.
"I had a deep wound and I got infected by a type of bacteria, which is – I can't pronounce that word, but I only know the first part, which is staph," he said.
It was a staph infection, caused by bacteria called staphylococcus. Most of the time, the bacteria either cause no problems or relatively minor skin infections.
But staph infections can turn deadly if the bacteria invade deeper into the body, entering the bloodstream, joints, bones, lungs or heart, according to the Mayo Clinic. A growing number of otherwise healthy people are developing life-threatening staph infections, it said on its website.
"It was quite severe that my parents had to make this decision to amputate my arm," CPL (NS) Tan said.
Does he remember how he injured his arm?
"That, I'm not so sure," he replied. "This was almost 20 years ago. When I asked my parents, they just told me that I injured myself, but they don't really want to tell (more), because I lived my childhood like this. And even if I knew about this, I don't really have any hard feelings about this."
GROWING UP
Nevertheless, CPL (NS) Tan acknowledged that he had a "tough" time growing up.
"Because of my kind and cheerful personality, I was always taken advantage of and was a victim of bullying. It was difficult finding friends that were trustworthy for me to vent my feelings," he said.
In secondary school, he said his classmates ignored him, especially during "team events" like sports or group work. He recalls being called names, but he took it on the chin.
"It was not really a good experience for me," he added. "Because of that, I had a tough time growing up and developed an introverted personality."
He told his family a bit about his problems, but stopped short of revealing everything so they would not be worried, or worse still, angry.
"I was the youngest and they doted over me a lot," said CPL (NS) Tan, who has a brother and sister. "They just told me to ignore my classmates for four years and find better friends after I graduated from that school."
Outside of school, he did not let his disability consume him. He adapted to doing everyday things – like eating or wearing clothes – with one arm, simply by copying what his parents did.
He also did sports like basketball, and while he admitted it was better to have two hands while playing, he insisted it was "not that hard".
"I will just show them that even if I have one arm, I can do whatever you all do normally," he said, adding that some on the court were shocked by his ability. "That is part of my mindset."
FINDING COMFORT
When CPL (NS) Tan moved on to study business at the Institute of Technical Education (ITE), he said he still came across people who were mean to him, although the situation was "not so severe".
His classmates were a good bunch, and he looked back fondly at how his was the "rowdiest" class. They had a lot of fun and created a ruckus during lessons, he recalled with a smile.
"I'm sure everyone went through that," he said. "I found great friends in ITE, and they just treated me normally. Even when I had some bad times, I would always tell them and they were always there for me."
For example, when he revealed to them his bad experiences growing up, they said those people did not deserve his friendship. These little chats helped him regain some of his self-confidence.
When he needed help with physical tasks like carrying heavy items, they would jump in without hesitation.
"They didn't want me to do it," he said. "I'm definitely grateful for me to be friends with them."
BIG DECISION
When CPL (NS) Tan was 17 and still in ITE, he received a letter instructing him to go for the pre-enlistment medical screening.
His sister said it would be better for him to go through NS, worried that he would feel left out when future peers spoke about this rite of passage. His dad had served NS too, so he thought about following in his father's footsteps.
When asked if it was an easy decision to turn down the exemption, CPL (NS) Tan said his family members had a "very good mouth". "They just kept talking until they persuaded me," he added, laughing.
After graduating from ITE, he decided to get a job but harboured ambitions of continuing his education.
He went on to work at the KOI bubble tea chain, as a cashier and in the kitchen helping to prepare drink toppings. His condition was not really a concern for his employer, he said, adding that he just could not cook the pearls or brew the tea.
ENLISTMENT BECKONS
After working at the chain for more than a year, he received his enlistment letter in September 2019 telling him to report to the Basic Military Training Centre on Pulau Tekong two months later.
He worried about whether he would be able to handle the physicality of training, despite being assigned the lowest physical employment standard of E9, which meant he was suitable only for combat service support and service vocations.
"But it turned out to be just normal," he said of his basic military training, adding that many in his company had medical conditions, including heart issues, that prevented them from engaging in strenuous activities. "We had training, but it was mostly theory."
While he wished his time there was more fulfilling physically, he bonded with his section mates. His buddy, who joined the National Cadet Corps in school, taught him the proper way of folding his uniform sleeves, a process typically done with both hands.
"He helped me fold it. I saw how he did it and I just followed it," CPL (NS) Tan said, adding that he just took longer to do it.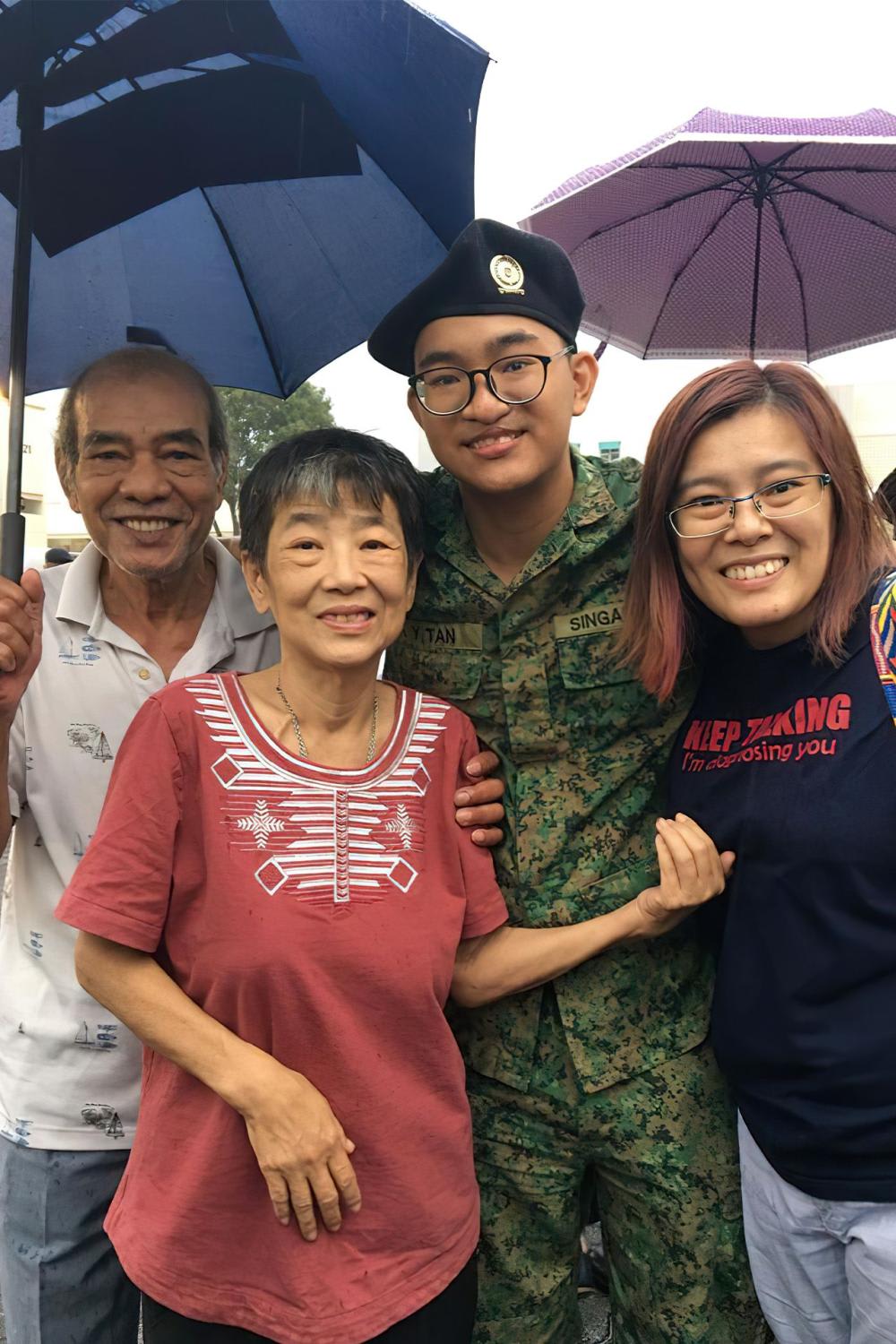 When he told his section mates that he could have been exempted from NS, they expressed disbelief, saying they would have done so if given the option.
"I just told them that I would just serve, it's nothing wrong," he said. "In two years, you could learn more skills and everything. They were surprised, but at the same time they were inspired."
CPL (NS) Tan said his commanders were "very happy" with his decision. His officer commanding and company sergeant major personally told him they were proud he still chose to serve the nation despite his condition.
BIGGER RESPONSIBILITIES
After completing two months of basic military training, CPL (NS) Tan was posted to the Army Logistics Training Institute (ALTI) as an admin support assistant responsible for managing building safety and infrastructure.
He conducted checks and ensured facilities were in working condition. If they were not, he informed his superiors and initiated the process of engaging contractors for repairs.
This job exposed him to a number of challenges, including his command of English and the speed at which he replies to emails.
"I type slowly and I have to think about what to say, what to do and everything," he said.
Still, CPL (NS) Tan said his unit colleagues treated him normally and asked him for help if needed. In a Pioneer magazine article about him published on Nov 5, one of his commanders said he was efficient with his work and was always the first to volunteer if something had to be done.
His unit commanders, however, were extremely careful not to overexert him physically.
"They did not want me to carry even one plastic bag," he joked. "One of my superiors was very concerned about my safety. I had no choice but to comply with her instructions."
GAINING RECOGNITION
Nevertheless, his hard work did not go unrecognised. In June, he was awarded the ALTI Commander's Coin, given to servicemen who have performed well in their duties.
While CPL (NS) Tan said he was pleased about this, he felt shy talking about it as he believes his role was "not really that big".
To further add to the embarrassment, he woke up late on the day of the award ceremony, and had to sprint to the venue where "a lot of people" from various units were watching. Being presented the award by ALTI's commander flustered him too.
"During practice, it was fine," he said. "But on the actual day, it was like, 'I hope I don't mess up, I hope my hair is okay, I hope everything is okay.'"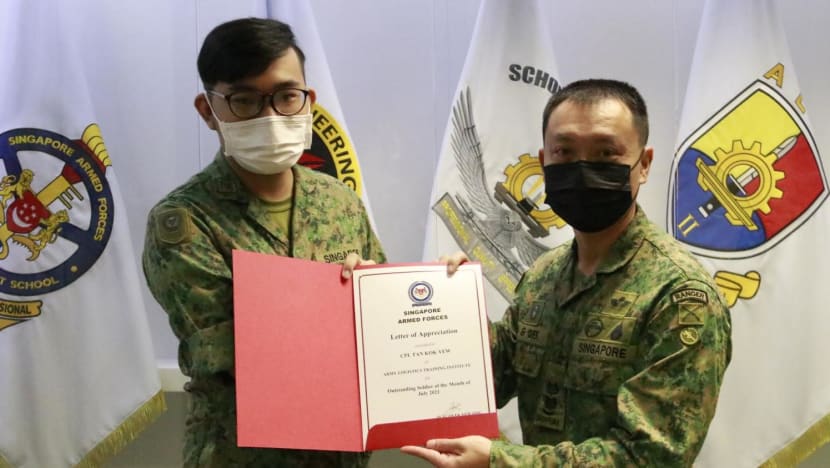 CPL (NS) Tan was also awarded another Commander's Coin, this time by the larger Combat Service and Support Command, and his unit's outstanding soldier of the month for July.
"I think they recognise my hard work, so I feel proud winning those awards," he said. "But most of the time, I feel embarrassed."
DEALING WITH PUBLICITY
But the spotlight was not about to go away.
When the Pioneer article was published and shared on its Facebook page, it received more than 100 comments and 1,300 reactions, with many praising his determination to serve despite his condition.
Family friends complimented him, and when his story got more media attention, his friends started tagging him on social media. While he is proud that his story has touched the public, he is still getting used to the attention.
When he was at the market with his parents, a stranger gave him a thumbs up. "I was like, thanks, but I was very embarrassed," he said. "If people saw me again and did that, I would probably be laughing awkwardly because I don't know how to react to them."
CPL (NS) Tan completed his full-time NS on Nov 12 and was declared operationally ready.
He has applied for a job with a logistics company, where he will also deal with contractors. His time in ALTI has taught him how to build relationships with colleagues and communicate professionally, he said.
He also agreed that the time he spent serving NS helped him better relate to the experiences of his peers. "Not saying that being exempted is a negative, but at the same time, it's different for them," he said.
"LOVE YOURSELF"
Ultimately, CPL (NS) Tan has not given up his aim of getting a diploma and eventually a degree, hopefully to land a "dream job" in the hospitality industry. This will help him earn a stable income and support his family, he said.
There will be challenges ahead, but he said he would take these in stride, like in the story of how he got through school and then NS.
As for people who might have a similar physical condition and are going through some struggles, he advised them not to sweat over mistakes and accept compliments, something he is still working on as well.
"Just learn to be proud of who you are, just be positive, and the most important thing is to love yourself," he said.
"Because if you don't love yourself, it's difficult to be proud of who you are. It's better to speak for yourself than to bottle up your feelings."