Full speed ahead for businesses this Singapore F1 GP weekend despite manpower crunch
The return of the Singapore GP was announced in January, giving organisers and vendors a shorter lead time than previous years for preparations.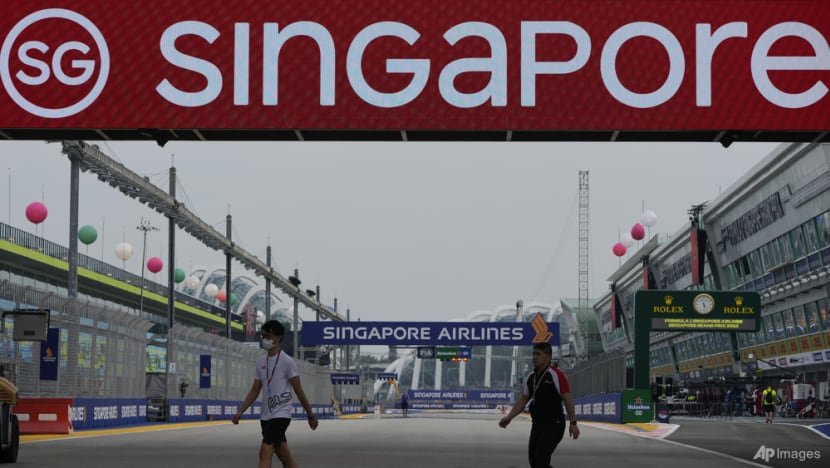 SINGAPORE: Despite shorter lead time and a manpower crunch for this year's Singapore Formula One Grand Prix, businesses both inside and outside the racing arena said it is full speed ahead for them.
Restaurant chain TungLok Group, which usually runs food kiosks for ticket holders and caters meals to the Singapore GP's army of workers, faced speed bumps from the planning stage.
With less skilled manpower available, it is deploying only 20 per cent of its usual number of skilled chefs for the event this year, and has scaled down operations and overhauled its processes as a result.
It decided to drop the kiosks and focus on serving up 15,000 hot bento meals to the thousands of people working behind-the-scenes.
To make up for the fewer chefs on-site, the firm's catering arm BellyGood will employ the cook-chill process using technology, in which food is fully cooked before being rapidly chilled and stored. The ready-made food can then be reheated right before being served.
The COVID-19 pandemic and geopolitical tensions have plagued industries with a shortage of workers and caused disruptions to the supply chain.
"COVID-19 has shaped us into something a little bit different today, and we've learnt to be smarter," said Mr Nixon Low, senior executive chef of TungLok Group.
"Less skilled labour means we have to reorganise – we do more preparations and easier executions."
FINDING SOLUTIONS
Another challenge was the uncertainty surrounding the logistics in the months leading up to the F1 weekend, as evolving COVID-19 restrictions made it difficult to ascertain the number of diners and the amount of food the caterer had to prepare, said Mr Low.
"That's why our strategy this year gives us room for manoeuvre. So even if there's a decrease (in diners), we have proper storage and will not have food wastage," he added. "So I think this tactic of doing a cook-chill for this year's event is perfect, it makes sense."
Other restaurants also managed to find workarounds for their constraints.
Picotin restaurant at The Fullerton Waterboat House, which is right in the middle of the F1 action, said it has managed its staff shortages by shifting employees from its two other outlets to focus efforts in its prime location.
Outside the F1 arena, restaurant LeVeL33, a popular spot due to its aerial view of part of the F1 circuit, said that while it is experiencing a manpower crunch of about 15 per cent, it has engaged part-timers to manage the workload.
The restaurant said this weekend will see its return to pre-pandemic closing hours of 2am as it is expecting high demand for night dining after each race.
SHORTER LEAD TIME
The return of the Singapore GP was announced in January, giving organisers and vendors a shorter lead time than previous years for preparations.
This year's event is anticipating its biggest spectator turnout since the first night race in 2008, and organisers said that despite having less time to plan, experience will see them through to the finish line. 
Event organiser Singapore Grand Prix said it tapped on experienced contractors who they have worked extensively with in the past, and who already have blueprints in place for execution. 
With the easing of restrictions, the event was also able to secure regional vendors and workers to fill the manpower gap.
"This year, we expect a much larger crowd than before, but with the depth of expertise that we have built over 10 to 15 years, and with the people we have groomed, we are more than capable of handling this weekend's event," said Mr Christopher Choo, assistant director of the Singapore Grand Prix.
"We tapped on contractors and vendors who have had experience in the event, so there's no big need to re-plan and re-think everything. They could come in and work with us on plans that we've done previously, in previous years."
One example of such experienced contractors is Pico, which found ways around its challenges.
Having put together the F1 grandstand and corporate suites since the inaugural Singapore GP, the firm said that despite supply chain disruptions, it pulled off its job this year by using recycled material and relying on the expertise of its core team in charge of previous races.
"The material used in the events are mostly recycled for every year. This became a foresight for this year, when the global supply chain was disrupted as a result of the pandemic. This allows all work to remain on track," said Mr Jayden Huang Renjie, Pico's general manager.
Tourists aside, Singaporeans are expected to spend a whopping S$420 million visiting bars, restaurants, and cafes during the Grand Prix, according to guest experience and retention platform SevenRooms.