'Very touched and grateful': Feng Tianwei greeted by scores of supporters at Changi Airport
"Being able to win for the country and see the Singapore flag and hear the national anthem play was a very good feeling," said Team Singapore's Feng Tianwei.
SINGAPORE: A sea of supporters erupted in a raucous cheer as Team Singapore's Feng Tianwei returned home on Wednesday (Aug 10) evening. 
The crowd of around 100 people held up banners and excitedly thumped their balloon clappers together as Feng and her teammates walked out of the arrival gate at Changi Airport Terminal 3 just after 6pm.
Sixty children aged nine to 12 from the Singapore Table Tennis Association (STTA) junior team lined up on both sides to form a walkway.
The children, who had been waiting for the team's arrival for nearly an hour, shouted: "Welcome Back to Singapore!"
But the loudest cheers were reserved for Feng, who bagged three gold medals in the women's team, singles and doubles events at the Commonwealth Games in Birmingham.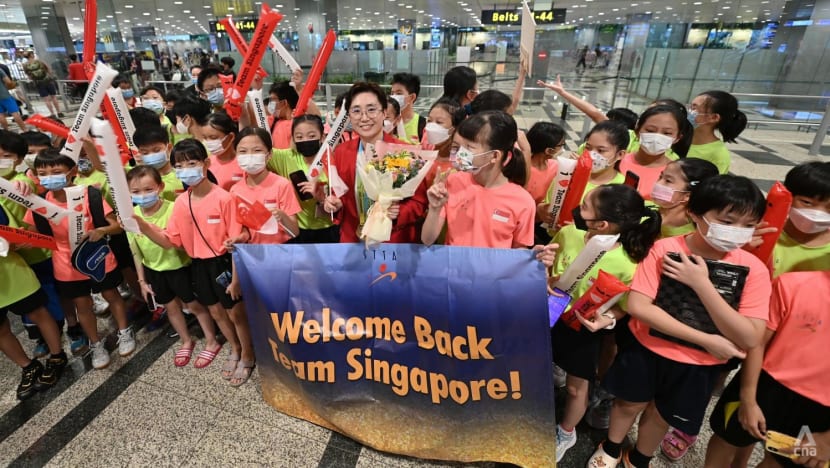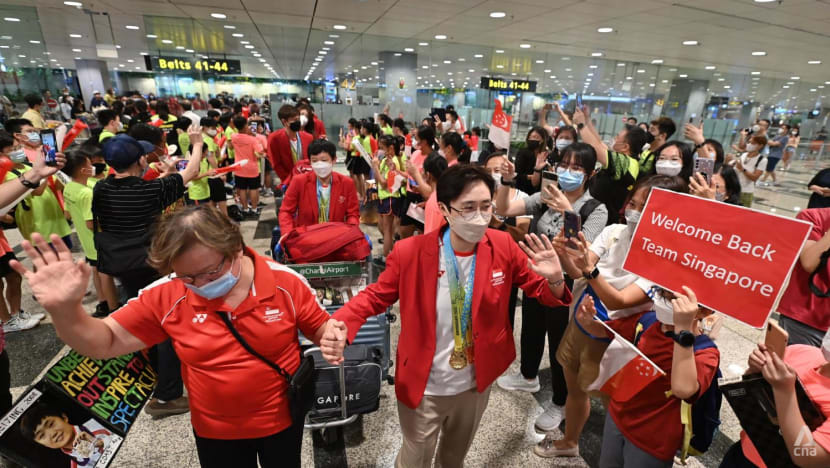 Her Singapore Airlines flight SQ319 touched down just after 5pm, while her teammates arrived five minutes after her on Lufthansa flight LH 778 at 5.05pm.
Fans rushed up to Feng as she emerged, eager to snap a picture with the athlete and get her autograph. 
Feng's latest win brings her total medal haul to 13, putting her ahead of former national table tennis player Li Jiawei's tally of 10. This makes her Singapore's most successful athlete at the Commonwealth Games.
The 35-year-old's medal collection includes two golds and two silvers from Delhi in 2010, three golds from Glasgow in 2014, as well as one gold, one silver and one bronze from the 2018 Gold Coast Games.
According to the Singapore National Olympic Council (SNOC), her overall medal tally also makes her the most decorated table tennis player at the Games.
On Monday, Feng received another honour, becoming the first Singaporean as well as table tennis athlete to win the David Dixon Award for outstanding athlete at the Commonwealth Games.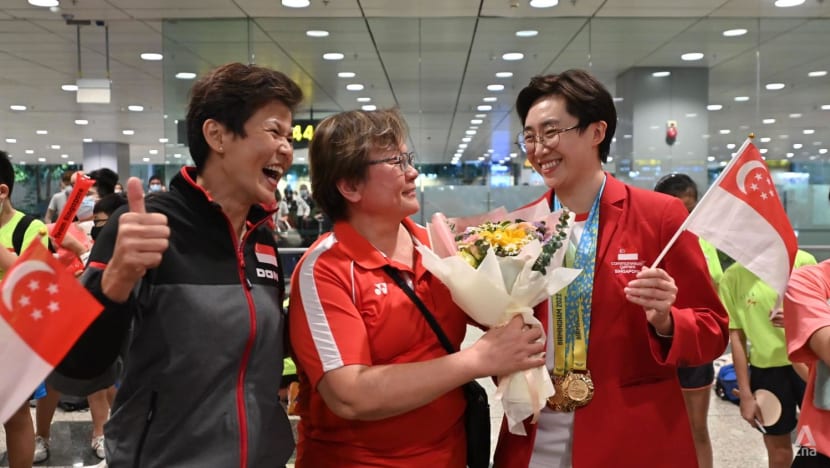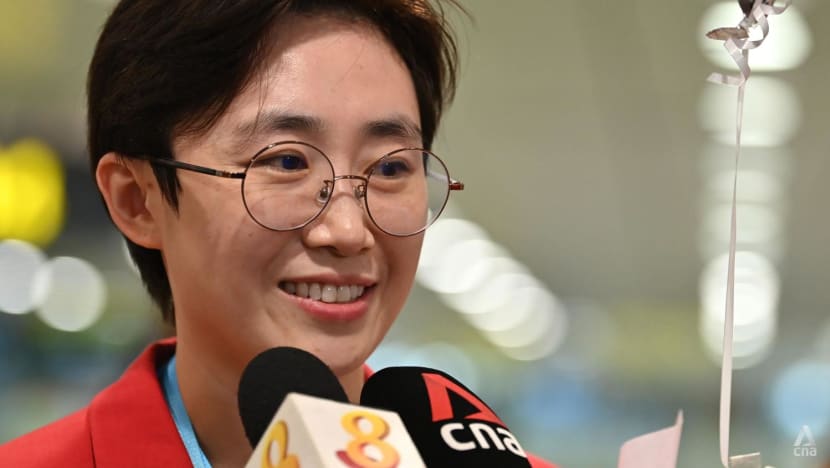 "I NEVER GAVE UP"
Speaking to reporters at Changi Airport, Feng said she never expected to win so many awards.
During the finals of the women's single match against Team Singapore's Zeng Jian, Feng came back from three sets down to beat Zeng 4-3 in the all-Singapore final.
"I never gave up even when the tally was 0-3, I just fought for every point and very surprised that I was able to overturn the results," said Feng.
"I'm still very excited about the results and haven't been able to calm down since."
"Looking at all the people who came here to support me at the airport, it also makes me feel very touched and grateful for all their support over the years," she added.
Recalling the moment where she teared as Singapore's National Anthem played in the background at the National Exhibition Centre in Birmingham, Feng said she was feeling emotional. 
"Having represented Singapore for so many years and being able to win for the country and see the Singapore flag and hear the National Anthem play was a very good feeling," she said.
As for her next steps, Feng, who looked visibly weary on Wednesday, said she plans to rest and recharge over the next few weeks. 
"I have been coughing and my body hasn't been feeling well, so I think I will just rest for a bit."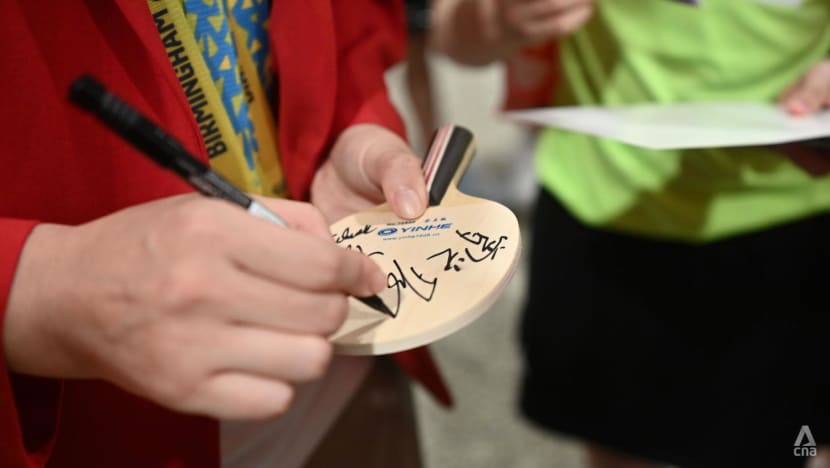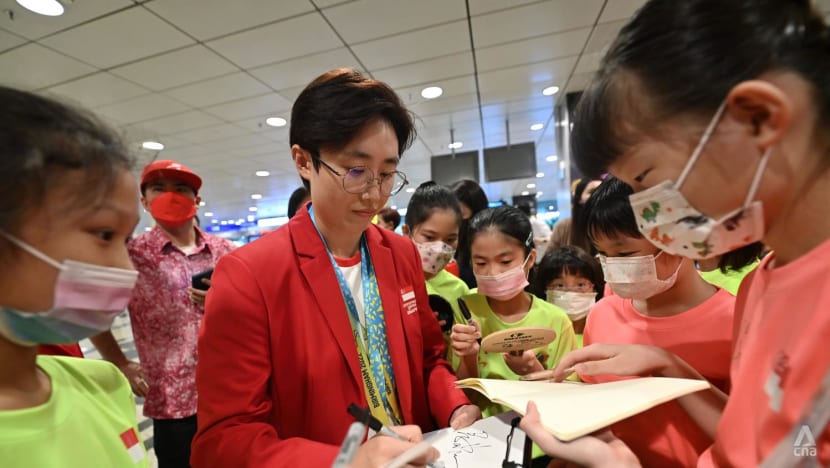 When asked if she was planning to retire, Feng said she was still thinking about her plans for the future but did not elaborate further. 
Singapore won a total of 12 medals at the 2022 Commonwealth Games, comprising four gold, four silver and four bronze from events in table tennis, badminton and swimming.
The country finished 14th out of 72 countries and territories in the overall medal tally.
Among the supporters on Wednesday were Mr Fazli Mohamad and Mr Henry Ong, both of whom had taken leave from work to greet the team at Changi Airport.
Mr Fazli, who was decked in red from head to toe, was surrounded by colourful balloons and banners with pictures of Feng and Singapore badminton athlete Jessica Tan, as well as bags containing soft toys.
"I've been supporting Feng since the 2012 Olympics and in fact, I actually showed up at the airport to greet her then too," said the 38-year-old, who had been at the airport since 3pm on Wednesday.
"I'm also very proud of Jessica and her husband, especially their win in the Badminton mixed doubles." 
Meanwhile, Mr Ong told CNA that he had rushed down from work to catch a glimpse of the athletes.
"I took half day from work because I wanted to come down here to show support for the team," said the 42-year-old IT project manager. 
"Their performance was really awesome, and they all showed very good spirit during the games."