Feng Tianwei becomes Singapore's most decorated athlete at Commonwealth Games as Birmingham 2022 wraps up
Feng Tianwei's tally of 13 medals at the Games eclipsed former national table tennis player Li Jiawei's haul of 10.
SINGAPORE: Team Singapore's Feng Tianwei has become the nation's most successful athlete at the Commonwealth Games with a total haul of 13 medals. 
Three of those were gold medals from this year's edition of the Games in Birmingham, where she helped Singapore complete a clean sweep in the women's team, singles and doubles events.
Feng's overall medal tally also makes her the most decorated table tennis player at the Games, said the Singapore National Olympic Council (SNOC) on Monday (Aug 8).
Her medal collection includes two golds and two silvers from Delhi in 2010, three golds from Glasgow in 2014, as well as one gold, one silver and one bronze from the 2018 Gold Coast Games.
She overtook former national table tennis player Li Jiawei's tally of 10 medals in the record books. 
Singapore's overall medal haul for the 2022 Games was 12, comprising four gold, four silver and four bronze from events in table tennis, badminton and swimming.
Singapore finished 14th out of 72 countries and territories in the overall medal tally.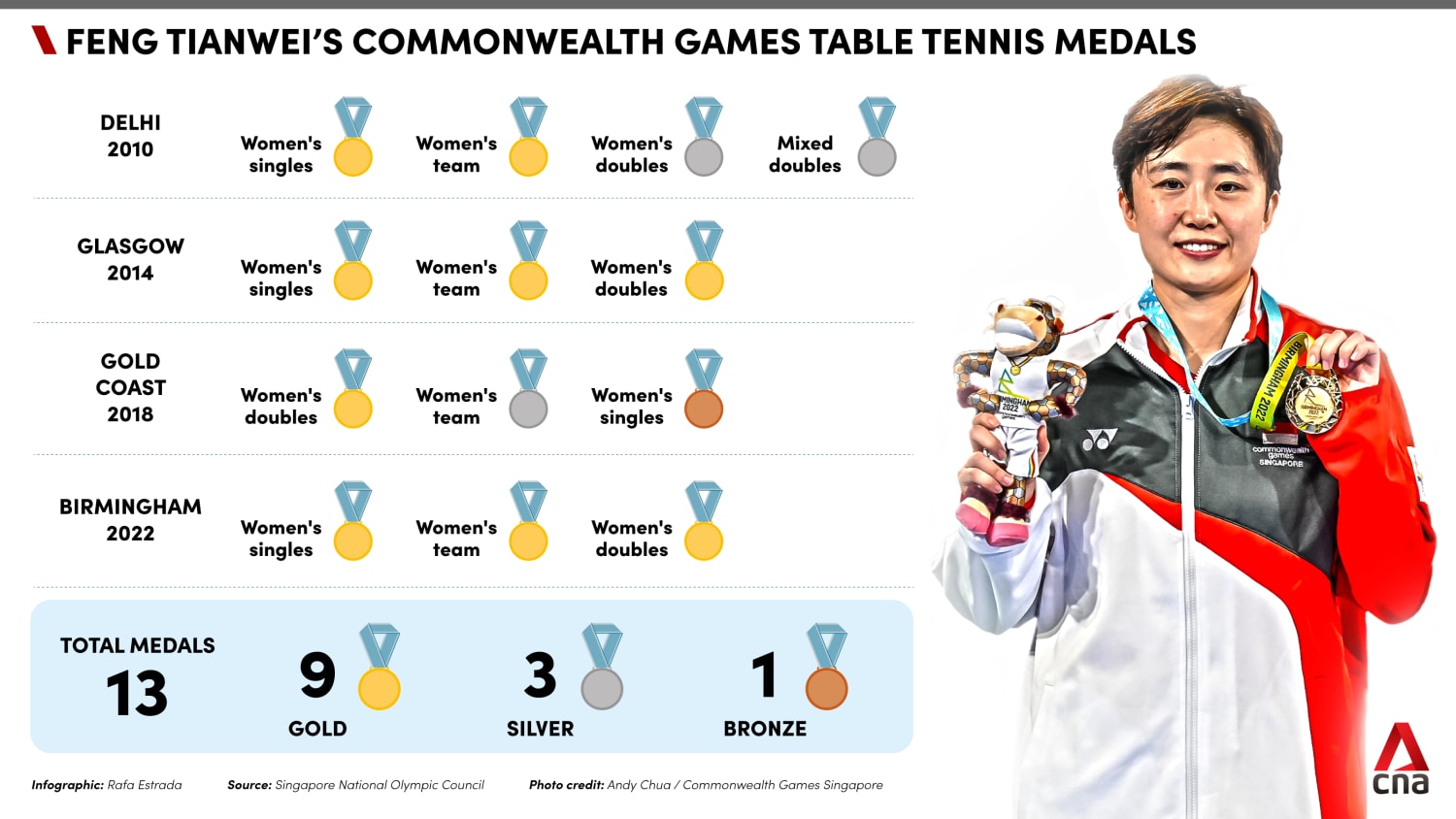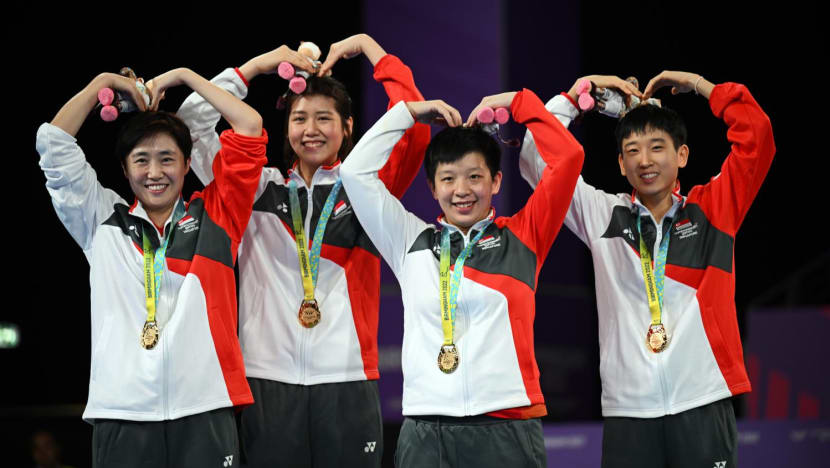 TABLE TENNIS
Table tennis at this year's Games contributed seven medals, three of them gold. 
There were also two silvers and two bronzes. 
Singapore won gold in the women's team, singles and doubles events, with the silvers coming in the women's singles and men's team event.
The bronze medals were won by men's doubles and mixed doubles pairings.
BADMINTON
Badminton contributed three medals, including one gold won by the husband-and-wife pair of Terry Hee and Jessica Tan. They beat the English duo of Marcus Ellis and Lauren Smith 21-16, 21-15 on Monday.
The win was Singapore's first Commonwealth Games gold in the mixed doubles event, and the country's first gold in badminton since 2002, when Li Li won the women's singles title.
Hee and Tan were also part of the nation's badminton mixed team that cliched bronze on Aug 2. 
Yeo Jia Min, part of the mixed team as well, also won bronze in the women's singles when she beat Scotland's Kirsty Gilmour.
Badminton world champion Loh Kean Yew, meanwhile, crashed out of the men's singles event at the quarter-final stage, losing to Malaysia's Ng Tze Yong.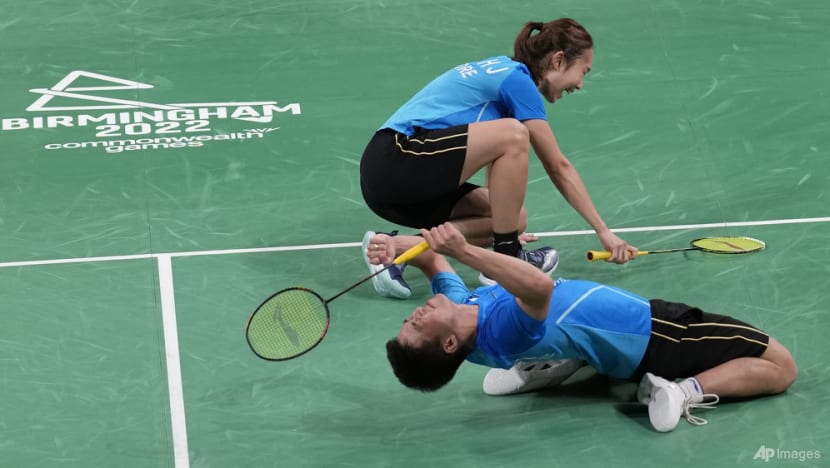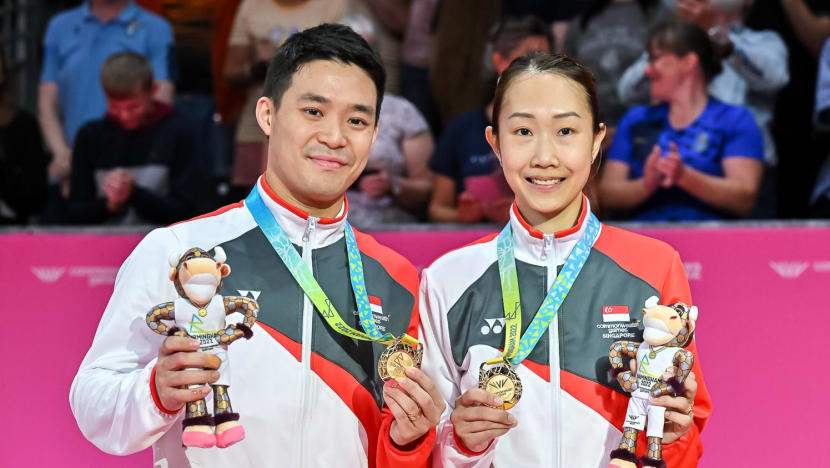 SWIMMING
Singapore's swimmers won two silvers at the Games.
The medals came from the 50m butterfly and 50m freestyle S7 final, clinched by Teong Tzen Wei and Toh Wei Soong respectively.
NATIONAL RECORDS AND PERSONAL BESTS
Several athletes also broke national records and their own personal bests during the Games, with all six Team Singapore weightlifters setting personal-best performances in their respective events with five qualifying as national records, said SNOC.
Swimmers Maximillian Ang, Quah Jing Wen and Letitia Sim also improved their speed in the pool by clocking six personal-best timings at the meet.
On the track, sprinter Shanti Pereira ran three of her fastest times ever to rewrite her own national records in the women's 100m heats, 200m heats and semi-final.
Pereira's time of 23.46 seconds in the 200m heats eclipsed her previous best and national record of 23.52 seconds which was set earlier this year at the 31st SEA Games. 
She would go on to equal the record in the semi-finals but was unable to qualify for the 200m final.
The team of Ian Koe, Joshua Chua, Marc Brian Louis and Xander Ho qualified for the final of the men's 4 x 100m – a first for Singapore – where they finished 7th with a time of 40.24 seconds.
Fifty athletes made their Commonwealth Games debuts in Birmingham with wrestlers representing the country for the first time. Singapore was represented by a contingent of 66 athletes in nine sports, with swimmer Ong Jungyi unable to travel after testing positive for COVID-19, said SNOC.
Chef de mission Lim Heem Wei commended the "relentless fighting spirit" of Team Singapore. 
"Their focus, desire to excel and unity exemplifies and celebrates the best of the Singapore spirit – a perfect National Day gift to honour Singapore's 57th birthday," she said.
"I am very proud of their achievements and hope this would encourage them to greater heights in their sporting careers."