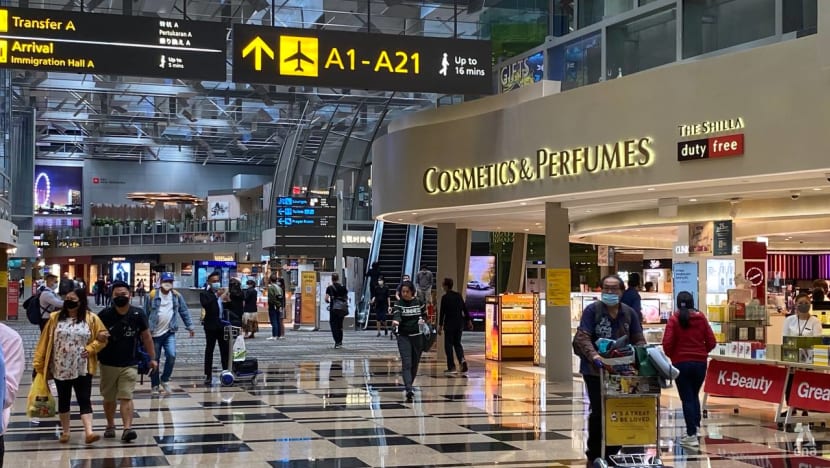 SINGAPORE: After two-and-a-half years of border closures and travel curbs, Mavis Tan is raring to go on a holiday.
Ms Tan said some of her friends have gone abroad last year via vaccinated travel lanes but she decided to sit out due to concerns about evolving travel and COVID-19 testing rules.
Last month as Singapore removed the need for pre-departure and on-arrival tests, as well as quarantine requirements for fully vaccinated people, the 34-year-old decided it was time. Top on her list is the Netherlands, a country she visited in 2019 and left with fond memories.
But a quick search online soon dampened her enthusiasm.
A round-trip economy class flight to Amsterdam via Dutch airline KLM for end-May was priced at S$2,200, much higher than the S$1,800 she paid in 2019. Thinking it could be a price surge due to the school holidays, Ms Tan searched for dates in July but airfares turned out to be even higher at nearly S$2,500.
The other option for a direct flight is Singapore Airlines.
"SIA tickets are more than S$3,000," said Ms Tan. "I am very eager to go on a holiday but I am not sure I want to pay that much."
For others looking at destinations near home, airfares have also gone up.
Rebecca Low travelled to Bali in end-April and paid S$420 for her round trip via Singapore Airlines. Her air tickets were the cheapest available for her travelling dates, with other flight timings costing at least S$150 to S$200 more, she said.
The 30-year-old is headed to Bangkok via the national carrier this month. For that, a two-way economy class ticket costs S$380.
Ms Low said her air tickets for both trips were "slightly higher" than what she and her travel companions used to pay before the COVID-19 pandemic.
"We all know oil prices went up and there's bound to be spillover effects on airfares. But since it's just an increase by a few tens of dollars, my friends and I are ok with it."
How to get a reasonable airfare for your upcoming holiday
PLAN EARLY
New normal or not, it remains the case that if you want a cheap air ticket, you have to plan early as prices can fluctuate very quickly nearer to the take-off date.
People are already doing so, according to Expedia which observed Singapore travellers having a long booking period of more than 90 days and some already making plans for their year-end holidays.
AVOID PEAK PERIODS
The other rule of thumb is to steer clear of peak seasons, such as school holidays and festive seasons, said Traveloka's Mr Indra. This is to avoid a surge in prices and limited availability of good flight deals.
PICK THE RIGHT DAY
The day also matters when it comes to stretching your dollar.
According to Expedia and Airlines Reporting Corporation's travel booking guide for 2022, Sunday is the cheapest day to make flight bookings as tickets are close to 20 per cent cheaper than Friday – the most expensive day.
Meanwhile, Thursdays are the cheapest day to start one's journey, with up to 25 per cent savings compared to the most expensive day that is Monday.
PROMOTIONS, LOYALTY PROGRAMMES
It never hurts to do more research, especially on ongoing promotions. Travel booking platforms such as Traveloka hold annual sales with exclusive deals on flights, accommodations and even holiday activities.
It may also be worth tapping loyalty programmes offered by the likes of Expedia for member prices and exclusive perks.
Meanwhile, opt for flexible travel options to accommodate unforeseen changes and purchase travel insurance as a safety net. "This way, it helps you maximise your travel budget while keeping you covered from unexpected expenses," said Ms Rajaram.
Assistant Professor Fan reminds travellers to always read the fine print on refund availability and to focus on the "final all-in price".
For example, a number of airlines such as Emirates and Qatar Airways now offer a "no-frills" version of business class that does not come with lounge access or even checked-in baggage. Even within the economy class, airlines such as Finnair offer flight tickets with no complimentary checked-in baggage.
With border restrictions in Singapore and the region being eased, the travel industry is picking up after a prolonged downturn, with airfares taking to the skies and rising even beyond pre-pandemic levels.
Travel platform Expedia said its data showed air ticket prices being "generally higher" than in pre-pandemic days, with the average price for Singaporeans' top five destinations up 20 per cent from 2019.
These destinations are Bangkok, Bali, Kuala Lumpur, Phuket and Seoul, said Expedia's Asia head of public relations Lavinia Rajaram.
Likewise, lifestyle app Traveloka said it has seen "an even uptick across the board" in airfares. 
"Our top three destinations, Indonesia, Thailand and Vietnam, have been seeing an uptick in bookings despite an average increase of 20 per cent in ticket prices," said its president Caesar Indra.
Another holidaymaker, El Lee, paid S$253 for his holiday to Phuket in March via Singapore Airlines. While the airfares were 20 to 30 per cent more than what he paid in 2019, the start-up entrepreneur felt that they were "reasonable" given the additional care and procedures that the national carrier had put in place.
"For me, it is more than getting from point A to B. It is about the in-flight comfort and safety, as well as showing our support for the crews that take care of the passengers," Mr Lee told CNA.
It is not just full-fledged carriers that have raised their fares, prices on budget airlines have also seemingly gone up.
A round trip to Phuket via Scoot this month will cost at least S$220, based on checks by CNA this week. A round trip in 2019 before the pandemic would have cost below S$150.
WHY ARE FLIGHTS GETTING MORE EXPENSIVE
The surge in travel demand following the much-anticipated reopening of borders is one of the key factors driving up air ticket prices.
"Since the start of the year, with every travel restriction lifted, we have been noticing users quickly booking their next trips to fulfil their pent-up demand," said Mr Indra.
With airlines no longer "desperate for business", they can do away with the super-low fares they had at the peak of the pandemic when travel curbs were in place, said Assistant Professor Terence Fan, a transport specialist from the Singapore Management University (SMU).
And as the number of vacant seats is reduced, airlines also "tend to price their remaining seats at higher prices", he added.
"Travellers are snapping up the lower fares as soon as they see them and airlines are not interested to offer more seats at a low price, because they see that people are coming back. There's no point giving discounts anymore."
Assistant Professor Fan noted that the boom in demand is coming at a time when airlines have not gone back to pre-pandemic operations.
"Airlines are very cautious in adding back capacity because they want to see sustained demand first," he said, citing the use of smaller planes, which means fewer seats, and reduced frequency on routes.
Seasonal factors are also involved in the price increase of late, said Expedia's Ms Rajaram, noting that the traditional travel peak period marked by school holidays in June and summer travel in other parts of the world is approaching.
Then, there is the factor of soaring oil prices brought about by Russia's invasion of Ukraine, with Europe-based airlines, in particular, likely hit by higher operating costs as they redraw flight routes to avoid the conflict zone, Assistant Professor Fan said.
Agreeing, Traveloka's Mr Indra said global political developments, such as the ongoing Ukraine crisis, have restricted certain airspaces thereby resulting in longer flight times.
"With soaring oil prices and increased insurance costs for airlines, this has led to increased airfares this season," he added.
WILL PRICES KEEP RISING? 
Industry observers expect airfares to moderate when the current pent-up demand runs its course.
"Much of the recent increase in demand is coming from people wanting to reunite with their family and friends. This will ease over time, leading potentially to some moderation in prices," said Assistant Professor Fan.
Prices should also come off their highs once airlines start adding more capacity.
Already, airfares for flights out of Singapore to other parts of Asia have dropped by nearly 30 per cent over the last two quarters, as low-cost carriers in the region start ramping up operations, Ms Rajaram said.
Average flight ticket prices to popular destinations, such as Bangkok and Kuala Lumpur, have been steady on a month-on-month basis and are now "similar" to pre-pandemic days, she added.
But for this to filter through the market will take time as airlines remain wary about the outlook ahead. This means higher fares may be here to stay for a while longer.
"More capacity is a precursor to having low fares but airlines are definitely very cautious about adding capacity," Assistant Professor Fan told CNA.
Dark clouds on the horizon include surging oil prices, rising salaries in response to labour shortages and an increase in interest rates.
"Now, there are people warning about a recession which if happens means demand is going to pull back," the SMU expert added.
"So, airlines are being rightfully cautious at this point, and we'll see this attitude for a little bit longer."