Commentary: A weekend trip to Bali marked the beginning of post-COVID normalcy for me
With many countries in the region gradually relaxing border measures, Singaporeans can now look forward to the return of an old favourite – the long weekend vacay, says writer Karen Tee.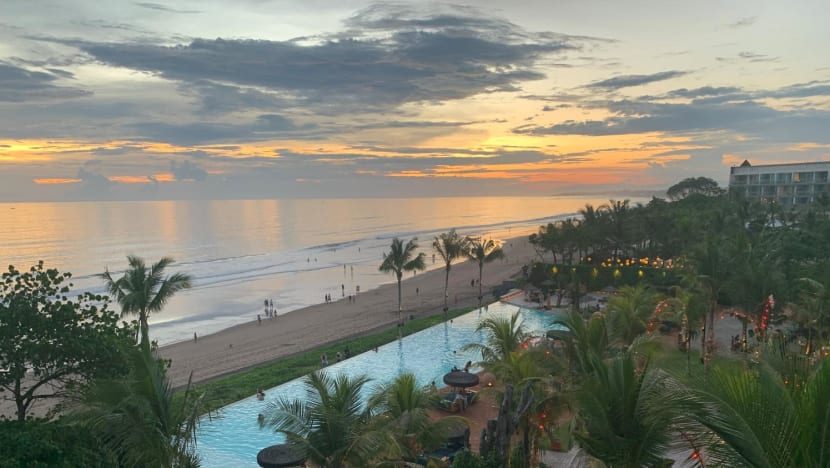 SINGAPORE: Over the Easter weekend in April, for the first time in an interminable two years, I found myself setting foot on foreign soil.
My other half and I had finally decided to bite the bullet and book ourselves a flight to a favourite destination of ours – Bali. We figured a short three-night trip over the Good Friday public holiday would help us get over the travel inertia we had been experiencing.
It would also allow us to take a much-needed mental break from work responsibilities without feeling too worried that colleagues would have to pick up the slack.
In many ways, weekend jaunts at neighbouring destinations mark a return to pre-COVID normality, where jetting out of the country to indulge in spas, beaches, local food, shopping and quality time with friends and family was part and parcel of life.
TRAVELLING NO LONGER A CHORE
Like many others, we have been procrastinating on booking a holiday because we were put off by the long list of tests and potential quarantines that would eat into our vacation time. We weren't keen on filling out various paperwork and compiling documents needed to enter a foreign country.
But Singapore and many other countries in the region have been progressively lifting travel restrictions to make it less cumbersome to jet-set the way we used to.
In the weeks leading up to our flight, the Indonesian government had been gradually streamlining its entry requirements. By the time we arrived, we only had to undergo a single pre-flight PCR test, qualified for a visa exemption and did not have to quarantine.
Returning to Singapore was even simpler. The Singapore Government has scrapped the VTL (vaccinated travel lane) arrangement so we were free to book any flight back home. The only test needed to re-enter the little red dot was a supervised pre-departure ART test, a requirement which has also since been removed if you are fully vaccinated.
When the big day finally arrived, we marvelled at how efficient things were at both Changi and Ngurah Rai airports as we went about checking in, clearing passport control and collecting our luggage. Besides showing proof of vaccination, it didn't feel very different from how we travelled in the past.
After two years of worrying about social distancing and virus droplets in the atmosphere, I did feel a pang of anxiety at having to sit in close proximity to many strangers in a relatively tiny space and breathing in dry, recycled air during the flight.
But I reminded myself we would be masked up and that my double vaccinations and booster would keep me safe. Plus how else could I transport myself to a vacation that has been two years in the making?
I felt a little emotional when I boarded the Singapore Airlines flight and greeted the friendly flight crew. My short flight whizzed by too quickly as I had spent it eagerly perusing the in-flight entertainment options and happily snacking on the refreshed dining menu.
When we arrived in Bali, I was already in a blissful vacation state of mind, ready to enjoy my time basking in the sun.
THE FREEDOM OF TRAVEL
There is no denying the liberation of being in a different country with a different culture, language and landscape, even one we have visited umpteen times before. After all, it is an indelible part of human nature to want to explore and discover new sights and experiences - a deep need that travel fulfils.
Even though there is no other country I would have chosen to spend the past two years weathering the pandemic in, it is a relief to have the option of travelling out of Singapore with practically the same level of ease as before. 
In Bali, we tried to make the most out of this trip, with every minute feeling extra precious. We luxuriated in our favourite routines such as leisurely sunset strolls along endless turquoise beaches, feasting on Indonesian cuisine and shopping for trinkets and souvenirs. At the same time, we took the opportunity to check out new restaurants and bars on the island, as well as a newfangled "sistrum" light and sound meditation experience.
My only regret was that I did not stay long enough to do everything I wanted to do.
THE RETURN OF THE LONG WEEKEND VACAY?
But the great thing is that I can now easily plan another trip back to Bali if I feel like it.
With travel never being easier since the onset of the pandemic, more people are heeding the siren call to make their way overseas. The full reopening of the land checkpoints at Woodlands and Second Link in early April has already facilitated a flow of more than 200,000 visitors from Singapore into Malaysia.
Several of my friends have gleefully posted photographs and videos of their day trips across the border, not only to visit friends and family but to spend time exploring Johor Bahru, long a favourite weekend destination for Singaporeans.
I am now considering regional options such as Thailand, Vietnam or Cambodia as my next long weekend destination as these countries are loosening their entry requirements. Just like how I have spent the past two years rediscovering Singapore, I intend to return to these countries to uncover interesting destinations previously overlooked.
And for something further afield, Perth in Western Australia is a mere 4.5 hour plane ride away, which makes it possible to squeeze in a short four to five day trip.  
As we gradually get accustomed once again to the rhythms of international travel, that long suppressed urge to make the trek to far flung, off-the-beaten-track destinations is surfacing again. After all, part of the fun in traversing the world is being able to dream up and plan for such bucket list holidays, knowing that the world is our oyster.
To paraphrase Neil Armstrong's quote, that trip to Bali was one small step for man, but one giant leap for pandemic-scarred globetrotters. Now excuse me while I trawl travel websites for the best deals in time for the next long weekend.
Karen Tee is a freelance lifestyle and travel journalist based in Singapore.