IN FOCUS: Is the metaverse another fading tech fad or our future online existence?
CNA looks at what the future could hold for a realm that many are aware of, but few understand.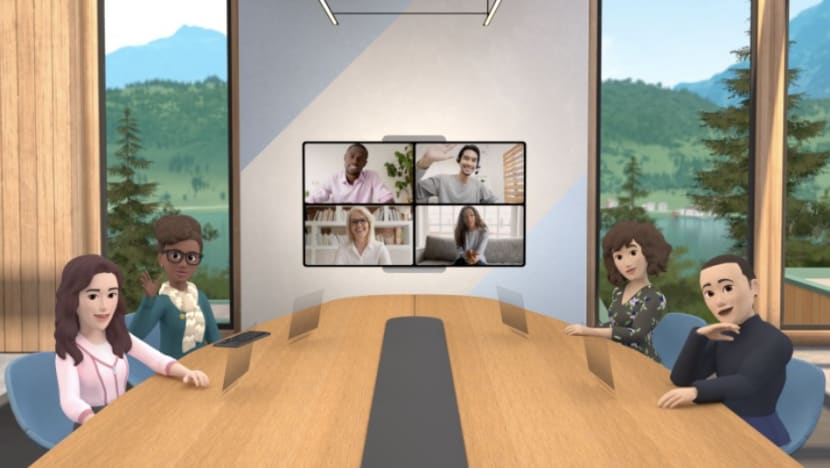 SINGAPORE: I plunge my ice axe desperately into the hulking mass of a glacier. 
Cracks spiderweb and splinter, but I can't find a handhold despite several attempts. I try not to look down, but inevitably I do. 
Where I had minutes ago been enjoying an exhilarating kayak amid friendly penguins, frolicking seals and a frisky whale, the Antarctic no longer seems as serene.
Ignoring the yawning chasm, I twist one arm across the other. If the route forward doesn't work, perhaps the one to my right would be more favourable.
The axe gnashes into the ice and I manage to continue my ascent. Minutes later, I hoist myself to the top of the glacier and drink in the view. Success. 
But rather than being perched atop a mountain of ice, I'm in Meta's Marina One office as part of my first foray into an immersive virtual world.
As I try on the National Geographic Explore VR, strapped to my face is the Meta Quest 2, a virtual reality (VR) headset developed by Meta's Reality Labs unit. 
Devices like the Quest 2 are part of push by Meta into what is known as the metaverse, a realm that many are aware of, but fewer people understand.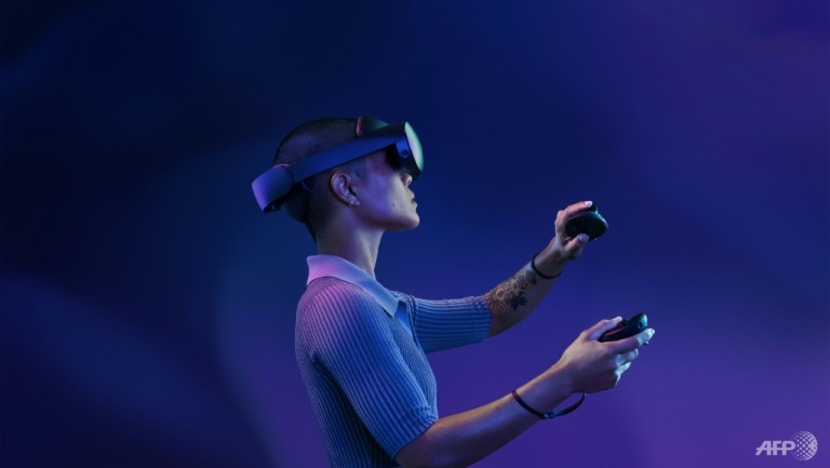 One can hardly blame them. Speak to different people and you're likely to hear various definitions of the metaverse. 
"Some people try to say that it's just like virtual reality and also augmented reality. But some people also link it with something like Web 3.0," said Singapore Institute of Technology Assistant Professor Frank Guan.
"It is quite common that different people (when) they talk about metaverse, they have a different kind of a definition or understanding."
Most observers, including Prof Guan, see the metaverse as a virtual world parallel to and interconnected with the physical one. 
The components of this virtual world include technologies such as the Internet of Things, artificial intelligence and the blockchain. While one can access the metaverse via a smartphone or a laptop, the optimal way of interacting and visualising the metaverse is through virtual reality (VR) or augmented reality (AR).
While AR and VR are not the metaverse, they are part of "future technologies" that are key to the metaverse, said Meta's Singapore managing director Damian Kim. 
A NEW WORLD OF OPPORTUNITIES, SAY SOME
Theirs was a wedding unlike any other.
In The Sandbox, a decentralized gaming virtual world, the avatars of Mr Clarence Chan and Ms Joanne Tham tied the knot at a digital recreation of The Alkaff Mansion.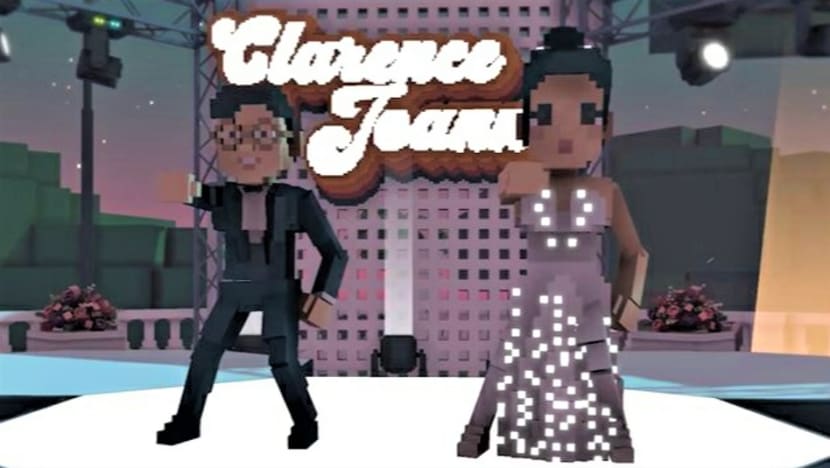 There was a horse-drawn carriage, a dance floor and even Ms Tham's pet dog.
Back in the physical world, friends and family watched on in a hotel as snippets of the couple's metaverse wedding aired.
"We wanted something 'phygital' - physical plus digital - put together. So at the physical wedding, we showcased the metaverse and it was interspersed with our whole wedding programme," Mr Chan told CNA.
At the end of the wedding, guests could scan a QR code to redeem a NFT (non-fungible token) which served as a wedding favour.
"I feel that it (the metaverse) will only grow in terms of its awareness, popularity, as well as social acceptance," added Mr Chan. 
And it isn't just individuals like Mr Chan who have been exploring the possibilities of the metaverse. Companies and organisations across various sectors have begun to take exploratory steps.
One of the first movers was Meta, renamed from Facebook in late 2021. 
"Building social apps will always be important for us, and there's a lot more to build. But increasingly, it's not all we do. In our DNA, we build technology to bring people together. The metaverse is the next frontier in connecting people, just like social networking was when we got started," said chief executive Mark Zuckerberg in a founder's letter.
But Meta's foray into the metaverse has been a costly one. Reality Labs reported an operating loss of US$13.7 billion last year. This was after a US$10.2 billion operating loss in 2021. 
Other tech companies have inched away from the metaverse. Just last month, a Reuters report said that the world's largest video game publisher Tencent Holdings would be abandoning plans to venture into virtual reality hardware. 
"Hardware costs and also the development costs are high - especially if we really want to have a high quality and also large scale metaverse," said Prof Guan.
Yet there remain undoubted opportunities, as real-use applications of the metaverse abound, say experts. One oft-cited example is the education sector, they noted.
Nanyang Technological University (NTU) Associate Professor Cai Yiyu explained that technologies such as VR can help students better understand concepts that otherwise would be tough to visualise.
"Sometimes maths can be too abstract, and biology structures are so tiny, but yet, still very dynamic. So if we are somehow able to create such content (and) make the content available in the educational metaverse, then kids can actually have a better, easier way to understand those challenging kinds of content," he noted.
Students feel that learning is fun and interesting in such a "metaverse environment", said Prof Cai. In addition, his research found that their academic performance improved as well.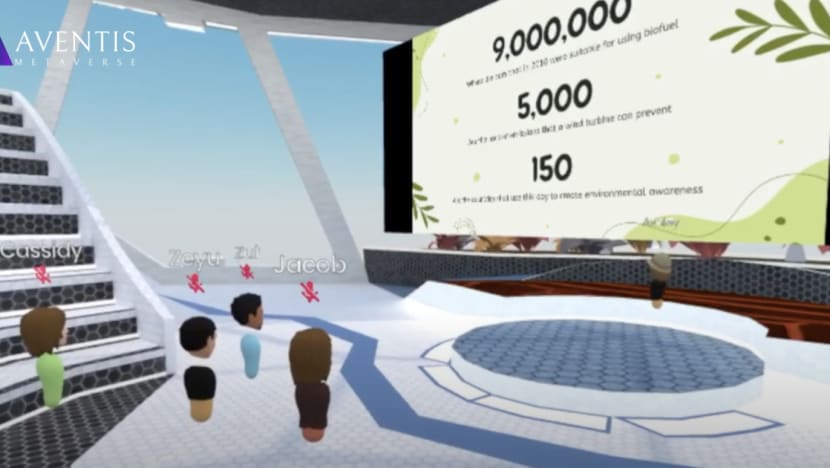 At a broader level, private education provider Aventis Graduate School announced a metaverse "roadmap" last year. As part of a move to make education more accessible and affordable for adult learners, the school has adopted "phygital" approach to learning.
The school currently has three metaverse campuses, one for each of its faculties. Students interact in the online meeting space FrameVR as avatars, with Zoom embedded into the platform so that lecturers hold classes, said Mr Samuel Teo, who is the school's general manager.
Students are rewarded with one NFT after completing each course, and they can use five NFTs to offset the cost of their sixth course.
The change takes getting used to for some students, said Mr Teo and there remains "resistance" as some still prefer traditional mediums such as Zoom.
"But they are really appreciative of the effort that we are pushing to educate them that actually the metaverse is nothing to be worried about … I think they are grateful that we provide a safe environment for them to explore and experience the metaverse," he added.
Aventis is also exploring ways to integrate artificial intelligence avatars to allow students to seek help 24/7, he added.
"We've seen an increased number of students coming from overseas taking our program. So I think if we're going to move back to face to face then we are depriving them of the opportunity. So we want to take it forward. Rather than just purely online, we want to … bring our campus to them, instead of them coming to us," Mr Teo said.
For now, one module from each of the faculties is already in the metaverse. 
Listen: Can anyone learn how to code?
The metaverse is attracting attention in other industries as well. 
Last year, DBS bank announced that it would partner The Sandbox  to create an "interactive metaverse experience", As part of the move, the bank will acquire a 3x3 plot of LAND - a unit of virtual real estate in The Sandbox - which will be developed with "immersive" elements.
DBS BetterWorld serves two purposes, the bank's Group Head of Legal and Compliance Lam Chee Kin told CNA. 
"The first and most important is to show the importance of building a more sustainable – hence better – world, in a different way, a more immersive, interactive way," he explained.  "The second is to engage and journey with new technology and a growing metaverse community as early as possible on what is potentially a long road to the full-fledged realisation of the metaverse."
Mr Lam added that DBS has a "strong commitment " to understanding and responsibly deploying new technology in business models.  With its clients doing likewise, it is important to "engage", he pointed out.
"By engaging early on the metaverse and its component technologies, we can grow both our business and our risk and control frameworks at the same time instead of taking the risk of one outpacing the other."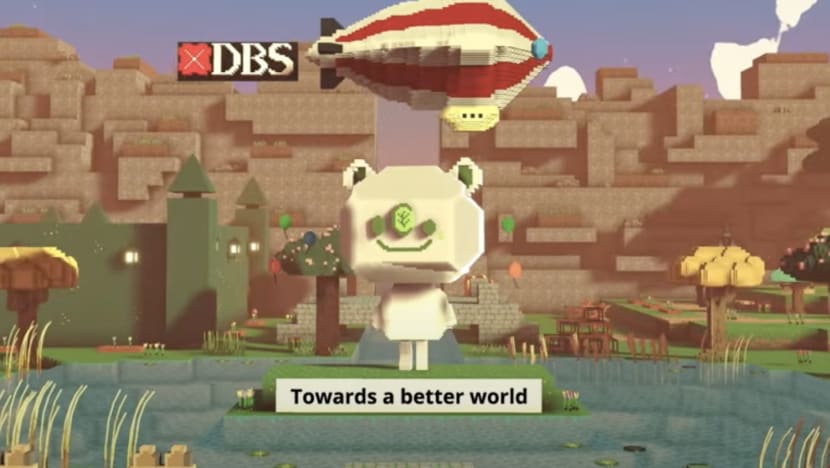 As part of a brand refresh, Sentosa unveiled a virtual space called SentosaLand in January. Hosted on Roblox, SentosaLand features key areas of the physical island, and players can participate on various online quests to win digital and real-life rewards.
SentosaLand provides a "marketing engine" to reach out to a global audience and also to the community base already formed on Roblox, Sentosa Development Corporation's digital director Ivan Teo said. 
It provides an "ecosystem" to bring on board our businesses on the island and connect them with users, he added.
To date, there have been about 37,000 visits to SentosaLand, with more than 1,000 rewards given out.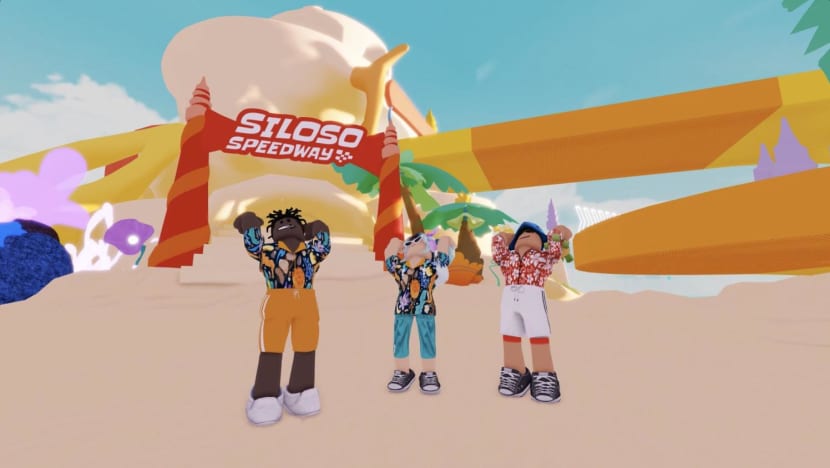 In January, Singtel, in partnership with South Korea telecom operator, SK Telecom (SKT), held its first metaverse event in Singapore.
About 130 participants created and customised avatars of themselves in SKT's Metaverse platform ifland as part of a virtual meet and greet with American singer-songwriter, Alec Benjamin. 
"As we are always exploring new technologies and solutions so we can add value through our differentiated products and services to better meet the evolving needs of our customers, the metaverse is a natural extension," CEO of Singtel's Consumer Singapore unit Anna Yip told CNA 
"In recent years, we noticed that younger customers were increasingly using platforms like Roblox, Bondee, ifland, and more which require ultra-low latency seamless connectivity. With rapid digitalisation, demand for such immersive and interactive experiences are only going to grow."
Moving forward, SingTel aims to offer new content and "innovative services" in the metaverse, said Ms Yip.  These could be in the form of virtual fan interactions with content creators, virtual concerts, and shopping experiences.
COST, ACCESSIBILITY AND VIABILITY ISSUES?
Companies that want to leverage on the metaverse have to first think about whether or not there is a reason for them to digitize their services,  said National University of Singapore senior lecturer Lu Weiquan.
Key to the metaverse is a digital twin - ​​a virtual model designed to accurately reflect a physical object, he added.
"We are definitely moving more towards a more 'metaverse-type' environment. However, it's very important to realize that not everything that is virtual is metaverse," Dr Lu explained.
"For example, should banks go into the metaverse? That's a debatable thing. Because if you can already access all the banking services that you need in the physical realm, then why think about the metaverse?"
One of the main limiting factors that has stopped the expansion of the metaverse has been that people have got it wrong so much, added Dr Lu, who said that games hosted on platforms like Roblox are "virtual worlds" rather than "true" metaverses.
Mr Warren Woon, co-founder of local metaverse platform Xctuality noted that the overall level of understanding of the metaverse is "relatively shallow". This sometimes leads to "misconstrued concepts" and limited application of technology, he added. 
"More often than not, large organisations will just check off its KPI that a metaverse has been rolled out, but without viable long-term commercial planning," said Mr Woon, who works with clients looking to digitally transform their businesses from Web2 (the current state of the internet) to Web3 (the internet's next evolution which incorporates concepts such as blockchain technology and is used to access the metaverse),
Accessing the metaverse via virtual reality and augmented reality does not come cheap either. 
While there are several cheaper headsets which cost less than S$100, most sit in a price range of S$100 to S$1000.
"The costs of buying VR headsets or future AR glasses are unavoidable and potentially prohibitive, despite our best efforts in making our headsets as affordable as possible," said Meta's Mr Kim.
"This is why we are also focused on building up other entry points to the metaverse, for example, through mobile phones, apps and AR technologies."
Experts too agree that the metaverse can still be accessed via other means such as smartphones and computers.
"We can have other toned-down versions, stripped-down versions, so that those who don't have access to the full immersive experience can still participate in the metaverse using their own devices or other ways that they can have access to," said NTU Assistant Professor Benjamin Li.
"Right now we can access the metaverse through our normal desktop computers. It's just not going to be as rich or as immersive as the immersive type technologies, but you can still access the metaverse through these other means," added Dr Lu.
The entry point of the metaverse is often also limited by elements such as internet speed and the capabilities of mobile devices, noted Mr Woon.
"The limitations are that the current state of technology and telecommunications still make it difficult to access and consume (the) metaverse in its optimal form, and we need to create entry points into the metaverse that are easily accessible by the masses across different geographical markets," he explained.
This sentiment is echoed by Mr Shawn Lim, founder of The AceMeta Company, a firm which focuses on building a digital community of like-minded artists to interact and co-create in their metaverse, and allows its users to decide and vote on desired games and functions on the platform. 
"(The) Metaverse requires a lot of download data. If the speed is not fast enough, then you will not enjoy the whole experience ... This something I hope that in the very near future can be resolved," he said.
Another issue the metaverse faces is regulation. It remains to be seen who can police the space and safeguard the welfare of users.
"Although the metaverse provides a virtual world for people to interact with each other, it doesn't mean that people can just randomly do whatever that they want to," said Prof Guan, who stressed the need for regulation.
"Education is also important, how to behave properly in the metaverse. I think this will be brought into the agenda, maybe for the next generation of children because they have the chance to be more immersed in the metaverse. So it's very important for them to be educated."
NOT A FLASH IN THE PAN
Despite the various challenges, those who CNA spoke to remain bullish about the future of the metaverse. 
"We've been getting a growing number of client projects and these are transitioning from proofs of concept into pilot projects into recurring engagements," said Mr Woon. "We're also seeing more government-related engagements, signifying that this is more than just a fad, and we may soon be seeing a transition from early adoption phase into early majority phase."
While criticisms of the metaverse that it is a "flash in the pan" are legitimate, they fail to recognise the evolution of the technology, and focus on "failed short-term business models", said DBS' Mr Lam.
"We prefer to take a longer view," he added.
Those who think that Metaverse is just a passing fad might not "truly understand" it, added Dr Lu.
"Just think about the digital twin (and) how the digital twin can revolutionize many of the ways in which companies optimize their operations or optimize their internal works ... If you can already use them well because you understand the components that work out very well for your business, then it's not a fad, it's real life."
Mr Kim noted that AR and VR technologies are also becoming much more a part of everyday lives.
"It is clear that people and businesses are seeing the benefits of immersion and shared experiences. What we've learned over the years is that new technologies are adopted by people first, which creates a domino effect that drives different business models," he said.
Mr Kim added that there is "huge potential" for the metaverse.
"Our hope is that within the next decade, the metaverse will host hundreds of billions of dollars of digital commerce, change the way we work and support jobs for millions of creators and developers," he explained.
"This may come to fruition over the long term should there be sustained technology investments made in the next five to ten years."
At the same time, the metaverse can never and will never replace reality, say those who spoke to CNA. Instead, it will add value.
"Metaverse is not going to replace the hawker centers, not going to replace the food. But the thing is it can do is to add value to helping hawker owners transact (in an) easier (way), and can help them connect with people (in an) easier (way)," said AceMeta Chief Operating Officer Nikolai Kea. "The metaverse is about connecting, but not forgetting."
"There's still some things that the metaverse cannot completely replace in real life," added Prof Guan.
"We still need to eat, right? I love to eat chili crab … I (may be able to) see it in the metaverse, but I cannot taste it there."
You may also be interested in: