From Tampines to Toa Payoh: 5 neighbourhoods to pilot 'Friendly Streets' with wider paths and 'calmer traffic'
The Friendly Streets initiative is expected to be piloted in Ang Mo Kio, Bukit Batok West, Tampines, Toa Payoh and West Coast by 2025, and may be expanded to other neighbourhoods in future.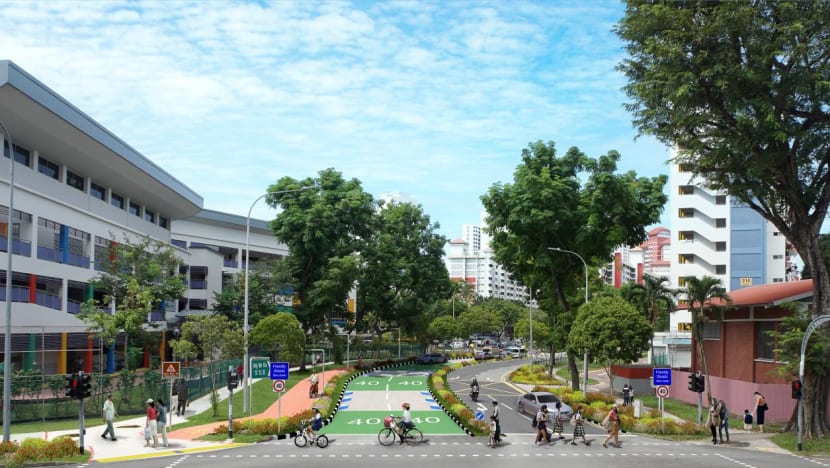 SINGAPORE: An initiative to transform neighbourhoods into "more pleasant" public spaces that are safer for pedestrians will be piloted in five neighbourhoods - Ang Mo Kio, Bukit Batok West, Tampines, Toa Payoh and West Coast - by 2025. 
The Friendly Streets initiative will be in "high-activity areas and near key amenities in our towns", said Senior Minister of State for Transport Amy Khor during her ministry's Committee of Supply debate on Friday (Mar 3).
These areas will have widened footpaths, new barrier-free crossings with priority for pedestrians and "calmer vehicular traffic" through road treatments and markings to encourage gracious road behaviour, added the Land Transport Authority (LTA) in a media release.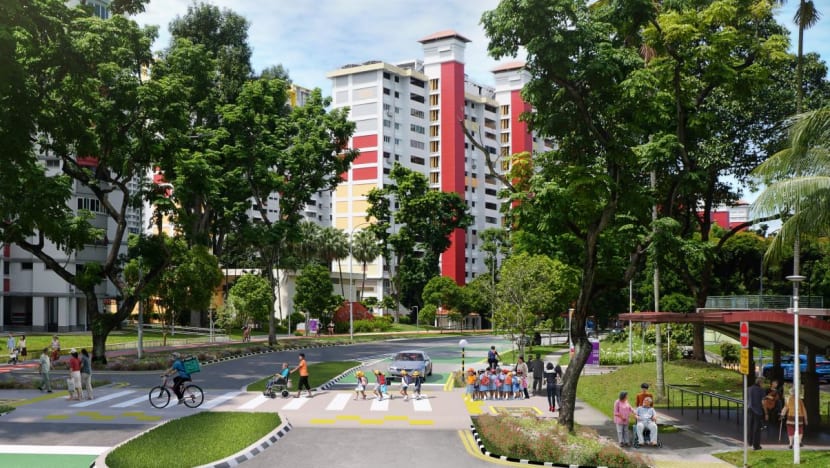 The measures are a continuation of efforts to make roads less vehicle-centric and to make neighbourhoods more inclusive and suitable for Walk Cycle Ride journeys, noted LTA.
LTA said it will study the Friendly Streets pilots to fine-tune the initiative before expanding it to other neighbourhoods.
The success of such projects ultimately "depend on the strengths of the local 'kampung spirit' in looking out for one another when using our streets and commuter facilities", it added. 
MORE LIFTS AT OVERHEAD BRIDGES
To better cater to Singapore's ageing population, lifts will be added to more pedestrian overhead bridges, Dr Khor said. 
Such lifts have been retrofitted on pedestrian overhead bridges since 2013. Lifts have been added to 77 existing bridges so far, with another 30 planned.
"We prioritised pedestrian overhead bridges near major transport nodes and healthcare institutions so that the lifts will benefit commuters with mobility challenges," Dr Khor said. 
The transport ministry is now looking to launch a new phase to retrofit another 110 existing bridges with lifts, she added.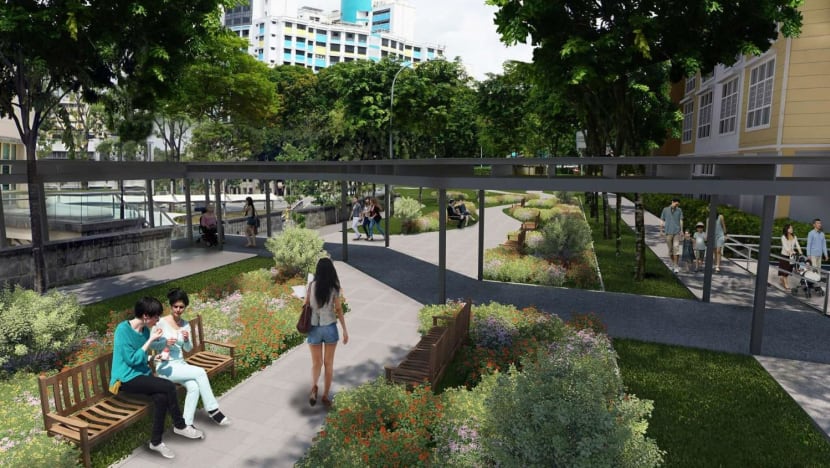 PEDESTRIANISATION PROJECTS IN CHOA CHU KANG, TAMAN JURONG
Two new pedestrianisation projects in Choa Chu Kang and Taman Jurong will also begin in the second half of this year, Dr Khor announced on Friday.
An 80m-stretch between Choa Chu Kang Avenue 1 and the Sunshine Place mall will be converted to pedestrians-only. This will improve accessibility to amenities in the mall and to the future Jurong Region Line station nearby.
An 18m-stretch of Yung Sheng Road, between Taman Jurong Shopping Centre and Taman Jurong Market and Food Centre, will also become pedestrians-only. LTA is also proposing a covered linkway and to improve barrier-free access for pedestrians moving between the two developments.  
Dr Khor also shared updates on existing road repurposing projects. The pedestrianisation of Woodlands Ring Road next to Kampung Admiralty will be completed this month, while the road repurposing project at Tiong Bahru is slated for completion by June.
RECOVERY OF PUBLIC TRANSPORT RIDERSHIP
Transport Minister S Iswaran on Friday also said public transport ridership had recovered to 90 per cent of pre-COVID levels in January this year, although travel patterns have "yet to stabilise because of various adjustments to work practices".
Public transport journeys to the Downtown Core in the morning peak hours are at about 70 per cent, while journeys to other areas like Queenstown are at 90 per cent, he said.
Woodlands and Tuas are already back to pre-COVID levels.
Meanwhile, point-to-point (P2P) trips in 2022 recovered to about 80 per cent of pre-pandemic levels, added Dr Khor. 
But while the demand for P2P services has increased, there are now fewer P2P drivers. The number of monthly active P2P drivers dropped from around 69,000 pre-pandemic to 55,000 in the last quarter of 2022. 
The decline is "steeper" for taxi drivers as there are around 9,000 fewer active drivers compared to pre-pandemic, noted Dr Khor, adding that many drivers who left the industry were two-shift drivers who would drive night or weekend shifts.
She acknowledged that the lack of drivers has resulted in high surge fares and longer waiting times, especially during the late evening or at night.
"The tight supply of P2P drivers reflects the manpower shortage in many sectors post-COVID, and the industry will require time to adjust to demand for P2P rides," she added.