Discussions on drawing down reserves for COVID-19 pandemic were robust and intense: Halimah Yacob
"We had many, many meetings. And those meetings actually don't just (last) half an hour. They lasted a few hours because we need to ask questions, we need to be satisfied," recalls the outgoing President.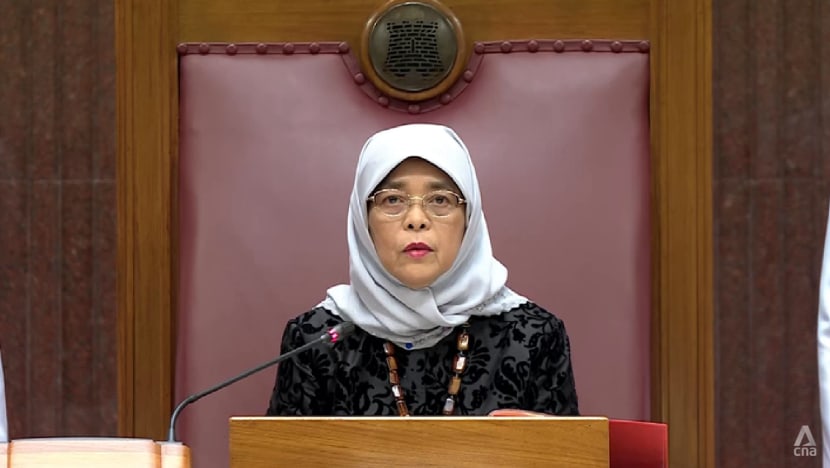 SINGAPORE: Discussions on deciding to draw down on Singapore's reserves during the COVID-19 pandemic were robust and intense, outgoing President Halimah Yacob said in an interview with CNA which will be broadcast on Sep 12.
"We had many, many meetings. And those meetings actually don't just (last) half an hour. They lasted a few hours because we need to ask questions, we need to be satisfied, we wanted more information," she said. 
Singapore first tapped into its reserves in 2009, taking out S$4.9 billion (US$3.6 billion) to support the economy through the global financial crisis. Over a decade later, it drew on the reserves during the COVID-19 pandemic between 2020 and 2022 – using about S$40 billion in all.
The discussions on the reserves took place when social distancing measures had to be observed. This meant that half of the Council of Presidential Advisers and ministry officials had to be in separate rooms, and they would join the meeting via Zoom, Mdm Halimah shared.
"It was very thorough ... and done in an atmosphere where we respect each other's roles. We understand what we have to do and the government has its role to make sure it provides for the people during such a critical crisis," said Mdm Halimah. 
"We have our role to protect the reserves and to make sure that the government's request is reasonable."
Mdm Halimah, who is Singapore's eighth President, will leave office on Sep 13, and former Senior Minister Tharman Shanmugaratnam will be sworn in as Singapore's next President. 
GETTING THROUGH COVID-19
As the President of Singapore during the COVID-19 pandemic, Mdm Halimah said one of her biggest concerns was how Singapore would get through a global crisis of such magnitude. 
"The question is whether our health facilities, our economy, our people are able to go through ... such a severe disruption and we are able to come out intact," she said, adding that while Singapore had experience with SARS, the COVID-19 situation unfolding every day looked more and more grave. 
She was also concerned about how much of Singapore's reserves would need to be used to address the situation. 
"With regards to the past reserves, I'm very clear in my mind, I'm only authorised to release past reserves for very exceptional circumstances," she added. 
When approached by the government about using the reserves for pandemic support, she had to first ascertain whether these were exceptional circumstances. 
"This is a double whammy, both health and in economic crisis, and (we) clearly established that there is a need for us to pull down from the past reserves because the government's current reserves (are) not sufficient to run the programs, build the facilities, buy the ART kits, support the vaccine program and so on," she added. 
After concluding that the situation was truly exceptional, the next question was how much of the past reserves she would allow the government to draw down. 
Describing it as a "very intense process", Mdm Halimah recalled the briefings she sat through with ministers and government officials, to ask them questions and hear them justify how much they need. 
"If you say the health situation is critical, what do you mean by that? Hospitals, if you say it's going to be overwhelmed, if you don't have additional facilities, what do you mean by that?" she added. 
"So once we've established that, then we go to the second part, and that is the question of how much to draw down. And that is for the government then to justify, to say we need this amount, these billions of dollars for these purposes and these programs, and the programs are then all itemised," said Mdm Halimah. 
"Once they provide that, then we understand better the situation, then we can talk about whether we want to support the government's request to draw down the past reserves."
One of her main considerations was to ensure that there would be enough left in the reserves to support future generations, said the outgoing President. 
"That is definitely one of the main consideration, whether we are depleting our capital in allowing the drawdown," she added. 
"But then this is a critical moment and the reserves were accumulated not just for the future but also how to support the current Singaporeans who are parents of this future generation." 
For example, people who are parents might have lost their jobs, or have their income reduced because companies cannot continue to pay their full salaries. 
"If the parents can't do that, the future generation will be affected. I mean, they can't take care of their family."
Watch Halimah Yacob: A President For Everyone at 9pm SG, Sep 12 on CNA.