Contractors working on HDB projects to get more help, including protected prices for some raw materials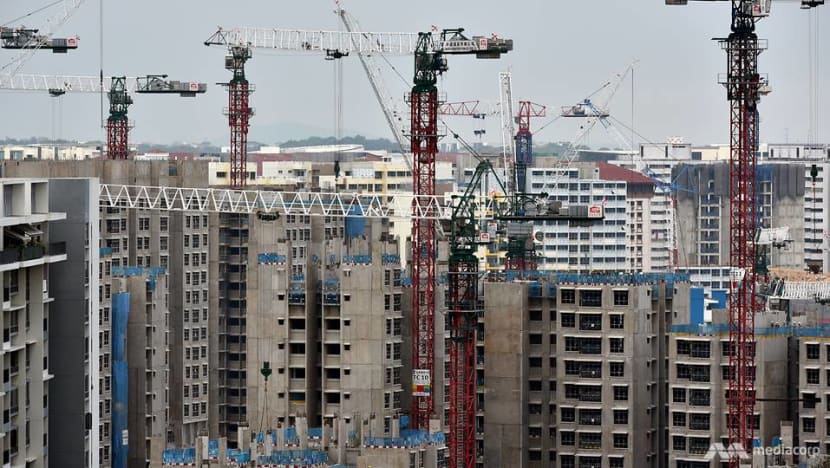 SINGAPORE: Construction companies working on Housing and Development Board (HDB) projects will get more support in the form of protected prices for some raw materials like steel.
To help cushion the impact of price increases, HDB said it will extend the duration of steel price protection by nine months, an increase from the earlier extension of four months. 
About 35 projects could benefit from this extension, the agency said on Wednesday (Sep 15).
Previously, the steel price protection provided by HDB was for 18 or 22 months, covering the typical length of time required for structural works.
With the extension, contractors who started structural work in January can now be protected against steel price fluctuation until March 2022.
From October, contractors who carry out pre-cast production locally may also apply for additional supplies of concreting materials - cement, sand and aggregates - at protected prices, beyond the amount that they had earlier opted for in their tender. 
"This protects our contractors against material price fluctuations and potential supply disruptions for concreting materials, as the risk is borne by HDB," said the agency.
HDB noted that since January, the prices of steel and concreting materials have risen by about 25 per cent and 15 per cent respectively.
The various measures rolled out so far are aimed at minimising delays to Build-to-Order (BTO) projects, said Minister for National Development Desmond Lee in a Facebook post. 
"The construction industry has been badly battered by the COVID-19 pandemic," Mr Lee said. He noted that manpower shortages, supply chain disruptions, rising material and shipping costs, as well as stringent public health measures have put "significant strain" on local contractors who find it a challenge to keep to project timelines.
"We recognise that these delays have also affected home buyers and disrupted many of their life plans," he added.
"We will do our best to assist affected homebuyers. HDB will continue to keep homebuyers updated on the completion date of their new flats through letters as well as the My HDBPage as construction progresses."
The support measures come after it was announced that month that the main contractors of five BTO projects, Greatearth Corp and Greatearth Construction, were unable to continue due to financial difficulties.
The affected projects are Senja Ridges, Senja Heights, Sky Vista @ Bukit Batok, Marsiling Grove and West Coast Parkview.
In his Facebook post, Mr Lee noted that the Government had rolled out an "extensive set of assistance measures" to support the contruction industry.
These include about S$170 million in advance payments to help ease contractors' cashflow. The money was disbursed to 36 contractors for 74 residential projects under construction, according to HDB in a fact sheet. 
About S$36 million was also paid to 50 contractors for 96 residential projects, as part of HDB's effort to co-share the increase in non-manpower-related operating expenses arising from the prolongation of construction contracts. Such expenses include equipment rental, extension of project insurance premiums and the rental of offsite storage.