CNA Explains: Will the HDB mortgage rate go up as interest rates rise?
How is the HDB home loan rate determined? If you're buying a flat, should you choose a bank loan instead? Here's what you need to know.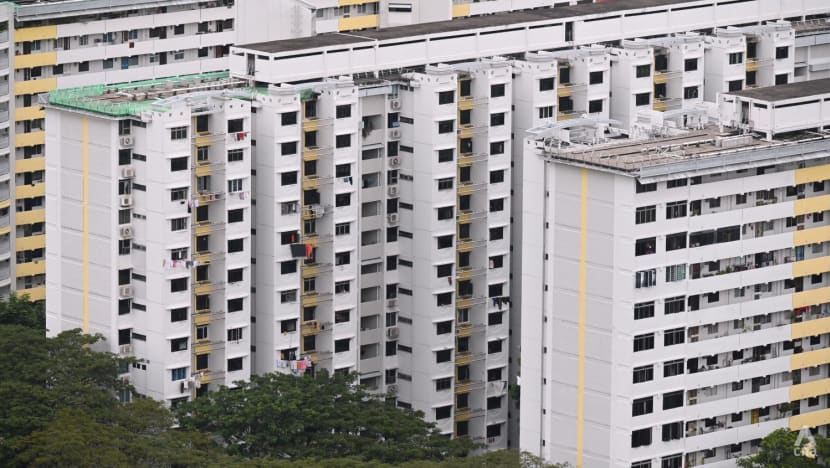 SINGAPORE: As interest rates for home loans rise, more flat buyers are borrowing from the Housing and Development Board (HDB) rather than banks to finance their homes.
At 2.6 per cent, HDB's concessionary mortgage rate used to look expensive next to bank rates of less than 2 per cent. 
But with the US Federal Reserve hiking interest rates to temper rising inflation, interest rates and mortgage rates here have risen in tandem and bank home loan rates are now topping 2.6 per cent.
Could the HDB rate also rise? Here's what you need to know:
What is the HDB mortgage rate and who can apply for the loan?
The concessionary HDB mortgage loan interest rate is currently 2.6 per cent. 
Only home buyers below certain income ceilings can borrow from the HDB. This is S$14,000 for families, S$21,000 for extended families and S$7,000 for singles.
At least one buyer must be a Singapore citizen, and applicants must not have taken two or more housing loans from HDB before. There are also restrictions based on the home buyers' ownership of other properties.
How is the HDB mortgage rate determined?
The current HDB concessionary loan is pegged at 0.1 per cent above the Central Provident Board (CPF) Ordinary Account rate. HDB explained in a Straits Times forum letter in 2020 that it obtains its mortgage loan funding from the Government at the CPF OA interest rate. The additional 0.1 per cent covers HDB's cost of loan administration.
As the Ordinary Account rate has been at 2.5 per cent since 1999, the HDB concessionary loan rate has been fixed at 2.6 per cent for the last two decades.
But it hasn't always been this way, said Mr Bruce Chow, head of loan concierge at property portal 99.co.
"If we refer to the Excel spreadsheet of interest rates from CPF, it shows a 4.41 per cent interest rate on our Ordinary Account from January to June 1999. This means our HDB concessionary loan rate would have been 4.51 per cent.
"In another instance, in March 1986, the CPF Ordinary Account rate was 5.78 per cent. This means our HDB concessionary loan rate would have been 5.88 per cent," he said.
This means that if the CPF Ordinary Account interest rate goes up, the HDB loan rate will rise as well.
How then is the CPF OA interest rate set?
The CPF Ordinary Account interest rate is pegged to the three-month average fixed deposit and savings rates of three major local banks - DBS, UOB and OCBC - but there is a legislated floor rate of 2.5 per cent per annum.
While the rate is reviewed quarterly, it has not risen above 2.5 per cent since 1999.
In the CPF Board's last review, published on May 27, the three-month average of the major local banks' interest rates, from February to April 2022, was 0.09 per cent.
With interest rates now rising, might the HDB mortgage rate rise as well?
Singcapital's chief executive Alfred Chia said that interest rates have been abnormally low since the global financial crisis in 2008, and historically, the US Federal Reserve's average is about 4 per cent. After recent rate hikes, it is now in the range of 2.25 per cent to 2.5 per cent.
Mr Chia expects the Fed to increase interest rates to about 3.5 per cent by the end of the year, but he does not think bank savings rates here will rise enough to affect the CPF OA rate.
He pointed out that in 2007, before the financial crisis, interest rates in the US rose to an average of about 5 per cent, but CPF OA rates still remained at 2.5 per cent.
"There is a mechanism in place, and it (results in) a very stable rate for HDB owners. It's not always going to be like this, but it has been this way for 20-over years," he said.
With rising inflation, there were questions in Parliament this month about whether the CPF interest rates should rise to keep pace, and Manpower Minister Tan See Leng's reply was that despite the low interest rate environment, the Government has continued to pay generous interest rates due to the floor rates.
99.co's Mr Chow said: "Currently, there may be pressure to increase the CPF Ordinary, Special and Medisave rate to keep up with inflation. However, the flip side of that would be more home owners needing to pay more for their HDB concessionary loans since their loan rates are pegged to the Ordinary Account. 
"This will be something the Government will take into consideration before deciding on any move."
What else should home buyers take note of when choosing HDB or bank loans?
But there are other considerations other than the interest rate to think about when taking a home loan. Many first-time home buyers should consider an HDB home loan, if they qualify for it, for other reasons, said the experts.
Mr Chow said that one is the smaller downpayment compared with a bank loan. HDB allows home buyers to borrow up to 85 per cent of the property's value versus 75 per cent for bank loans. 
There is also the option to pay the HDB downpayment with CPF and no cash. Bank loans, on the other hand, have a minimum requirement of 5 per cent to be paid in cash. 
If one takes an HDB loan, there is the option to switch to a bank loan, but home owners cannot refinance their bank loans into HDB loans.
"The interest rate over the long term is definitely more stable," said Mr Chia, adding that those who took property loans from banks are now worried about rising mortgage rates. 
However, home owners that buy older HDB units with a shorter lease may not be able to fully utilise their CPF to pay off the housing loan, said Mr Chow. He advised buyers to check the HDB portal for the exact amount when buying older houses.