Every HDB flat will be a valuable nest egg for retirement, says PM Lee
Prime Minister Lee Hsien Loong adds that all public housing towns and estates will be good places to live in, and that "property values will reflect that".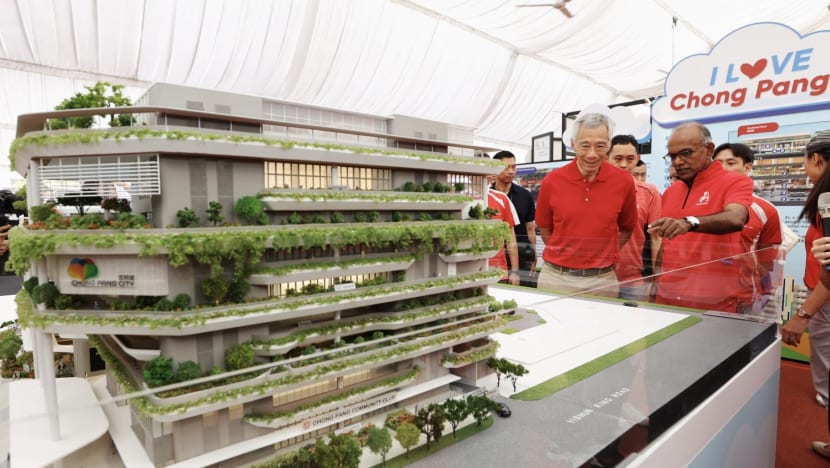 SINGAPORE: Singapore's Prime Minister Lee Hsien Loong on Sunday (Mar 26) said it was the ruling People's Action Party government's promise that all Housing Board (HDB) flats would be good homes as well as valuable nest eggs for retirement. 
"We strive very hard to make all our new towns, all our HDB towns highly liveable," he said.
"For one reason or other, there will be some which will still be more popular than others. I think that is just the way things are, it cannot be helped. But whether the town is very popular or very, very popular, every town and HDB, every estate you live in, you can be assured that it is well-planned, well-appointed, well-maintained."
"And it will be a good place to live in, and your property values will reflect that," Mr Lee added.
He was speaking at the groundbreaking ceremony for a new integrated development at Chong Pang estate, first announced in 2020 and slated for completion in 2027.
The new Chong Pang City is an example of what's being done all over Singapore, said Mr Lee.
"We are building HDB estates, but not just houses, but also up-to-date amenities to meet the modern living needs of residents," he said.
"We are progressively redeveloping the older precincts to refresh the living environment with new homes and new amenities and infrastructure."
"And we want every one of our HDB towns, new or old, to be of high quality."
Most cities elsewhere find this "very difficult" to achieve, said Mr Lee.
"If you go to most cities, you will see that some areas are very nice, that is where the tour guide will take you, but there will be other areas which you may not see as a tourist - neighbourhoods left behind without much amenities, dilapidated or run down, or inconvenient to live in because it is a long journey to commute to work or to school."
In contrast, every town in Singapore can be assured of "amenities, schools, clinics, hawker centres, kopitiams, sport facilities, good transport connectivity, not just within the town with shuttle bus services, but expressways, MRT lines to the rest of Singapore", the Prime Minister added.
"Our public housing system works, and I think Singaporeans know that," said Mr Lee.
"With your support, we will continue to keep this system running well, and we will deliver on our promise to Singaporeans for many more years to come."
Public housing - in particular its cost - is a perennial hot-button topic in Singapore, with an opposition party last month claiming the system was "fundamentally broken" and calling for a reset of policies.
But this was dismissed by a majority of lawmakers in favour of a counter-motion affirming the government's commitment to affordable and accessible public housing, while stressing the need for sustainable policy improvements instead.