Parliament rejects PSP's public housing proposals, passes government motion on affordable and accessible HDB flats
National Development Minister Desmond Lee said the PSP's motion has "noble intentions" but the party's claim that the public housing system is "fundamentally broken" is unacceptable.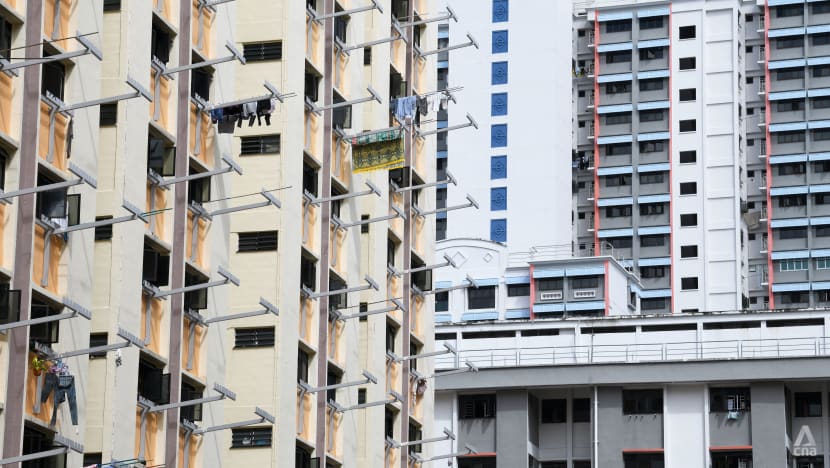 SINGAPORE: Parliament on Tuesday (Feb 7) rejected a motion by Progress Singapore Party (PSP) calling for a "reset" of public housing policy, while voting in favour of a motion by National Development Minister Desmond Lee that affirmed the Government's commitment to affordable and accessible public housing.
The votes, which came after two days of debate that ended past 11pm on Tuesday, saw 82 Members of Parliament (MPs) supporting the motion by the Government, with 11 MPs voting against it. Eleven MPs voted in favour of the PSP's motion, while 82 MPs voted against.
The House also voted against a suggested amendment by Leader of the Opposition Mr Pritam Singh to Mr Lee's motion which originally read: "That this House affirms the importance of keeping public housing affordable and accessible while protecting the interests of current and future generations of Singaporeans, and endorses the commitment of the Government to these twin goals."
The Workers' Party (WP) chief sought to amend the part of the last line of the motion to read: "That this House ... calls on the Government to intensify its efforts to meet these twin goals."
Prior to voting, Mr Singh said that WP MPs would vote in favour of the PSP motion. But he also stated that the PSP's proposed schemes were not the WP's proposals. While his party was not supporting the two proposals, they felt that the ideas should be studied further, he added.
"We don't see the motion per se in an insidious fashion, we actually focus on the fact of calling for a review of policies for better outcomes," he explained.
As part of their motion on Public Housing Policies, PSP Non-Constituency MPs Mr Leong and Ms Hazel Poa had made two proposals to address concerns about public housing.
They suggested an Affordable Home Scheme that defers land costs from BTO purchases, with such costs to be paid only if the flat is sold on the resale market. Another proposal, the Millennial Apartments Scheme, would provide a large stock of "quality flats" near the central business district for young Singaporeans to rent for two to five years.
In his counter-motion, Mr Lee said public housing remained broadly accessible and affordable, and stressed the need for sustainable improvements to housing policy.
He said that the Government was studying changes to that policy, and will introduce more "Shorter Waiting Time" BTO flats from 2024, and consider more support for first-time Housing Board (HDB) flat buyers to purchase resale flats.
In his closing speech on Tuesday, Mr Lee said that the PSP motion has "noble intentions" but the party's claim that the system is "fundamentally broken" is unacceptable. 
"By no means are we saying through this motion that all is well and good, and that nothing needs fixing, it is a perfect system," he said. "Our system is far from perfect but it has achieved through the generations the outcomes that we have laid on the table today."
Mr Lee also described the WP's amendment as "attempts at politicking".
"For the Leader of Opposition to characterise our motion as us sitting on our laurels and therefore necessitating this late amendment, I think is misplaced," he added.
On Tuesday, Mr Leong stressed that the current system is not delivering all desired outcomes, resulting in outcomes such as Central Provident Fund (CPF) savings being "depleted".
He added current market conditions provide a "brilliant opportunity" for a reset of policies, as foreigners remain eager to put money into the property market.
PSP PROPOSAL "PERPLEXING"
Senior Minister of State for National Development Sim Ann criticised the "perplexing nature" of the PSP's Affordable Home Scheme, which she said involved a "super low price upon entry".
If BTO applicants were attracted by the low prices, that would create a lot of demand, and she questioned if this would subsequently make it harder for first-timers to get a flat and worsen current concerns about accessibility.
By moving from an affordability model to a cost-based pricing model, it was possible that prospective sellers could end up paying a much higher price to the Government if they sold their flats, Ms Sim added.
She went on to reject arguments by PSP and Assoc Prof Jamus Lim (WP - Sengkang) that the use of CPF savings to buy HDB flats, as well as lease decay, put retirement adequacy at risk.
"Owning a HDB flat that can last us for life is, in itself, important for retirement security," she said. "But we do not depend on home ownership alone for retirement needs. This is why CPF policy is also focused on helping individuals secure a lifelong cash payout through CPF LIFE."
On reconciling appreciating flat values with the reality of lease decay, Ms Sim said that aside from inflation, "strong economic fundamentals and rising incomes" also had an impact on the value of flats.
"Unity, hard work and good policies would help to continue creating favourable economic conditions for Singapore. Now that our economy is more mature, growth rates cannot be as fast as in the past, but we still work towards delivering a better life for Singaporeans, which would include improvement in incomes.
"Getting this right would mean that the value of this flat would continue rising for a considerable time," she said.
Ms Sim also rejected PSP's Millennial Apartment Scheme idea, arguing that the Government had good reasons to keep subsidised rental housing "very targeted", as homeownership was an important goal of public housing for nation-building and financial security.
OTHER IDEAS FOR PUBLIC HOUSING
In Tuesday's debate, a number of parliamentarians shared other suggestions aimed at improving the accessibility and affordability of public housing.
MP Leon Perera (WP-Aljunied) suggested that the Government consider building some BTO flats sold at 70-year leases, with the option for topping up another 29 years. This would allow BTO flats to be sold at a lower price and may better suit the life plans of buyers, he noted.
Additionally, Mr Perera proposed building a new class of flats ahead of demand rather than being built to order. While he acknowledged that HDB is already building ahead of demand where possible, he suggested that more "advance build BTOs" be constructed more frequently.
The WP also raised proposals on how to moderate resale flat prices.
MP Gerald Giam (WP-Aljunied) listed several suggestions on how to increase the supply of such flats, such as restricting the concurrent ownership of HDB and private property. HDB flat owners are currently allowed to buy private residential property without selling their flat if they meet the Minimum Occupation Period and pay the Additional Buyers' Stamp Duty (ABSD).
Mr Giam pointed out that as of October last year, about 3 per cent of HDB flat owners own at least one private property, which translates to about 32,600 units. He explained that of these, 45 per cent are not living in their flats, which means there are about 15,000 HDB flats unoccupied by owners. 
Looking ahead, the Government could consider the possibility of future buyers of private property being required to sell their flats, he suggested. For those who already own both concurrently, the Government could incentivise them to sell their HDB flat by rebating the ABSD they paid at the time of purchasing the private property, Mr Giam added.
To increase the supply of resale flats, Mr Giam also suggested building more two-room Flexi flats for seniors whose grown children have moved out, allowing them to "right-size" their flats in old age.
The idea of right-sizing flats was also raised by MP Nadia Samdin (PAP-Ang Mo Kio), who suggested a "stage of life housing grant" to motivate couples to pick the right-sized flat for their first home and mortgage at the start of their homeownership journey. 
Ms Samdin also suggested increasing the supply of three-room flats in the resale market by reducing the Minimum Occupancy Period for such flats to three years, from five.
These proposals encourage a "rethink" of how Singaporeans approach housing, she said, encouraging flat-buyers to buy a space they need today, and upgrade if needs change in the future.
In his closing speech, Mr Lee said that the Government will continue to listen to the aspirations, ideas, hopes and fears of Singaporeans.
"We will study the ideas, including the suggestions we hear from members from both sides of this House during these two days of debate so that we fulfil that commitment to the twin goals of continually ensuring affordability, accessibility and continuing to improve our housing system."
Listen: Here's how to save on grocery bills