Are BTO flats affordable? HDB explains approach to pricing, development costs
"We do not apply a profit margin on costs. To determine housing affordability, we look at the buyers' household incomes and the selling prices of the flats on offer," says HDB.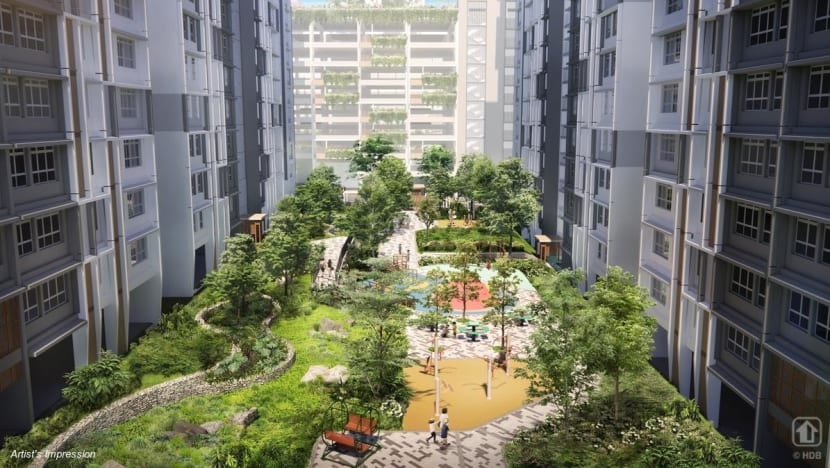 SINGAPORE: It is a "key national priority" to keep public housing affordable so that Singaporeans can own their homes, the Housing and Development Board (HDB) said on Wednesday (Dec 7).
The Housing Board said this in response to queries on how Build-to-Order (BTO) flat prices are determined, and their development costs.
In a statement issued to the media, HDB went into some detail about how new flats are priced, emphasising that it prices the flats with "affordability in mind". This is unlike the private sector, which is profit-driven, it said.
"We therefore do not apply a profit margin on costs. To determine housing affordability, we look at the buyers' household incomes and the selling prices of the flats on offer," said HDB.
While the pricing process has long been established, questions have been raised recently about the continued affordability of HDB BTO flats as prices of new launches hit new highs. Five-room and larger new flats for Central Weave @ AMK, launched in August, started at more than S$700,000 and some topped S$800,000.
HDB said that in pricing new BTO flats, it first establishes the market value of the flats by considering the prices of comparable resale flats nearby.
This is influenced by prevailing market conditions, as well as the individual attributes of the flats. These attributes can include location, floor height, tenure, flat features and the amenities nearby.
HDB said that with many BTO projects launched every year in different housing estates, new flat selling prices will not be uniform, and will have to take into account the different attributes and location of the flats on offer.
"This also ensures fairness for the different buyers as these HDB flats can be bought and sold in the resale market after the five-year Minimum Occupation Period (MOP), and the locational and other flat attributes will be reflected in the resale prices then and any benefits will accrue to the flat owner/seller."
MARKET SUBSIDIES
It then applies a "significant subsidy" to the assessed market values to ensure that new flats are affordable for flat buyers.
Besides the varying attributes of new flats, market conditions may also fluctuate between BTO launches, hence the extent of market subsidies applied by HDB will vary across BTO projects in different launches.
Varying the market subsidies protects homebuyers from market fluctuations and ensures that BTO flats remain stable and affordable, HDB said.
"When the resale prices move up, HDB will, in tandem, need to increase market subsidies to keep BTO prices affordable," it said.
It uses a similar approach for the Prime Location Public Housing (PLH) projects, but PLH flats are priced with additional subsidies, on top of the market subsidies for all BTO flats.
"For parity with other BTO flat owners who are not accorded these additional subsidies and to reduce windfall gains, PLH flat owners will need to pay a fixed percentage of the higher of the resale price or valuation of the flat to HDB, upon sale of their flats, to reduce any excessive windfall gains," it said.
DETERMINING AFFORDABILITY
HDB uses resident household incomes and Mortgage Servicing Ratio (MSR) to determine affordability. MSR is the proportion of monthly income used to service mortgage instalment payments.
"To determine affordability, HDB looks at the resident household incomes, and compares them with the range of flat types and selling prices on offer at every BTO launch," it said, adding that the MSR is used as a benchmark.
It also said that it considers a range of different household incomes, both above and below the median household income level, to meet different housing needs and budgets.
In the first half of this year, 90 per cent of flat buyers who collected keys to their new flats in non-mature estates and more than 80 per cent of flat buyers who collected keys to their new flats in mature estates had an MSR of 25 per cent or lower.
This means they used 25 per cent or less of their monthly income to service their HDB loans, and that the flat buyers can are using their monthly CPF contributions, with little or no cash outlay, said HDB.
International benchmarks for MSR have been at 30 per cent to 35 per cent.
LAND COSTS
On land costs, HDB said that it pays fair market value for land that is developed into public housing.
"The fair market value is determined independently by the Chief Valuer in accordance with market conditions and established valuation principles," it said.
The cost of land used for public housing is lower than for private residential use in the same area, it added.
"This differential reflects the more stringent eligibility criteria and conditions that buyers of public housing must meet in terms of income, citizenship, minimum occupation period etc," HDB said.
"Proceeds from HDB's land purchase are paid back into the past reserves, which are in turn invested to generate returns for future generations of Singaporeans."
HDB gave an illustration of land and building costs over the last three financial years, the first time the board has done so.
The numbers are for flats where the keys have been issued to buyers, and reflect the cost of BTO projects launched about three to four years ago, before the COVID-19 pandemic.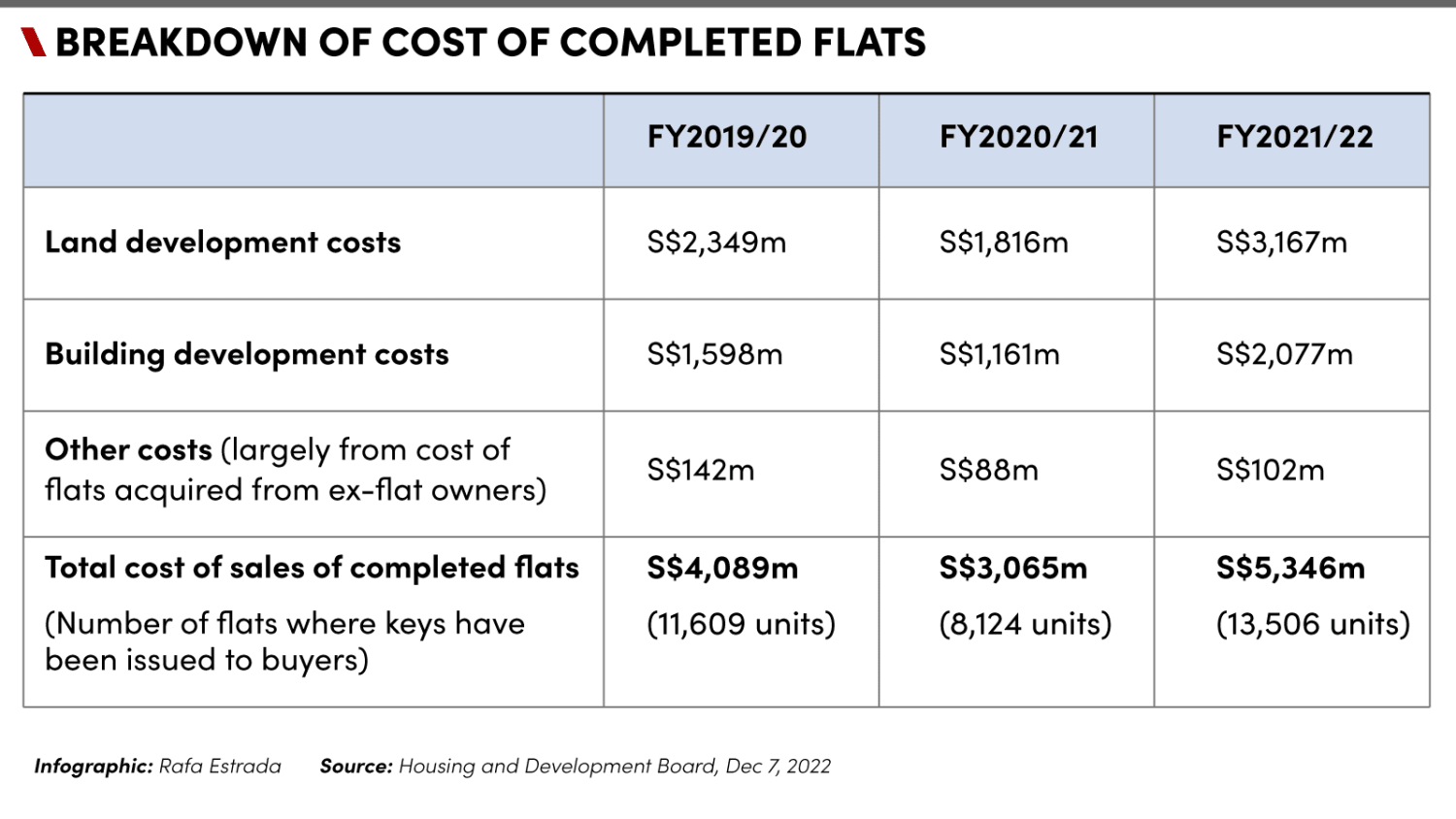 PRICE AND DEVELOPMENT COSTS "SEPARATE AND INDEPENDENT" 
HDB said that unlike private developers, it does not take into account provision for a profit margin.
"HDB's flat pricing approach is totally separate and independent from the BTO projects' development costs," it said.
"By increasing the subsidy applied in a rising property market, HDB has kept BTO flat prices relatively stable. This was the case even in the past two years where construction costs had increased by almost 30 per cent."
It added that the increase in BTO flat prices in the last decade has kept within the growth in resident household incomes.
From 2012 to 2021, the median resident employed household income grew by 26 per cent, while the average selling prices per square foot for BTO flats grew 16 per cent for non-mature estates, and 22 per cent for mature estates.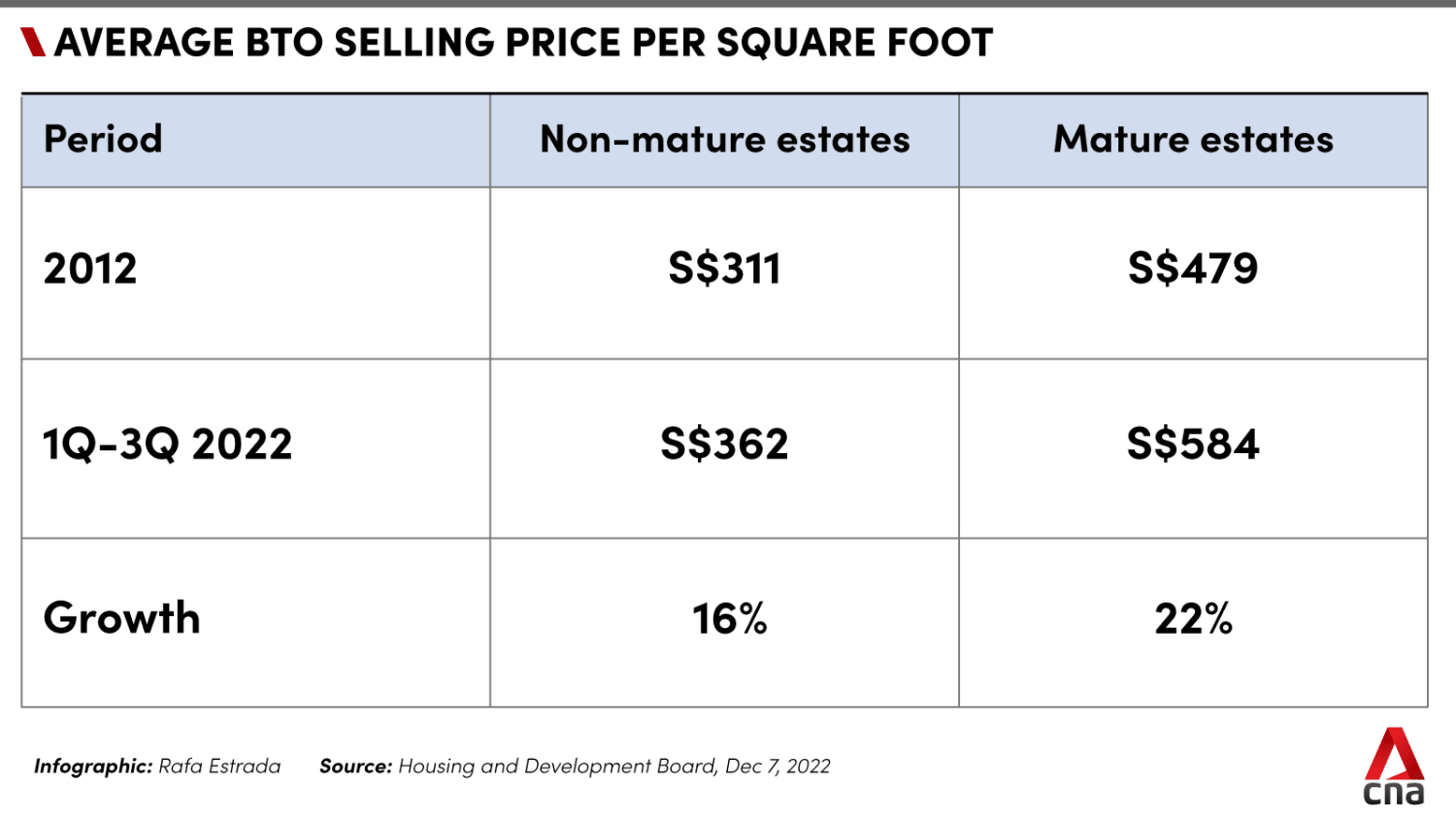 HDB also provides housing grants and the grants have also "increased several times" over the same period, it added.
"The total development cost, which includes construction and land costs, cannot be fully covered by the selling prices of flats as the latter is highly subsidised," said HDB.
HDB reiterated that it incurs significant deficits every year in its Home Ownership Programme, which are reflected in its annual reports. In the latest FY2021/22, HDB recorded a deficit of about S$3.85 billion in its Home Ownership Programme.
The deficit stems mainly from the gross loss on flat sales completed, but also includes expected loss for flats that started development in the financial year and disbursement of CPF housing grants to eligible resale flat buyers.
The expected loss will continue to be adjusted over the course of construction period, said HDB.
It added that at each BTO launch, the recently transacted prices of comparable flats are shared, alongside the selling prices for each BTO project.
"These prices clearly show that each BTO project is priced substantially lower than comparable resale flats, due to the significant subsidies applied."
Listen: Can the property market be cooled?