IN FOCUS: Why does Singapore build flats 'to order'? A look at the BTO system's past, present and future
Amid questions about certain aspects of the BTO system, CNA looks at its origins, how it operates and aims to meet the needs of prospective buyers.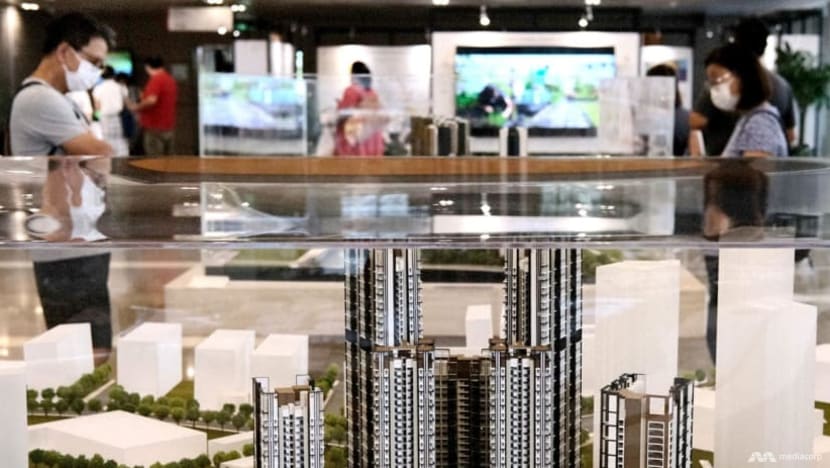 SINGAPORE: Planning to get married in 2021, Ms Tan Pei Yi and her then-fiance started applying for a new flat as early as four years before.
They hoped that would give them enough time to secure a unit and have a date to move in not that long after tying the knot, but it proved more challenging than they expected.
The couple mostly applied for Built-to-Order (BTO) and Sale of Balance (SBF) flats in non-mature estates like Woodlands and Sembawang, so they could live near their parents. They also tried their luck in Queenstown once.
After their eighth try, they wrote to their Members of Parliament to appeal their case in late 2021. Ms Tan was not sure if that helped, but they finally secured a flat in January this year. 
"We had to make do with a second-level unit. Not what we wanted, but for someone who tried so many times, we were tired too," said the 29-year-old, who works in logistics.
Now married, she splits her time between her parents' home and her in-laws, while waiting for their own flat to be completed by early 2026.
Getting a BTO flat is a rite of passage in Singapore for most young couples looking to get married, but in the last few years issues have cropped up for some, such as difficulty booking a flat and construction delays.
HDB says that nearly all first-timer families who apply for BTO flats in non-mature estates have a chance to book a flat within two tries, and virtually all had a chance to book a flat within their first three tries. Still, a confluence of expanding housing demand and delayed supply because of COVID-19 has created some challenging dynamics, analysts say.  
During the pandemic, some people working from home realised that they needed more space, or would prefer to live away from other family members - contributing to greater demand, pointed out ERA Realty's key executive officer Eugene Lim.
Both construction and home-buying slowed in that period, but once Singapore re-opened, there was a swell of pent-up demand. Couples who had delayed getting married or buying a house during the pandemic also started looking, or renewed their search for a home.
On the supply side, the COVID-19 pandemic, a manpower shortage and global supply chain disruptions have delayed the completion of construction projects.
In the housing market, the time it takes for supply to ramp up is far longer than the time it takes for demand to change, said Mr Nicholas Mak, head of research and consultancy at ERA Realty.
"It's very difficult to always meet the demand 'just-in-time' because it takes about one year to plan, three years to build … Demand changes much faster than supply … (It can change) within weeks," he said.
All this has contributed to a booming resale market, with prices climbing for 10 consecutive quarters. Since the first quarter of 2020, the HDB resale price index has risen by 36.6 points, or close to 28 per cent.
The latest attempt to cool the property market came on Sep 30, with authorities imposing a 15-month wait-out period for private home owners buying HDB resale flats.
This was the second tranche of cooling measures in 10 months. The loan-to-value (LTV) limit for HDB housing loans, which was lowered to 85 per cent in December 2021, was further reduced to 80 per cent.
This means that those applying for HDB loans can only borrow up to 80 per cent of the property's value.
Following the cooling measures, the rise in resale prices slowed but continued to inch up in October.
According to data from real estate portals 99.co and SRX, HDB resale prices in October climbed for the 28th consecutive month, though at a slower pace of 0.5 per cent, compared with 1.3 per cent in September.
Despite rising prices, some couples feel that they can't wait anymore and will shell out more for a resale flat in their preferred location.
Germaine, who asked that her real name not be used in the story, applied to HDB for a flat a total of 11 times since May 2018 - six times for Sale of Balance flats and five times for BTO projects.
These were all in mature estates, where units are in higher demand, but she and her partner both want to live near their parents, she said.
As they were first-time applicants and were applying to live near their parents, both of which gave them priority under the BTO system, they thought they had a higher chance. But 11 attempts and four years later, she has decided on a different path.
They will get a resale flat, which is 40 years old, and costs close to S$200,000 more than a BTO flat in the area their parents live in. She pointed out that prices are now at an "all time high" compared to 2018 when she first started applying for new flats.
"I want to settle down and start a family … it will be worse if I continue to wait," she said.
HOW THE BTO SYSTEM WORKS
News of long waiting times, delays in completion and the higher prices of both resale and BTO flats have led to questions about Singapore's public housing system on social media and in Parliament.
Some have asked why the Ministry of National Development (MND) builds to order, instead of building first. Others question if the flats are still affordable for young families.
A blog post about the BTO system by a National University of Singapore professor in October also gained considerable traction online. 
One of the solutions by Associate Professor in Computer Science Ben Leong was to "ensure the supply exceeds demand", so there will always be flats that couples can immediately move into if they wish to. This excess supply will also keep prices down and keep flats affordable, he reasoned.
Questions have also been raised in Parliament, with two MPs asking on Oct 20 whether the Government will consider advance construction of more HDB BTO projects to shorten the waiting period of first-time applicants.
National Development Minister Desmond Lee replied that since 2018, HDB has been offering BTO flats in some projects with shorter waiting times of around three years or less.
HDB has ramped up the supply of BTO flats to 23,000 flats per year in 2022 and 2023, a 35 per cent increase from 2021. It is prepared to launch up to 100,000 new flats from 2021 to 2025, if needed.
HDB has explained on numerous occasions that almost 90 per cent of first-timer families who apply for BTO flats in non-mature estates have a chance to book a flat within two tries. First-timer families are given two ballot chances compared with one chance for second-timer families.
"Those who have been unsuccessful in two or more attempts for BTO flats in non-mature estates will be given an additional ballot chance for each subsequent application in the non-mature estates," it added.
IS BUILDING FIRST POSSIBLE?
But why not build first? This would be returning to the housing policies before the current BTO system came about.
Prior to the current system, HDB had the Registration for Flats System. Under this system, buyers could only select the broad geographical zone their flat would be in, but there was a shorter waiting time. They were only informed of the exact location and cost of the unit when they were invited to select the flat.
In the mid-1990s, as HDB resale prices soared, the Government introduced anti-speculation measures in 1996 to bring prices down. But this coincided with the Asian Financial Crisis in 1997 when the property market slumped.
As demand flagged, there was a large inventory of unsold flats sitting empty. The BTO system, introduced from 2001, was designed to better estimate demand and avoid such a scenario.
In one of a series of commentaries penned for HDB's 50th anniversary in 2010, then National Development Minister Mah Bow Tan said that one of his first challenges after taking up the appointment in 1999 was to deal with the excess of more than 31,000 unsold flats.
"Almost every year, until 2006, Members of Parliament expressed their concerns in Parliament about the unsold stock, and asked what steps HDB was taking to clear it. The Auditor-General's Office, too, urged the Board to reduce its unsold stock, highlighting the high cost of holding vacant flats," he said.
"HDB had to come up with all sorts of ways to clear the flats – converting five-room and executive flats into smaller two- and three-room ones, organising roadshows, implementing walk-in selection of the ready flats, and engaging managing agents to rent out unsold flats temporarily."
Mr Mah pointed out that if HDB were to fly on "auto-pilot" and supply a fixed number of flats every year, regardless of market conditions, there would be the risk of an oversupply in some years. 
THE FLIP SIDE: OVERSUPPLY
In a 2015 Committee of Supply speech in Parliament, Mr Khaw responded to a question from MP Gan Thiam Poh who had asked that the authorities build ahead of demand in a "significant" way, so that flats were available on demand. 
"No developers adopt such a model, because the holding cost of keeping a large number of flats empty will be prohibitive," he said.
Mr Mak also pointed out that overbuilding can result in the wasting of resources.
"To the home buyer, overbuilding seems like a 'good thing' as it doesn't cost them anything but it's a cost to all the taxpayers, and the whole society," he said.
Even as the excess flats sit empty, HDB has to maintain them, using more state funds. Buildings left empty deteriorate faster - tiles pop up, unused water pipes may rust. If the flats are lived in, there is wear and tear but home owners also "take care" of the property", he pointed out.
Units that are difficult to sell can also cost taxpayers money, he added.
"Real estate is the most immovable asset in the world, it's not like you have excess iPhones or bottles of shampoo … you can't move flats around (to another place with more demand)," he added.
A BIT OF BOTH
Initially, the construction of HDB projects only started after 70 per cent of the flats were spoken for. Mr Mah pointed out at the time that the waiting time would be longer.
"Under the BTO scheme, when demand is slow, it's ok," he was quoted by the Business Times as saying in 2001. "When demand picks up again, there will be some issues to resolve." 
In 2011, due to a demand surge, the next Minister for National Development, Khaw Boon Wan, asked HDB to "build ahead of demand".
This meant HDB calling for a tender as soon as the tender documents and architectural drawings were prepared rather than waiting for 70 per cent of orders to be confirmed.
"However, the term 'BTO' is still used to refer to new flats built, allocated, and sold by HDB," said Professor of Real Estate Sing Tien Foo, director of the Institute of Real Estate and Urban Studies at the National University of Singapore.
"The same process of starting construction without the 70 per cent cutoff has continued today."
In response to CNA queries, HDB said that it is already building ahead of demand or actual bookings, where possible. And since May 2011, it has called for and awarded construction tenders for the majority of BTO projects ahead of the outcome of the flat selection.
The agency added that the BTO system is "flexible and responsive", and allows HDB to dynamically adjust its building plans to meet demand.
"When demand is high, as it is now, the number of BTO projects is ramped up. The BTO system provides the necessary discipline to prevent a major supply overhang which could result in unsold flats and depressed prices," the agency said.
"However, how early the construction tenders can be called depends on a variety of factors, such as readiness of sites, status of the planning approval and design development process, among others."
CONSTRUCTION CAPACITY THE BOTTLENECK
Most analysts felt that the issue is not the BTO system, but the constraint in construction capacity, exacerbated by the COVID-19 pandemic and the conflict in Ukraine.
Ms Christine Sun, senior vice president of research and analytics at OrangeTee and Tie, thought either system could work, but said that whether to build first or build to order is not the "crux" of the issue.
"Now we're just talking about clearing the backlog (of flats being constructed) first," she said.
Analysts CNA spoke to also noted that there could be some respite ahead on the supply front.
Mr Mak noted the current situation will ease in the next year or two as goods and labour can cross borders more easily and bottlenecks in the construction industry ease. 
"The current demand-supply imbalances caused by the backlog in supply could be eased in the next few years when more BTO flats are built and supplied to the market," added Prof Sing.
Ms Sun added that cooling measures will help and will take some time for effects to show, and future developments like Southern Waterfront, Dover Forest may take some pressure off demand for flats in central areas 
As for wait times, perhaps with better construction technology, the building times can be accelerated, she pointed out.
"The choke point is the construction sector, once the construction sector (has) normalised, we can shorten the construction process," added Mr Lim.
HDB is also pushing for higher construction productivity in public housing projects. A key initiative is the Construction Transformation Project which will pilot a range of technologies to further raise productivity.
It is aiming for a 25 per cent improvement in productivity in pilot projects Garden Waterfront I & II @ Tengah, which will be launched in the November 2022 sales exercise.  
AFFORDABILITY QUESTIONS
The affordability of BTO flats has also been a topic of debate among Singaporeans, with the issue raised by Assoc Prof Leong in his blog post. 
Speaking in Parliament last month, Minister for National Development Desmond Lee acknowledged concerns about housing affordability, and said that the Government has been "carefully monitoring" the market.
He noted that this is why the authorities continue to build and sell new HDB flats at prices below the market as they come with "significant subsidies".
Mr Lee pointed out that the average price for a new four-room flat in a non-mature estate has remained "relatively stable" at S$341,000 in 2019 and $348,000 in the first three quarters of 2022.
HOUSING GRANTS, MARKET SUBSIDIES HAVE INCREASED
HDB said that in the first quarter of this year, almost 90 per cent of flat buyers who collected keys to their new HDB flats, in both mature and non-mature estates, had a Mortgage Servicing Ratio of 25 per cent or lower for their HDB loans.
"This means that these flat buyers can service their HDB loans using their monthly CPF contributions, with little or no cash outlay. The MSR is below the international benchmark of 30 per cent to 35 per cent," said the agency.
To keep new flats affordable, market subsidies have been increased. The amount of housing grants given out by the Government has increased over the years, HDB said.
RISING DEVELOPMENTS COSTS
ERA's Mr Lim said that currently HDB flats are priced quite close to cost. He said that it is not possible for the new HDB flats to cost S$100,000 as in the past, because the construction costs of the unit would come up to more than that.
"We just take the HDB flat specs (specifications) and apply the construction costs, it is already more than S$100,000. Don't forget, you still have to account for the land. They don't have to bid competitively for the land, but there is still a land cost component."
However, BTO flats priced at more than S$800,000 have raised eyebrows. In the August BTO launch, a five-room flat at Central Weave @ AMK was priced at between S$720,000 and S$877,000. Resale flats nearby are selling for S$960,000 to S$1,150,000, according to HDB's August media release.
In that same launch, five-room flats at a less central location, Choa Chu Kang, had price tags of S$390,000 to S$508,000.
HDB said that while BTO flats are highly subsidised, some BTO flats with attractive locational attributes, will have a higher price point.
Central Weave @ AMK is located in Ang Mo Kio Town Centre, near to amenities such as a market and hawker centre, Ang Mo Kio Polyclinic, Ang Mo Kio library, shopping malls such as Djitsun Mall and AMK Hub, Ang Mo Kio MRT Station and bus interchange, it said.
"The higher selling prices of these flats reflect their favourable attributes and location. Nonetheless, like other BTO projects, the new flats in Central Weave @ AMK are priced with generous subsidies, resulting in selling prices that are below the transacted prices of comparable resale flats," it said in reply to CNA's queries.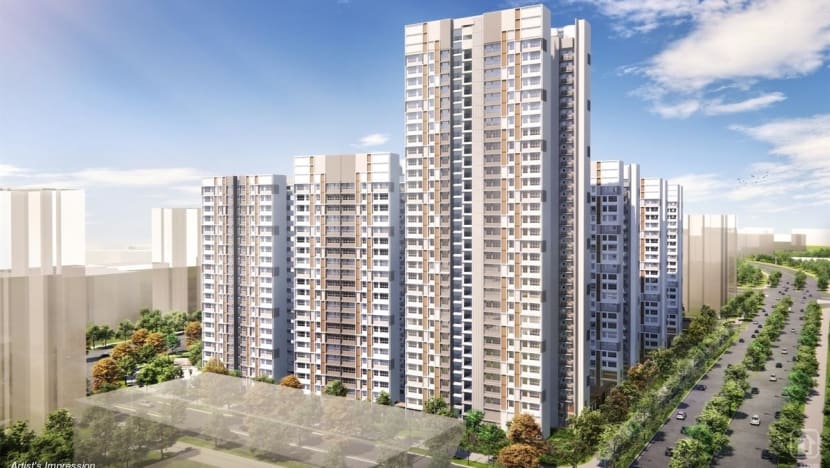 It aims to serve the needs and budgets of a diverse group of flat buyers by offering a range of BTO flats with different attributes, price points, locations and different levels of housing grants, said HDB.
Speaking in Parliament earlier this month, Leader of the House Indranee Rajah said that the Government provides "generous grants" to eligible applicants, to purchase flats below HDB's posted price.
Responding to a question from Leader of the Opposition and Workers' Party chief Pritam Singh who had asked whether HDB will provide a breakdown of the total development cost of BTO flats and the value of the subsidies applied to them, Ms Indranee said different places will have different pricing and different subsidies, and a breakdown of costs "is not meaningful" or helpful.
She replied: "Should we give the total development costs? The answer is that we don't think that anything would be achieved by doing so. 
"And the reason is this: What is the real important thing to Singaporeans? The real important thing is are you able to afford a flat … and every Singaporean who buys a BTO knows that actually the price that they are paying is less than what you would have to pay if you were paying a pure market price. 
"That's why BTOs are so popular. Otherwise, you would buy resale."
Professor Sing said that HDB flats are both homes and assets to their owners. 
"Due to economic growth, many buyers who bought their HDB could also sell with some gains, and they use these HDB flats as a channel to move up their housing ladder," he said.
"This is an important social compact that the government (has) promised to ensure social mobility in the community."