BTO rules tightening: Home buyers worry they may be forced to choose a 'bad flat'
Applicants for Build-To-Order flats say that if they do not get a "good queue number", they can only choose from what some might see as less desirable flats, such as those on lower floors.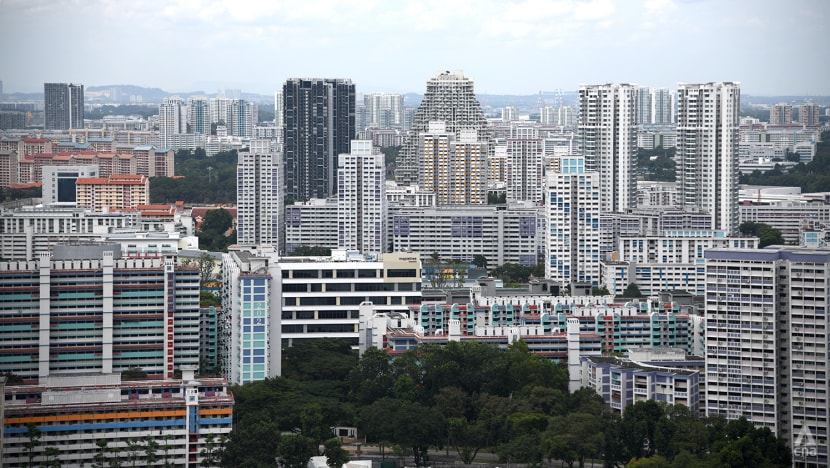 SINGAPORE: Flat applicants could find themselves in a quandary with the latest change in Build-To-Order (BTO) rules to penalise those who reject a flat.
A first-time applicant, who wanted to be known only as Mr Oh, told CNA he was given a queue number to select a flat in the February 2022 BTO launch. But he did not want to as only second- and third-floor flats were left to choose from.
He had little to lose by doing so, as current rules allow potential flat buyers to refuse twice before they lose their priority status as a first-timer.
First-timers get two ballot chances instead of one, and up to 95 per cent of the BTO flat supply is reserved for them.
When asked if he would have done the same under new rules announced on Thursday (Mar 2), Mr Oh said he might have had no choice but to pick a flat. He would not want to lose his first-timer priority status as he has a child and needs a home, he said.
The 33-year-old later selected a four-room flat in the May BTO launch as he got a "good queue number".
In a tightening of rules due to high demand, first-time BTO flat applicants who decline to select a flat when invited to do so will lose their priority status for a year. This takes effect from the August 2023 sales exercise.
They can still apply for a new HDB flat, but the flat allocation quota for second-timers is lower, Minister of National Development Desmond Lee said when announcing the change.
Second-timers who reject a flat when invited to do so will not be allowed to participate in HDB sales exercises for one year. Currently, this only kicks in after they decline to book a flat twice.
BTO applicants get a queue number based on balloting and if there are units left when their number comes around, they are invited to select a flat. The number of applicants typically exceeds the number of flats available by multiple times, especially for popular locations in mature estates. 
The difference in chances between first-timers and second-timers is stark. 
Taking Mr Oh's case, there were 2.5 first-time applicants vying for each four-room flat in Yishun during the sales exercise in February last year. But for second-timers, the rate was 16.2
In the May launch, the ratio was 9.4 first-timers versus 28.4 second-timers for each four-room flat at the Yishun Beacon BTO development.
The chances may seem slim with such a high number of applicants for a limited supply of flats. But even if an applicant had a queue number of 150 and only 100 flats were available, they might still get to choose a flat, as according to the HDB, 40 per cent of applicants give up their chance when their turn comes.
Authorities have said that there are many reasons for this. Some, like Mr Oh, did not like the flats left for them to choose from, some simply do not turn up for their appointments, others hedge their bets and may have other housing options. 
"My HDB colleagues also shared that some applicants may be rather selective, wanting only flats on high floors," said Mr Lee at the Committee of Supply debate on Thursday.
"For some, the remaining flats may be out of their budget. For others, they might be considering other housing options, or prefer flats with specific attributes for specific reasons.
"But whatever the reason, such applicants do crowd out other homebuyers who may have more pressing needs."
To be fair to applicants at the back of the queue, Mr Lee said HDB will waive the penalty for non-selection if an applicant has 10 or fewer flats to choose from. For Sales of Balance flat exercises, where the supply is much smaller, this threshold is set at five or fewer flats.
Although Mr Oh once refused to choose a flat, he is in favour of the move as it will deter people who "just apply for fun", he said.
Another BTO applicant who asked to be referred to as Madam Seah said she applied for a flat in the last two launches. Although the new rule will not affect her, she empathised with families who did not want flats with undesirable attributes.
"There's no point choosing a place you don't like," she said, giving examples of flats on low floors, west-facing units that get too much sunlight and flats near rubbish collection areas.
The 52-year-old asked if there were other ways to weed out buyers who "just want to profit" from their first BTO flat.
Another applicant Timothy Eng, 29, said he wants a flat that he is "happier with" rather than one with "not-so-good attributes". If the units left were not to his liking, he said he would opt for a resale flat instead.
"I think that if your queue number is outside of the number of flats, it is a bit unfair. It may make sense if you are within the queue numbers, but to be penalised because you don't want to choose a bad flat if that is all you are left with is not the fairest," Mr Eng said. 
"It may become harder to change homes in the future, especially if you are stuck with a not-so-good flat."
FEWER APPLICANTS FROM AUGUST: ANALYSTS
Property analysts said they expect to see fewer applicants for BTO flats from the August launch onwards due to this change in rules.
Mr Lee Sze Teck, senior director of research at Huttons, said this is a "good step towards improving accessibility to a BTO flat which is a public good". 
"Applicants do not select a flat for various reasons … since they intend to stay there for many years, they would want to choose the best unit in their view. To those with a genuine reason, they will feel aggrieved at this change," he said.
Huttons estimated that the number of applicants for the August 2023 BTO launch may fall by as much as 20 per cent.
Some analysts said it may create a rush to apply for flats at the February and May 2023 launches before the new rule kicks in.
Mr Nicholas Mak, head of research and consultancy at ERA Realty Network, said that the new rule will force BTO applicants to think carefully before they apply, and may boost demand for resale flats.
"When this new rule comes into effect from August 2023 onwards, the number of BTO applications may temporarily decrease as only the more serious BTO flat buyers will apply," he said.
Applicants, especially second-timers, who had one non-selection count may turn to the HDB resale market, he added. But this increased demand may not last, said Dr Tan Tee Khoon, Singapore country manager at PropertyGuru.
"The market will likely recalibrate and stabilise by next year after some volatility as home seekers grow accustomed to the new regulations," said Dr Tan.
WHO MAY DROP OUT?
Ms Christine Sun, senior vice president of research and analytics at OrangeTee & Tie, said that many buyers who do not have urgent housing needs will likely hold back their applications.
"The applicants who may drop out include those who have applied many times as they were targeting popular mature estates or certain flat types, which are deemed to yield better investment returns," said Ms Sun. 
"Others could be undergraduates or courting couples who may not be ready to get married but have applied to secure units earlier." 
In 2018, HDB allowed younger couples aged at least 21 years old to defer the assessment of their income and apply for flats early, so more undergraduates and national servicemen may have joined the queue, she said, adding that some could have withdrawn their applications when the relationship soured.
"Now many may hold back their applications until they are committed to the relationship and are ready to settle down," she said. 
Other housing policy changes were announced at the Budget 2023 speech on Feb 14 and the Committee of Supply debate for the Ministry of National Development on Thursday. 
A new First-Timer (Parents & Married Couples) or FT(PMC) priority category has been created. Applicants in this category – first-timers who have children and married couples aged 40 and below – get three ballot chances instead of two.
Eligible first-timers buying resale flats will also get a boost in the CPF Housing Grant amount of up to S$30,000.