About 4,400 BTO flats launched for sale, including prime location units in Dover Forest and Farrer Park
SINGAPORE: A total of 4,428 Build-to-Order (BTO) flats were launched for sale on Tuesday (Feb 28), spread across five projects in the housing estates of Kallang Whampoa, Queenstown, Jurong West and Tengah.
Two of the projects - at Dover Forest and Farrer Park - are under the Prime Location Public Housing model. They are located within the estates of Queenstown and Kallang Whampoa respectively.
The flats launched on Tuesday range from two-room Flexi to five-room units.
"With significant subsidies, the new flats will be priced considerably lower than the transacted prices of comparable resale flats," said the Housing and Development Board (HDB) on Tuesday.
"In particular, all the four-room flats in the non-mature estates offered in this sales exercise are priced below S$400,000, before grants."
HBD added that in the non-mature estate of Jurong West, eligible first-timer families can buy a three-room flat from S$112,000, or a four-room flat from S$228,000 - after including the Enhanced CPF Housing Grant.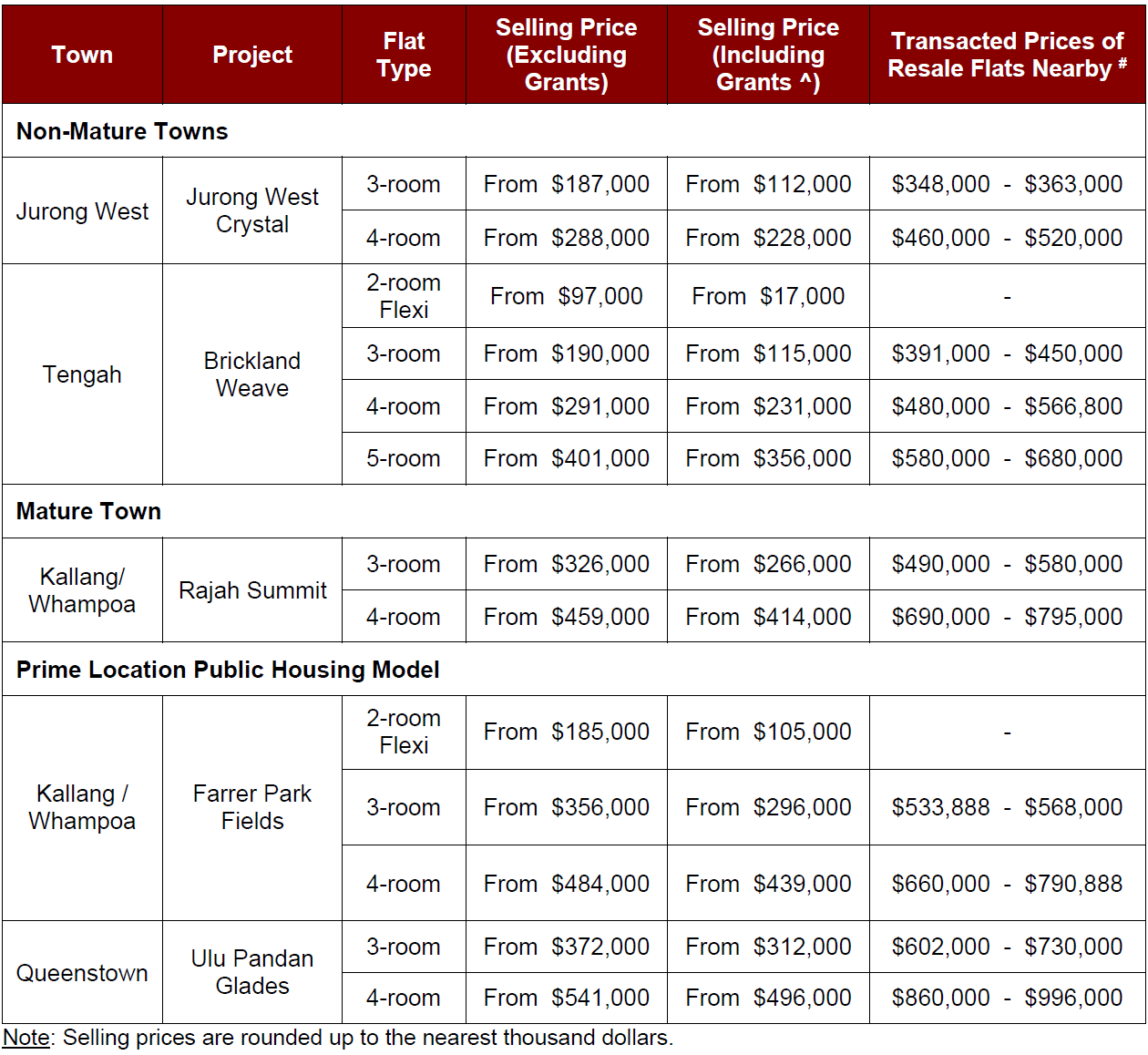 The median waiting time for the flats launched in February is about 4.4 years, said HDB.
It added that those who are looking to move into their new homes sooner can consider the units in Jurong West Crystal (3.9 years) and Brickland Weave in Tengah (4 years), which are both in non-mature estates.
"Additionally, with at least 95 per cent of the four-room and bigger flats set aside for first-timer families, applicants can look forward to a higher chance of securing flats in these projects," said HDB.
With the relocation of ACS (Primary) to Tengah, Huttons Asia's senior director for research Lee Sze Teck said that this "ups the attractiveness" of Brickland Weave "by several notches".
But he added that the project "may not benefit fully from the relocation" as some blocks at Brickland Weave may be outside the 1km radius of the school, which offers priority admission.
Ms Christine Sun, senior vice president of research and analytics at OrangeTee & Tie, said that the school's relocation "may result in more applicants vying for this batch of flats, although we do not expect a big spike in numbers".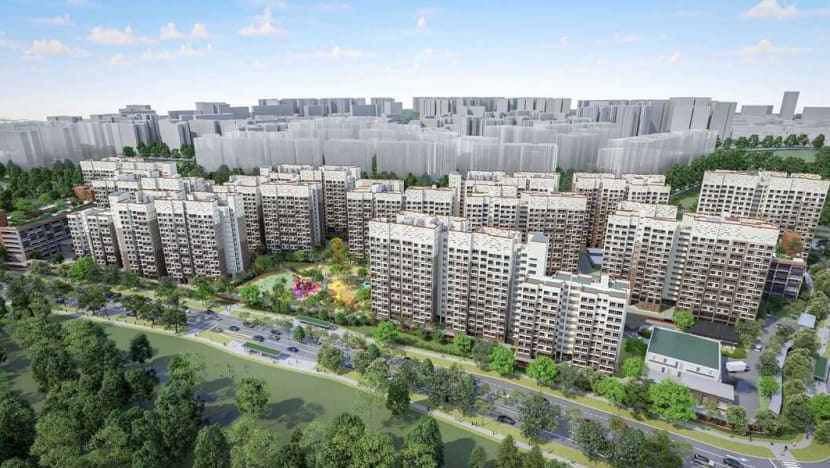 PRIME LOCATION PROJECTS
The two projects offered under the Prime Location Public Housing model are Farrer Park Fields in Farrer Park and Ulu Pandan Glades at Dover Forest.
Owners of these flats face a longer minimum occupation period of 10 years before they can put their homes on the open market. Because the flats came with extra subsidies, those who eventually sell their homes will have to pay back HDB a percentage of the unit's resale price.
In Farrer Park Fields, HDB is offering two-room Flexi flats sold on both 99-year leases as well as shorter leases, to cater to the different needs of flat buyers. 
The 6 per cent subsidy recovery will similarly apply to two-room Flexi flats sold on 99-year leases.
"However, two-room Flexi flats on short lease will not be subject to the subsidy recovery, as they cannot be sold on the open market," HDB said.
Calling Farrer Park Fields "probably the best BTO launch in February 2023" in terms of location, Mr Lee noted the project's proximity to town and two MRT stations - Farrer Park and Little India - within walking distance.
"The large number of flats for sale may dilute the application rate to between one and three," Mr Lee added.
The project at Ulu Pandan Glades comprises two residential blocks of 34 to 43 storeys, offering more than 730 units of three- and four-room flats on 99-year leases.
A car-lite precinct, it is located near Dover MRT and next to the Ulu Pandan Park Connector.
FRESH START HOUSING SCHEME
Families under the Fresh Start Housing Scheme will have the additional option to buy three-room flats on a shorter lease starting from this sales exercise.
The scheme, for second-timer families with young children who are currently living in public rental flats, previously offered the sole option of buying two-room Flexi flats on shorter leases.
Families under the Fresh Start Housing Scheme can choose lease lengths ranging from 45 to 65 years in five-year increments, as long as the lease of the flat can cover the applicant and their spouse (if applicable) up to the age of 95.
FUTURE BTO PROJECTS
Applications in the current sales exercise can be submitted from Feb 28 to Mar 6, online at HDB InfoWEB. 
After this, the next BTO launch will be in May when HDB will offer about 5,400 new flats in places such as Tengah, Bedok, Kallang Whampoa and Serangoon.
In August, there will be between 5,200 and 6,200 flats in areas such as Choa Chu Kang, Tengah, Bukit Merah, Kallang Whampoa, and Queenstown. 
"This number is subject to review as more project details will be firmed up closer to the launch date," said the agency.
"HDB will continue to monitor the housing demand closely and is prepared to launch up to a total of 100,000 flats from 2021 to 2025."
It was announced in Budget 2023 that the Government will do more to help first-timer families with children, as well as young married couples aged 40 and below, buy their first home.
These families will get an additional ballot for their BTO flat applications, said Deputy Prime Minister Lawrence Wong in his Budget statement, adding that more details will be announced by the Ministry of National Development.