Budget 2023: Up to S$30,000 more in housing grants for families buying resale flats for the first time
Deputy Prime Minister Lawrence Wong also said that more support will be given to young couples and families with children applying for Build-to-Order flats for the first time.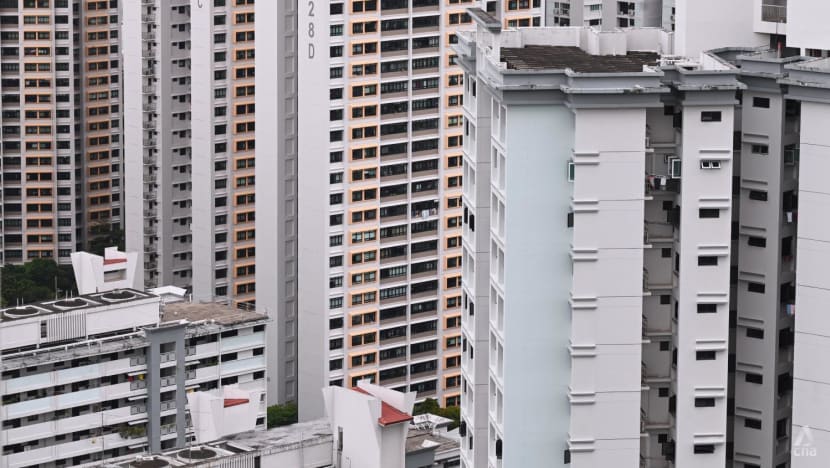 SINGAPORE: Housing grants for first-timer families buying resale flats will increase by up to S$30,000, Deputy Prime Minister Lawrence Wong said on Tuesday (Feb 14).
Mr Wong, who is also the Finance Minister, said that for such families buying resale Housing Board flats that are four-rooms or smaller, the CPF Housing Grant will go up by S$30,000. This makes the total grant S$80,000.
Eligible families who are buying flats that are five-room or larger will get S$10,000 more, or S$50,000 in total.
First-timer families are those who have not had any housing subsidies before. To be eligible for the grant, they should not earn more than S$14,000 a month, and they also should not have any private property.
First-timer singles will also get larger grant amounts, but at half that of families, said the Ministry of Finance (MOF). The CPF Housing grant for eligible singles will go up to S$40,000 for four-room and smaller flats, and S$25,000 for larger flats.
For singles buying flats alone, the income ceiling is S$7,000.
The increased grant takes effect from Tuesday afternoon for resale applications submitted from 3.30pm. The additional grant amount will be credited to their CPF account from April onwards.
"Together with the Enhanced CPF Housing Grant and the Proximity Housing Grant, eligible families can receive up to S$190,000 in grants when buying a resale flat," said Mr Wong.
Housing grants
The CPF Housing Grant is only applicable to those purchasing a resale flat, and the amount depends on the flat type purchased.
The Enhanced CPF Housing Grant is for those buying from HDB or resale flats, and the amount depends on the applicants' household income.
A family with a monthly household income of more than S$9,000 are not eligible for the Enhanced CPF Housing Grant.
The Proximity Housing Grant (PHG) is for those buying a resale flat to live with or near their parents or their child.
All three can be used together if the flat buyer meets the criteria.
A family with a monthly household income of S$1,500 or less, and living with their parents or children, can get a PHG of S$30,000, a CPF Housing Grant of S$80,000 if buying a smaller resale flat and another S$80,000 in Enhanced CPF Housing Grants. This adds up to S$190,000.
For singles buying alone, the maximum amount of grants they can get is S$95,000 - adding up the PHG (S$15,000), the CPF Housing Grant of S$40,000 and if the monthly household income was S$750 or less (S$40,000 in Enhanced CPF Housing Grant).
Mr Wong also announced that the Housing and Development Board will further finetune its Built-to-Order (BTO) balloting to help specific groups.
While HDB already sets aside the bulk of its BTO flat supply for first-timer families, this covers a wide range of applicants.
For example, those who already have their own homes but have not received housing subsidies before, are also considered first-timers.
"We will therefore focus on first-timer families with children, as well as young married couples aged 40 years old and below, who are buying their first home," he said.
"We will do more to help such families secure their BTO flats in a timely manner, including by giving them an additional ballot for their BTO flat applications."
This will be implemented later in the year, and more details will be covered by the Ministry of National Development (MND) at the Committee of Supply.
These measures are aimed at two hot button issues - the long waiting time for BTO flats and high resale flat prices - that some observers have said are hampering young couples who want to set up families.
Construction delays during the COVID-19 pandemic had delayed the completion of numerous BTO projects and HDB is now ramping up construction to meet a burgeoning demand for housing.
Meanwhile, some prospective home buyers have turned to the resale market, pushing up prices to all-time highs last year.
The Government implemented two rounds of cooling measures for the property market in December 2021 and September 2022. 
HDB has also ramped up the supply of BTO flats by 35 per cent to 23,000 in 2022 and will launch another 23,000 BTO flats this year.
"The launch and completion of more BTO projects over the next few years will further help ease demand and prices for resale flats," said MND.
"We are watching the situation closely, and will act decisively but carefully if needed to ensure a stable property market."