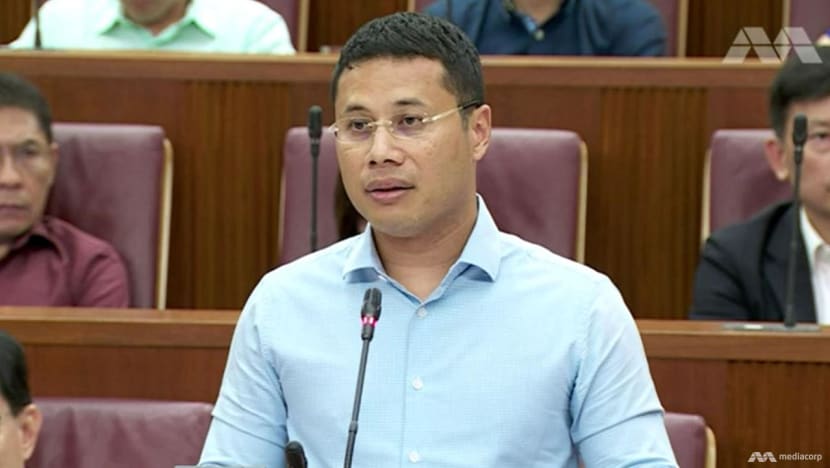 SINGAPORE: Valuing state land meant for building Housing Board flats at historical cost "cannot work", said Minister for National Development Desmond Lee on Tuesday (Jan 10).
He was speaking in response to questions in Parliament on how land used for HDB estates is appraised, and to address recent comments by Non-Constituency Member of Parliament Leong Mun Wai (PSP) on the historical cost of land.
In Facebook posts last month, Mr Leong had called for HDB to not pay land costs so that its flats could be priced more cheaply. The opposition Progress Singapore Party member wrote that much of the land used for building the flats had been "surrendered" by earlier generations of Singaporeans for "a relatively modest sum".
Responding to this and other points by Mr Leong on the issue of land value, Mr Lee said: "Mr Leong's proposal to value state land meant for HDB at historical cost cannot work.
"When Mr Leong calls for land to be sold at historical cost, you know that he is calling for it to be sold at an undervalue – below what the land is really worth today."
The minister said that the idea of valuing land at historical cost was "really problematic" and that most people would understand why this was "wrong".
"If the land was acquired by the Government in the 1960s, HDB pays for the land at 1960s pricing. If the land was recently acquired, say in 2015, then HDB pays the 2015 price. Which is far higher?" he asked the House.
"And what if the land has all along been state land, and was never acquired from anyone? Is the value of the state land at historical cost then zero? HDB pays zero? Or do we go back to 1819, or even further back in time, to try to find some transaction that was made?"
Transactions should be based on what the property is worth in the market today, Mr Lee added. 
For example, older generations of Singaporeans who bought their flats at much lower prices should not have to sell them at the price they paid decades ago, he said.
"We know Mr Leong makes a superficially attractive proposition, but we know that the proposal is unfair, is not logical, and simply cannot fly in the face of long-established, well-accepted valuation principles," Mr Lee said.
He also called Mr Leong's approach "dangerous" and an attempt to "raid" Singapore's national reserves.
Explaining how proceeds from sales of state land add to the reserves, Mr Lee said: "When state land is sold to HDB, HDB must put back into the reserves the fair market value of the land.
"Turn land into its equivalent value of money. So the reserves are no worse off."
With Mr Leong's proposal, far less will be put into the reserves and there will be less for future generations of Singaporeans, said Mr Lee.
"When Mr Leong advances his argument, he says everything else, but through sleight of hand he hides from you the plain fact that he is really wanting to raid our reserves."
Standing to speak, Mr Leong said: "I'm not sure when did I mention that HDB prices should be priced based on the historical cost of land? I think I didn't mention that."
Mr Lee pointed to an exchange between Senior Minister of State for National Development Sim Ann and Mr Leong last year, as well as the NCMP's social media posts.
His Progress Singapore Party has said that it will file a motion to debate public housing policy in the near future.
Mr Lee said: "I think we leave that for the debate. If the member tells us he does not think Government should charge HDB historical prices, then I think that advances the discussion."
Mr Gerald Giam (WP - Aljunied) had also filed a parliamentary question on the "differential" applied by the chief valuer to land used for public housing, compared with that for private housing.
Mr Lee explained that land sold to the private sector for private housing development is typically done by open tender through the Government Land Sales programme, and developers bid for the land.
But when selling state land to HDB for public housing developments, the fair market value is "independently determined by the chief valuer, using well-accepted and established valuation principles", said Mr Lee.
Transactions for land sold for private housing developments are not used to value land sold to HDB for public housing developments, he added.
"Instead, the chief valuer considers relevant public housing transactions and the specific parameters of the site," Mr Lee said.
"I must caveat that I'm saying this broadly at the expense of technical accuracy and detail of the work done by the chief valuer. But suffice to say, he adopts the same valuation principles used by professional valuers in the private sector."
On the issue of spiking resale prices, he said his Ministry of National Development (MND) was keeping an eye on the property market and has imposed cooling measures to moderate demand.
"There have been reports that suggest that the property market is stabilising. It may be too early to draw definitive conclusions but our overriding objective is to ensure stability in the property market to ensure it doesn't run away from economic fundamentals," said Mr Lee.
Mr Giam then asked if high resale flat prices in recent years would "push up" the value of Build-To-Order (BTO) flats.
Mr Lee said HDB does not price BTO flats to recover the cost of land and construction. 
"In order to keep the price of BTO flats relatively stable despite all these resale price increases, we look at transactions of resale flats that are comparable but then we have to apply the appropriate subsidies and grants," he said.
Leader of the Opposition and Workers' Party chief Pritam Singh then asked why the Government had not answered his parliamentary question filed on Monday, on the value of subsidies allocated by HDB for BTO flats each year from 2010 to 2022.
MND had issued a written reply, saying that "market subsidies are not directly comparable across projects, launches and years, as they depend on prevailing market conditions, attributes of the BTO projects offered and the prevailing household incomes".
The ministry provided numbers on the Central Provident Fund (CPF) Housing Grant given to flat buyers, and said the difference in prices between comparable resale flats and subsidised flats "broadly reflects" market subsidies for new flats.
But Mr Singh said in the House on Tuesday: "I cannot understand why that information cannot be made public because those subsidies are taxpayers' subsidies, the taxpayer is actually funding the home ownership programme."
Mr Lee replied that subsidies would vary from BTO launch to launch and year to year, especially when resale prices fluctuate.
He also noted that HDB already publishes a range of figures on cost of construction, the amount of money the Government uses to fund the Home Ownership Programme as well as the range of prices of resale and new flats.
"I think we can deal with this more thoroughly in a debate on a motion," said Mr Lee.