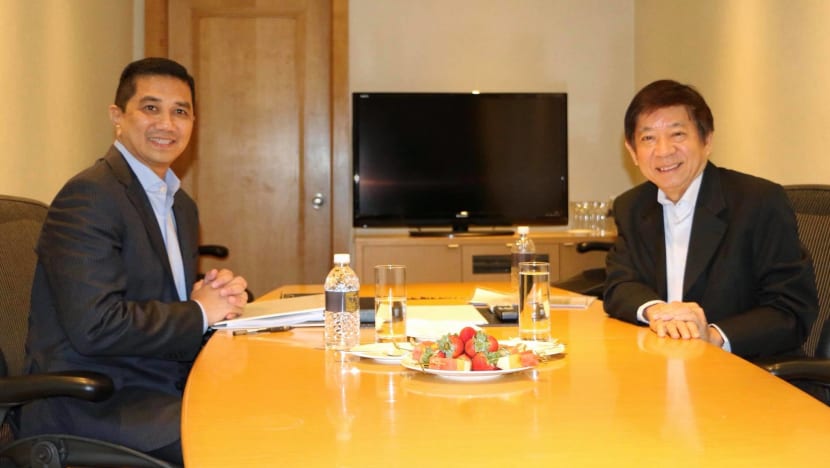 SINGAPORE: Singapore and Malaysia will announce their joint decisions on the Johor Bahru-Singapore Rapid Transit System (RTS) link and Kuala Lumpur-Singapore High-Speed Rail (HSR) projects soon, said Coordinating Minister for Infrastructure and Transport Minister Khaw Boon Wan on Thursday (Aug 30). 
In a Facebook post recapping a meeting with Malaysia's Economic Affairs Minister Mohamed Azmin Ali, Mr Khaw said the two were "brainstorming ideas on how to further our bilateral relationship". 

"There is so much we can do together, for mutual benefits. He is an inspiring leader," Mr Khaw said. 
"We should be able to announce our joint decisions on RTS and HSR soon," Mr Khaw added. 
Mr Azmin also posted a tweet on Thursday morning, saying: "We are inching closer to a win-win deal on HSR, thanks to the hard work of officials from both sides." 

The HSR and RTS agreements were among several entered into by the Najib Razak-led government that were revisited following the opposition Pakatan Harapan's historic victory in the Malaysian general election. 

In May, opposition leader and newly appointed Prime Minister Mahathir Mohamad announced that the country would drop the HSR project, saying it would cost "a huge sum of money" and was not beneficial to Malaysia. 
Malaysia's Transport Minister Anthony Loke, however, has said the government remains committed to the RTS, though it still needs to study the costs of the project. 
In July, Dr Mahathir said his government would look to negotiate a deferment of the HSR instead. 
"Having studied it and the implication of unilaterally discarding the contract, we decided we may have to do it at a later date, we may have to reduce the price. But reduction of the price is very difficult as far as we can make out. So it has to be deferred," he said. 
Mr Azmin had said then that he planned to visit Singapore in the near future to discuss the status of the HSR agreement.
Dr Mahathir, who also announced in August that he was dropping the Chinese-backed East Coast Rail Link pipeline projects, as well as a natural gas pipeline project in Sabah, said after his appointment that Malaysia's debt topped RM1 trillion (S$331 billion). 

He told the Financial Times in an interview that the cancellation of the HSR was necessary to "avoid being declared bankrupt". 

"FRANK AND FRUITFUL TALKS" ON ECONOMIC GROWTH: MALAYSIA
Mr Azmin wrapped up his working visit to Singapore on Thursday with a courtesy call on Prime Minister Lee Hsien Loong at the Istana. 

The Malaysian minister expressed the view that Dr Mahathir places "great importance" on enhancing bilateral relations with Singapore, said Malaysia's Ministry of Economic Affairs in a media release after the meeting.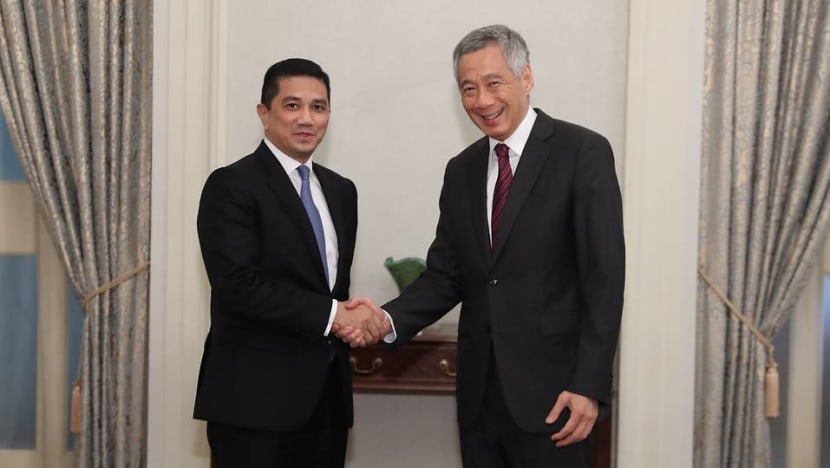 Earlier, Mr Azmin also met Deputy Prime Minister Teo Chee Hean, Minister for Foreign Affairs Vivian Balakrishnan and Trade and Industry Minister Chan Chun Sing.
He had "frank and fruitful" talks with Mr Chan on how to leverage each other's strengths in boosting economic growth, said the Malaysian ministry. They also shared views on deeper ASEAN integration.