Food safety risk of home-based businesses 'small', says SFA after F&B association calls for licensing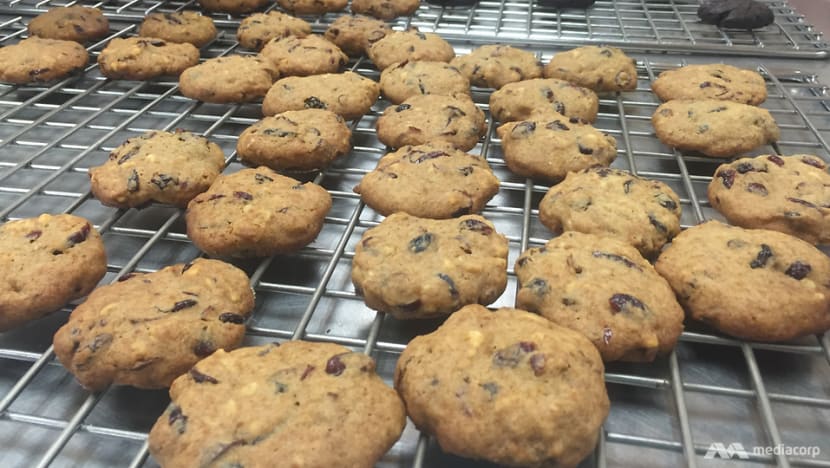 SINGAPORE: Home-based food businesses are exempted from licensing requirements as their food safety risk is considered "small", said the Singapore Food Agency (SFA) on Wednesday evening (Aug 18).
However, home-based food businesses must comply with hygiene guidelines listed on SFA's website, the agency said, as it encouraged consumers to "exercise discretion" when purchasing from them.
This comes after the Restaurant Association of Singapore (RAS) on Sunday called for home-based food businesses to be subjected to a "robust licensing regime", pointing to how 15 people fell ill with gastroenteritis symptoms after eating food from home-based bakery The Peachy Sugarmaker. Nine of the 15 people were hospitalised.
The RAS is a food and beverage association with more than 500 members, representing close to 800 brands including restaurants, caterers, fast food outlets and food courts.
RAS noted that while home-based food businesses prepare and handle food to be sold to consumers - similar to restaurants and hawkers - they are not subjected to the same licensing requirements or inspections by SFA.
"To say that the home-based food businesses sub-sector is unlawful may be going too far, but it is certainly unregulated. Therein lies its problem," RAS management committee member and legal advisor Tay Eu-Yen wrote in an opinion piece on behalf of the association.
"To be a sustainable sub-sector, it needs to be supported by a robust licensing regime, so that it will not in the long run implode due to low barriers of entry and unaccountability."
Ms Tay said some home-based food businesses require customers to sign forms acknowledging that they are not licensed by SFA to sell food, and that consumption is therefore at the customers' own risks.
This shows that some of these businesses could be aware that they might not meet food safety standards, she said.
"The law urgently needs to keep up; food hygiene is a matter of public health and safety," she added. "In the absence of regulation, cases of food poisoning may emerge where proper food hygiene training, licensing inspections and firmer rules could have prevented."
The SFA spokesperson said guidelines by different authorities limit how much food home-based food businesses can prepare and sell, with only "small amounts" allowed.
"Hence, SFA has assessed that the food safety risk associated with home-based food businesses is small, and they are exempted from licensing requirements," the spokesperson said.
"Nonetheless, home-based food businesses are still required to ensure that the food they sell is safe for consumption. We have provided guidelines on good food hygiene practices available on our website that operators must comply with."
The guidelines cover the safe storing, defrosting and preparation of food, and encourage good personal and kitchen hygiene. Pets should also not roam freely in the house.
"Those who handle and prepare food under this scheme are also encouraged to attend Food Safety Course Level 1," the spokesperson said.
On the other hand, the spokesperson said licensed food businesses such as restaurants and food manufacturers are not limited in their scale of production, and can conduct their operations and business on a larger scale.
"This significantly increases the potential for food safety impact on consumers, and thus requires tighter regulations," the spokesperson added.
HOME-BASED FOOD BUSINESSES RESPOND
The owner of one home-based food business CNA spoke to said the calls for licensing seemed to be in response to one food safety incident in the sub-sector.
"As we have seen in the SFA reports, food factories, caterers and restaurants are all guilty of transgressions, and it will be no surprise that home-based businesses will have examples," said Mr Ian Ferdinand Chong of Marymount Bakehouse Singapore.
Mr Chong said he maintains kitchen hygiene standards that are comparable to those in commercial premises, consistently monitors the temperature of his fridges and keeps his wares in high quality dry food storage.
Ms Cherry Chiu, who runs Mon Cerise Patisserie, said she believes that the The Peachy Sugarmaker case is the first such food safety incident among the home-based baking community since it became active two years ago.
"I believe that home-based food businesses do not operate unless they meet necessary food standards," she said.
Ms Chiu said she also conducts daily temperature checks on her freezer, keeps her ingredients in an air-conditioned dry storage room, and places her cakes in a cooler bag along with an ice pack.
Mr Chong said he foresees issues with enforcement if home-based food businesses are subjected to a licensing regime, given the sheer number of food establishments and homes that SFA inspectors would have to visit.
"I think it is theoretically sound but impractical to implement," he added.
"I fear that, with only opinions and a lack of constructive solutions, it might prompt the Government to make conservative solutions by cracking down on home-based businesses through prohibition."
However, Ms Chiu said she would accept further regulation of the sub-sector.
"We are all passionate about what we do and want to ensure our consumers get the best," she added. "No matter what regulations they impose, we will adhere to it."
LOW COST OF ENTRY TEMPTING?
In her opinion piece, RAS' Ms Tay said that "the unregulated sub-sector is very tempting" to food and beverage entrepreneurs, and could perpetuate a "downward spiral for accountability" in the F&B industry.
"With no licences to obtain, the cost of entry is very low," she wrote, adding that other costs saved include rental as well as fire-safety and exhaust provisions.
"It is thus tempting for hawkers and small F&B entrepreneurs to take down their commercial signages to sell and serve food prepared at home," she said.
But Mr Chong said owners of some home-based food businesses do not see it as just side income, but "the only avenue for budding food entrepreneurship without breaking the bank".
"Not everyone has the ability to commit large sums of money to a landlord without a sellable proof-of-concept," he said. "I agree that the cost of entry is low, but scalability is also extremely difficult."
The SFA spokesperson encouraged home-based food businesses experiencing high demand for their offerings to scale up their operations, by setting up a licensed food premise and turning it into a full-fledged business.
"Food safety is a joint responsibility. SFA would like to remind food operators, including home-based businesses, to observe good food and personal hygiene practices at all times," the spokesperson said.
"SFA will not hesitate to take firm action against anyone found to be in violation of the Sale of Food Act and/or the Environmental Public Health Act."