MAS says increase in home rents may moderate in coming quarters as housing supply ramps up
The central bank said supply and demand imbalances in the rental market "have already started to ease and will continue to do so progressively through this year".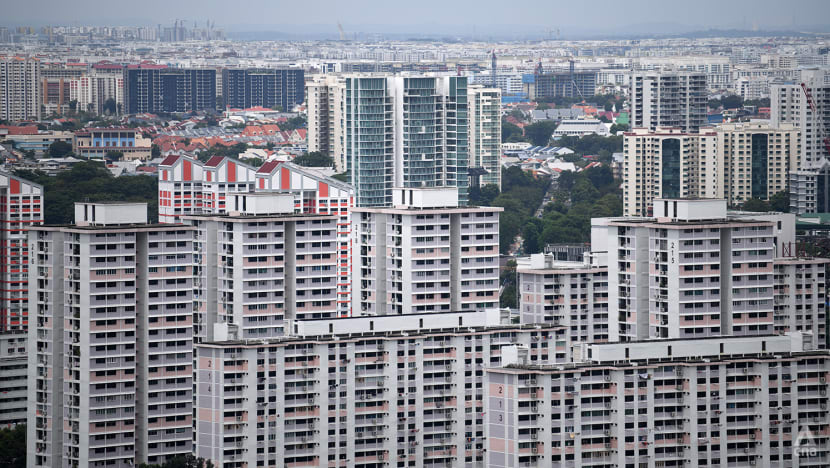 SINGAPORE: Home rental pressures may ease in the coming months because of a "significant" supply of new housing units, said the Monetary Authority of Singapore (MAS) in its latest half-yearly macroeconomic review released on Wednesday (Apr 26).
Almost 40,000 residential units will be completed across the public and private housing markets this year, which is the highest number of annual completions since 2018.
This pace of completion will continue over the next two years, with nearly 100,000 public and private residential units coming on-stream over 2023 to 2025, according to the central bank's report which included a study contributed by the Ministry of National Development.
At the same time, rental demand will also be tempered by people vacating their rental units once their new homes are completed. 
Anecdotally, real estate agencies have seen a decline in viewings for rental units and leasing enquiries since the start of 2023, said MAS.
The global economic uncertainties and slower growth may also further weigh on sentiments in the rental markets.
MAS said rents for Housing Development Board (HDB) and private residential housing units have risen sharply by 38 per cent and 43 per cent, respectively, since 2021.
WHY RENTS WENT UP
This broad-based increase in home rents was largely due to an "exceptional demand-supply imbalance" brought about by the COVID-19 pandemic.
Pandemic-induced disruptions, ranging from manpower to construction materials, had led to severe delays in the completion of private and public residential projects.
An average of about 20,000 private and public residential units were completed each year between 2020 and 2022, about 22 per cent lower than the yearly average of 26,000 units from 2018 to 2019.
Listen: Are rental properties still a good investment?
The supply crunch coincided with strong rental demand as residents sought temporary accommodation while awaiting the completion of their units. Non-resident demand also picked up with the easing of border restrictions in 2022.
Continued robust employment and wage conditions may have also contributed to the strong pace of market rent increases, the central bank said.
EASING OF MARKET IMBALANCES
MAS noted that such market imbalances "have already started to ease and will continue to do so progressively through this year", along significant number of completed units entering the market and an expected moderation in rental demand.
CNA had earlier reported that a "growing disparity" in expectations was emerging in the rental market, with tenants resisting increases and landlords reluctant to lower prices in the face of rising costs.
Property agents CNA spoke to said that they were getting fewer enquiries from potential tenants for HDB and condominium rental listings this year. 
The tussle between the forces of demand and supply will lead to moderation in rents, but not a softening, according to analysts.
You may also be interested in: