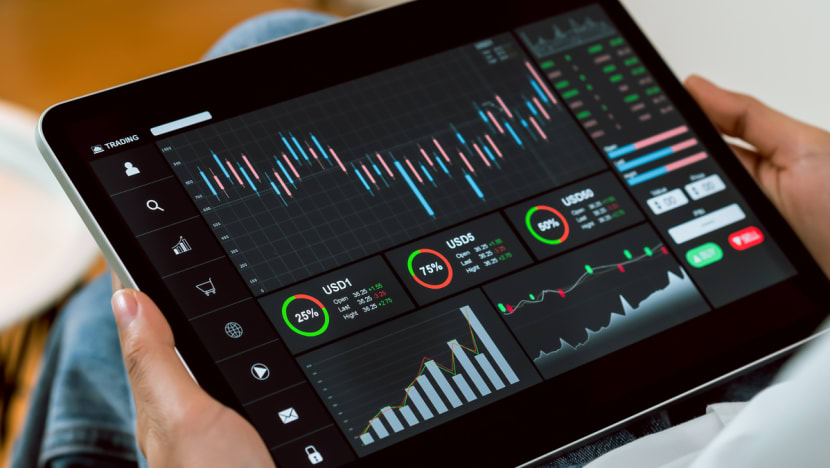 SINGAPORE: Ms Lim Pei Yan's investment journey started in her early 20s with a robo-adviser, and then with a financial adviser who helped her dip into unit trusts and exchange-traded funds.
Since last year, she has also been using online share-trading platforms, starting from Saxo Markets before switching to Tiger Brokers on the back of a friend's recommendation.
The 26-year-old said she is "just trying out" these platforms, adding that it takes less than 15 minutes to create an account. "It's really easy to just download an app and do another Know Your Client (form during sign-up)."
New sign-ups with Tiger Brokers at the time received one free share in tech giant Apple, and months of commission-free trades.
Ms Lim said not having to pay commission allows new investors like her "to test the waters" of stock investing.
"I could buy one stock at a time to try it out and not have to worry about commission," she told CNA. "This really encouraged a lot of people like us to try because we don't want to risk putting a huge sum of money in."
The COVID-19 pandemic and work-from-home arrangements have spurred a flurry of new retail investors, especially younger, first-time retail investors, and newer players in the online trading market – like Tiger Brokers and moomoo – have rushed in.
Tiger Brokers, which entered Singapore in February last year, has more than 1.4 million users worldwide, with investors aged between 18 and 24 years old making up 30 per cent of its users here.
The moomoo platform, which launched in March, has 100,000 paying clients and more than 220,000 users in Singapore as of June. It said that 77 per cent of its users are aged between 18 and 41 years old.
These two new entrants have been aggressively courting investors, with advertisements in newspapers, at bus stops and at MRT stations. They also dangle free shares, commission-free trading and the promise of super easy investing, all the way from sign-up to the actual trade.
The ease of use and cheaper trading offered by these new platforms "is a plus for all investors" and can spur existing players to improve their processes, experts said.
But these experts are urging trading platforms to do more in promoting financial literacy and responsible trading. This includes providing more financial education, putting up better risk disclosures and sending alerts when a user's portfolio becomes too risky, they told CNA.
REAL CONSEQUENCES
The risks of investing come with serious consequences.
In the US, a 20-year-old took his own life in June last year when he mistakenly believed he had lost nearly US$750,000 in a risky bet on Robinhood, an app that lets users with no experience buy and sell stocks without paying fees.
Robinhood had allowed Alex Kearns to buy and sell options, a risky financial instrument with the potential for huge losses. But attorneys for Mr Kearns' family believe he might not have lost money at all, because of the way the options bets were structured.
The family has since sued Robinhood for wrongful death, negligent infliction of emotional distress and unfair business practices, CBS News reported.
In Singapore, the Monetary Authority of Singapore (MAS) requires platforms that allow the trading of listed specified investment products to conduct a customer account review, based on the user's educational qualifications, investment experience and work experience.
For instance, those who are qualified in a finance-related field, or have invested in a specified product at least six times in the last three years, are considered to have satisfied the review. Those who fail the criteria must pass a learning module before opening an account.
Disqualified users can choose to start an account nonetheless, but must provide written confirmation on their decision and be informed of the risks and responsibilities involved.
Trading platforms here told CNA they are doing their part.
Some upload investment courses and financial news on their platforms, and implement a trading limit for first-time investors. Others have considered stopping users from buying stocks that become too volatile.
Undergraduate Natasha Tan, who has been investing in stocks since she was 19, said new low-fee trading platforms have a less intimidating user interface and are a good way for young investors to get started. But they could also be dangerous for those who do not do their homework.
The 23-year-old believes in doing her own research and also turns to her broker for guidance and access to research materials. She has also attended investment seminars and joined an investment society in university.
Ms Tan said she has peers who jumped into investing without doing any research.
"Those who don't do their homework, don't get the opportunity to learn about finance or investing in school may get burnt on these trading or investing platforms as they may invest with little or no information. Some might even think it's a way to make quick or fast cash," she added.
SIAS URGES PROMOTION OF "HEALTHY" TRADING
Some experts here are concerned about the wave of young investors.
"In times of economic stress, stock prices may be depressed by negative sentiment or news so buying stocks during the pandemic is not wrong per se," said Mr David Gerald, founder-president of the Securities Investors Association (Singapore) or SIAS.
"The concern is whether the younger generation has sufficient knowledge to invest safely or are they speculating because of FOMO (fear of missing out) or because they find it fun and exhilarating."
Associate Professor Lawrence Loh from the National University of Singapore Business School said with the younger generation being heavy users of social media, he is worried about them getting investment advice or stock picks from status updates of friends or discussion forums.
This could result in "emulative behaviour" without them doing their own research, he added. A sharp rise in do-it-yourself investing, partially prompted by the accessibility offered by the online platforms, may also see the inexperienced dabbling with higher-risk investments like cryptocurrencies.
"Sign-ups can be done within minutes and when it's so easy, the young might find themselves getting into a black hole," said Assoc Prof Loh.
The swift recovery of global markets from the pandemic-induced crash in early 2020 could also make those new to the market, many of whom have never experienced a market downturn, "believe they are great investors", said Associate Professor of Finance Vijay Yadav from the ESSEC Business School Asia-Pacific.
This might "incentivise them to make risky bets in the market" and "is a cause of worry because they may suffer huge losses in case of a market correction in future", he added.
As such, SIAS – Singapore's retail investor watchdog – said trading apps that are popular among the young can "go beyond just adhering" to MAS regulations and help to encourage "healthy" trading.
"I do not see trading on fintech apps as necessarily riskier compared to legacy broker platforms. But because the younger generation may not be as experienced or savvy about investing and since they prefer to trade through these fintech apps, perhaps the discussion should be on how these apps can do their part in promoting healthy trading activity," said Mr Gerald.
Such efforts can include outreach programmes on financial literacy, better risk disclosures and product briefings, he suggested.
The chief of the local retail investor watchdog added that platforms that are "fundamentally providing or selling investment products or services" should also take on the responsibility of education.
"However, they should not disguise sales tactics as financial literacy. They should instead adopt a high level of disclosures; after all, Singapore is a buyer beware market," he said.
For its part, SIAS has stepped up investor education with weekly market reviews and has a monthly session where participants can ask analysts questions and receive guidance on their investments.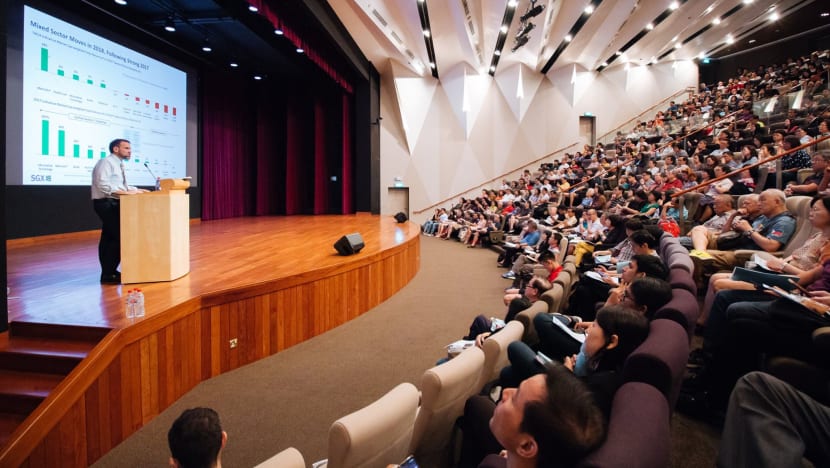 Another issue with all trading platforms is the credibility of the sign-up process, said Assoc Prof Yadav.
"Unfortunately there is no system to verify the self-declared answers so an applicant can provide incorrect answers to open margin trading accounts that will allow him or her to make highly leveraged and risky trades," he said.
Assoc Prof Loh echoed that trading platforms can certainly do more, saying that advancing financial literacy is "a public good" that national initiatives such as MoneySense are already contributing to.
SIAS, which seems better known among older investors, can also do more to reach out to the young, he added.
MORE ATTENTION GIVEN TO BEGINNERS: TRADING PLATFORMS
Tiger Brokers and moomoo told CNA that they pay attention to newbie investors and already have measures in place, ranging from customer support to education.
The latter said based on user engagements on its platform, such as tutorials targeted at beginners, it has "a sizeable number" of investors who are just starting out. 
"As a responsible firm, we want to make financial literacy accessible, especially to beginner investors," said Mr Gavin Chia, managing director of Futu Singapore which owns moomoo.
Many of the platform's features and campaigns are designed for the beginner investor in mind, he added.
For instance, moomoo recently organised a Learn-and-Earn contest where users completed investment-related quizzes and received cash coupons for each correct answer.
It also strives to be a "one-stop" platform for its users, with a "suite of educational resources". These include free investment courses, news from leading financial media, updates on company announcements and market insights – all to help investors make informed investment decisions, said Mr Chia.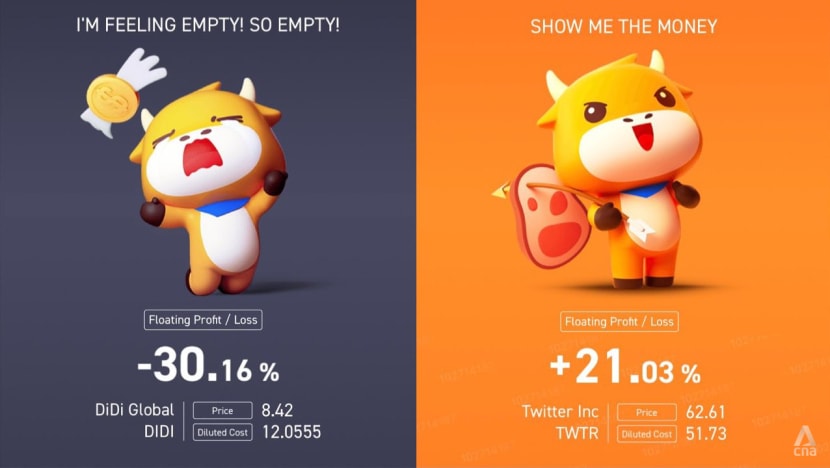 Over at Tiger Brokers, those below 21 years old are only allowed to open cash accounts, which are based on trading limits granted by the brokerage to the account holder.
The online broker also restricts trading in stocks when they become too volatile, said its Singapore chief executive Eng Thiam Choon, citing the wild ride in several US stocks earlier this year like video-game retailer GameStop.
But such trading curbs sparked complaints among some investors so the platform decided on education as another approach. Users have access to a wide variety of market-related updates from credible news sources, as well as in-house webinars featuring industry experts, said Mr Eng.
"We try to put in more effort to let investors be exposed to more areas," he added. "With all this information, we do see that they (stop) focusing on one or two stocks that are very volatile."
The platform also has vibrant community groups where active discussions happen among users. It has increased resources to monitor and moderate these discussions, and uses technology to filter out words such as "sure-win" and "make money".
Noting that trading platforms now have a bigger responsibility in promoting financial literacy, Mr Eng said: "So if you ask me, yes we certainly pay attention … because definitely there's a concern."
Other market players said they also have similar emphasis.
New investors require a "steady arm to guide them to the new world of investing", Phillip Securities' managing director Luke Lim told CNA.
POEMS, the long-time broker's e-trading platform, has seen new account openings by those below 35 rise by 140 per cent over the last two years.
Almost 30 per cent of all accounts opened so far this year were by customers in this age group. Of these, around 10 per cent were first-time investors, compared to 5 per cent last year.
Currently, all new account holders on POEMS get assigned a trading representative who will help them with queries. As a safeguard, first-timers are also subjected to a trading limit which will be assessed and increased as "they gain more experience and when their disposal income allows", Mr Lim added.
On top of that, users have access to curated education, research and tools. These range from business insights on listed companies, daily morning reports, market journals, daily podcasts on Spotify to 30 webinars every month.
"We are beyond a stockbroker. As an integrated financial house, we want to raise the financial literacy of the population, especially the new investors," said Mr Lim.
Assoc Prof Yadav suggested that brokerages provide an online tool within their trading platforms for investors to assess the risk-return characteristics of their portfolios.
"The brokerages may send periodic reminders to investors if their portfolio is too risky according to some criteria," he added. "This should be only in the form of an alert and not an investment advice."
KNOWLEDGE IS KEY FOR INVESTORS 
That said, retail investors also have to do their part.
Mr Gerald said: "You must be knowledgeable of the strategies, understand the product or company you are investing in and most importantly, understand your own risk appetite."
The 26-year-old investor Ms Lim, who is also on moomoo now, agreed that every retail investor needs "basic knowledge of what trade and investment is".
"I came from a business background and had to take a few finance modules. That's how my friends and I understand certain concepts like 'high risk, high return'," she told CNA.
"But whatever it is, we are accountable for it."
Tips for young investors
Get educated
Knowledge is key so take time to build up your financial literacy, such as knowing basic investment principles. Also do your homework so that you fully understand each product's features and risks, said Securities Investors Association Singapore (SIAS) founder David Gerald.
While the emergence of new trading platforms and the race to lower commissions is "a plus for all", investors still need to ask more questions before simply opening an account.
"Fundamentally, investors will want the cheapest costs of execution. However, investors must understand that the broker will have to earn an income, if not from trading commissions, then it could be from some other areas," Mr Gerald said.
"Investors should consider the commissions charged alongside the ancillary services provided," he added, citing access to research or wider range of markets and products that may be provided by full-service brokers.
Some platforms are also able to charge low fees due to them practising "payment for order flow", where brokers receive payments from market makers for routing trades to them, he added. 
American app-based retail brokerage Robinhood, known for pioneering commission-free trading, gets about 80 per cent of its revenue from payment for order flow, according to Bloomberg.
This practice has its critics. Mr Gerald cited Better Markets, an American non-profit organisation, as saying that this causes an "inevitable conflict of interest" between the retail broker-dealer's duty to act in its customers' interest and its duty to shareholders to maximise revenue.
Know yourself
Have a realistic goal of what you would like to achieve and when. Understand your risk appetite – the maximum investment risk that you are ready to take – and have the discipline to live within your means and avoid going into debt, Mr Gerald said.
For instance, Ms Lim Pei Yan sets a cap to her investments when trying out new trading platforms.
"I make sure that I don't bite off more than I can chew. Once I've bought that much, I will be prepared that I might make a loss and if I do, I should not be pumping in more money thinking that I can recoup the loss."
Invest, don't speculate
It is prudent to "invest with the right intention", according to Associate Professor Lawrence Loh from the National University of Singapore Business School. And this involves taking a longer-term view and making decisions based on proper market information.
"Many people know the phrase 'high risk, high return' but these can mean negative returns as well," he said.
"Invest with your eyes open and ears on the ground. Don't just rush to join the bandwagon."