4 submarines, similar to Invincible-class submarines ordered by Singapore, cost about S$2.4 billion: MINDEF
Singapore has ordered four Invincible-class submarines to replace older submarines that are more than 40 years old.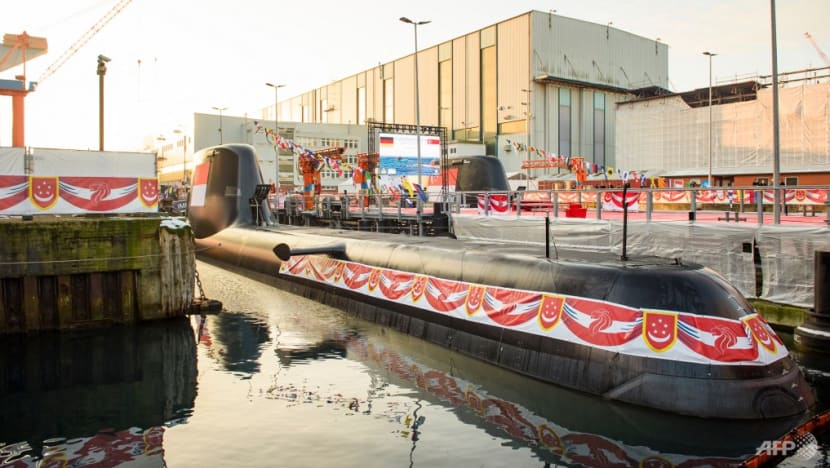 SINGAPORE: Four submarines, similar to the Invincible-class ones ordered by Singapore, cost about S$2.4 billion, Defence Minister Ng Eng Hen said on Monday (Jan 9).
In a written answer to a question from MP Gerald Giam (WP-Aljunied) about the cost of the submarines, Dr Ng said the Defence Ministry (MINDEF) does not provide precise amounts for the cost of acquisition or maintenance of its military assets.
This might indirectly disclose the capabilities of components such as added weapon or protection systems, he added.
Taking reference from other militaries of Turkey and Korea, which have acquired similar submarines, each submarine costs about S$600 million at the time of purchase, or S$2.4 billion for four.
He said the total amount is comparable to a fleet of 12 F-15 fighter jets in the Republic of Singapore Air Force (RSAF). Maintenance cost per year is about 2 per cent to 3 per cent of the capital cost of the submarines, he added.
In December last year, two new Invincible-class submarines were christened by the Republic of Singapore Navy (RSN).
Named Impeccable and Illustrious, the submarines are the second and third of four customised Type 218SG submarines built by ThyssenKrupp Marine Systems for MINDEF.
The first, named Invincible, was launched in 2019.
"These new four Invincible-class submarines will increase considerably the SAF's ability to maintain maritime security in our region, one of the world's busiest sea lines of communication," said Dr Ng on Monday.
"They will replace the Challenger and Archer submarines that are now more than 60 years and 40 years old respectively."
Dr Ng explained that the Navy bought these old submarines to gain experience and expertise.
"Having operated them for over 20 years, it is timely to now acquire the new Invincible-class submarines that are better suited to our operational environment and security challenges for the next 30 years," he added.
WHAT ARE INVINCIBLE-CLASS SUBMARINES?
Designed for operations in Singapore's shallow and busy tropical waters, the Invincible-class submarine features an X-shaped stern rudder for more precise manoeuvres, and propulsion systems based on fuel cell technology.
This allows it to stay submerged for about 50 per cent longer than the Archer-class submarines.
The 70m-long submarine also has a higher payload of eight torpedo tubes, and can travel at a surface speed of more than 10 knots - about 19kmh - or more than 15 knots when submerged.
Each boat is manned by a crew of 28, and built with customised operator consoles to suit the smaller frames of RSN personnel.