SINGAPORE: In 2012, navy man Jason Chee lost his left arm and both legs in a horrendous ship accident. Now, he has lost his right eye too.
Before telling his story, Chee maneuvered his motorised wheelchair into a cold, cramped room at the Singapore Sports Institute in Kallang and looked straight into the camera. "I want people to see it clearly," the 34-year-old told Channel NewsAsia. In place of his right eyeball is a clear, plastic lens that prevents his eyelids from shutting.
At 8.30am on a Wednesday in April this year, Chee was just about to kick off his workday at the Changi Naval Base when half the vision in his right eye "blacked out". He didn't panic. "I told my colleague that I needed to see the doctor," he said.
At 10am, he saw an eye specialist at Changi General Hospital. The next morning, the doctor said it was a tumour and referred him to the National Eye Centre. A month later, doctors there told him it was cancerous.
The disease is called choroidal melanoma, a cancer of the eye, and it's more common in Westerners, Chee said. His tumour measured 1.5cm in size.
"I felt quite lost," he said. "It's very strange; why is there something inside my eyeball?" Chee became more anxious. "I was very afraid that the organs in my body might be affected," he added.
Next up was a scan at the National Cancer Centre. Then sheer relief.

"I had a full body check and thankfully the cancer had not spread to my other organs," he said. "It was very good news and I felt very happy."
But Chee still had to get rid of the tumour, so doctors gave him two options: Remove the affected eyeball completely, or undergo radiotherapy to destroy the tumour. 
"The doctor said radiotherapy can only get rid of tumours up to 1cm, so it will not work," he said. In contrast, doctors told him surgery came with a "100 per cent success rate".
Chee sought second opinions from doctors at Mount Elizabeth Novena Hospital, relatives and friends. They all advised him to go for the surgery. "From feeling lost, I felt a sense of acceptance," he said. "No need to be so scared, just go for the operation and everything will be all right."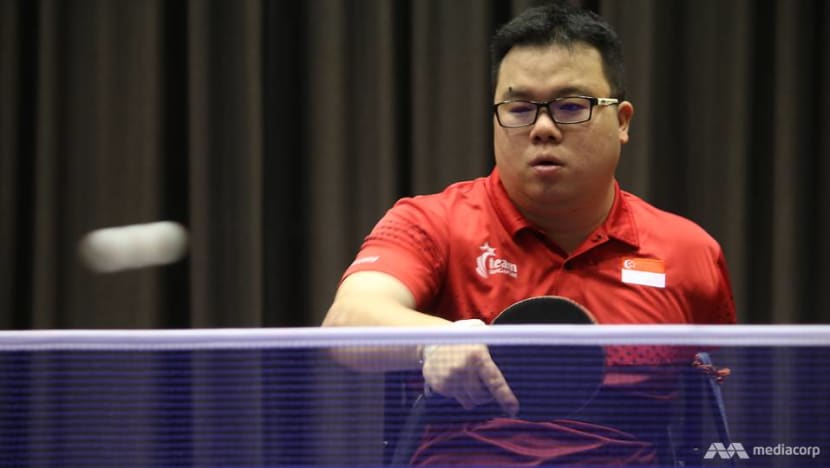 He wasn't daunted by the prospect of being blind in one eye either. "I'm only left with my right arm. Now, I'm only left with my left eye," he added. "You only live once, so I live life to the fullest and be happy day by day."
LIFE WITHOUT ONE EYE
On May 12, Chee's hour-long surgery at the National Eye Centre was successful. But things did not feel too good. When Chee moved his left eye, the muscles in his right eye socket ached terribly. "It was very sore and painful, so I needed to take painkillers," he said.
After recovering for a week at Changi General Hospital, Chee was transferred to Thye Hua Kwan Hospital to begin rehabilitation. "It is totally different" seeing with only one eye, he admitted. "When I look straight, I can't see things on my right. My depth perception was affected."
So, therapists there made Chee practise taking the bus and navigate crowded areas using his wheelchair, things that were previously straightforward for him. "When I turn my wheelchair to the right, I need to be very careful not to hit people," he added.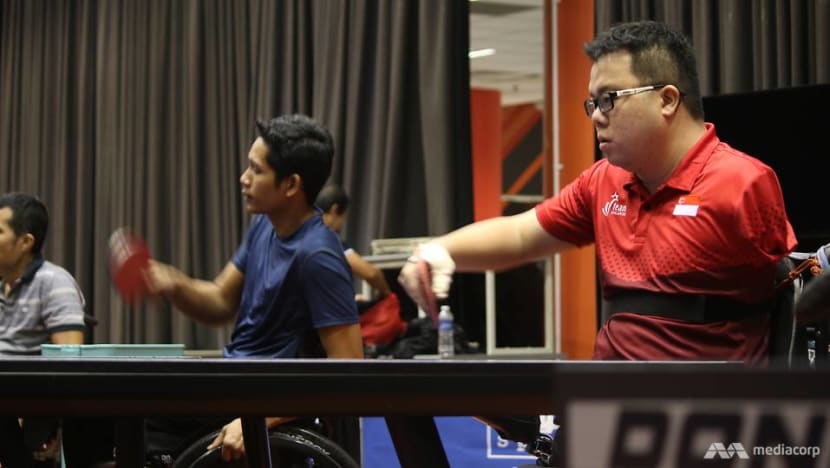 But will Chee ever be the same at table tennis, the sport that earned him one gold and another silver medal at the 2015 ASEAN Para Games? "One thing is I won't give up easily; I still want to carry on playing table tennis," he insisted.
Chee spoke softer as he recalled his first training session after being fully discharged in June.
"I told my coach I wanted to try 20 minutes to get the feeling of playing using one eye," he said. "The first time was challenging" as Chee missed a lot of balls that came to his right. Naturally, he was disappointed.
"But my coach told me that losing one eye doesn't mean that you've lost everything," he added. Chee also credited the Singapore Disability Sports Council, his teammates and his friends from school and the navy for keeping him going.
Subsequent training sessions proved more encouraging as Chee's coach, Chia Chong Boon, introduced him to others with similar conditions to provide moral support. Chia also advised him to turn his head and react faster when balls come to his right.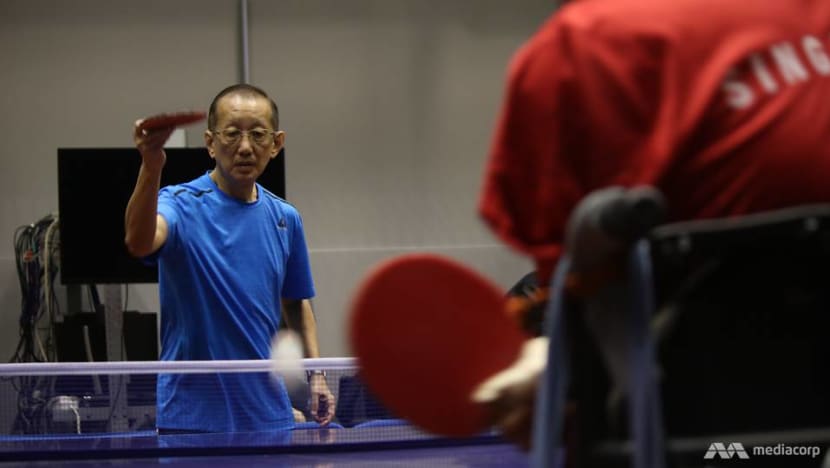 As Chee regained his touch and resumed full three-hour sessions four times a week, his coach said it was as though he was playing with two eyes again. "My skill is still there; I just need to adapt to hitting balls on my right side consistently," he noted.
MEDAL HOPES STILL ALIVE
Chee chuckled when asked if he is afraid that opponents at this year's edition of the ASEAN Para Games, held in Kuala Lumpur from Sep 17 to Sep 23, would exploit his weakness.
When competing, Chee wears glasses and his condition becomes less obvious. He will also have a prosthetic eye inserted in November.
"I'm not scared to go for this competition," he said. "My main goal is of course to win at least a medal. Even if I don't win one, I am still happy to be selected to represent Singapore."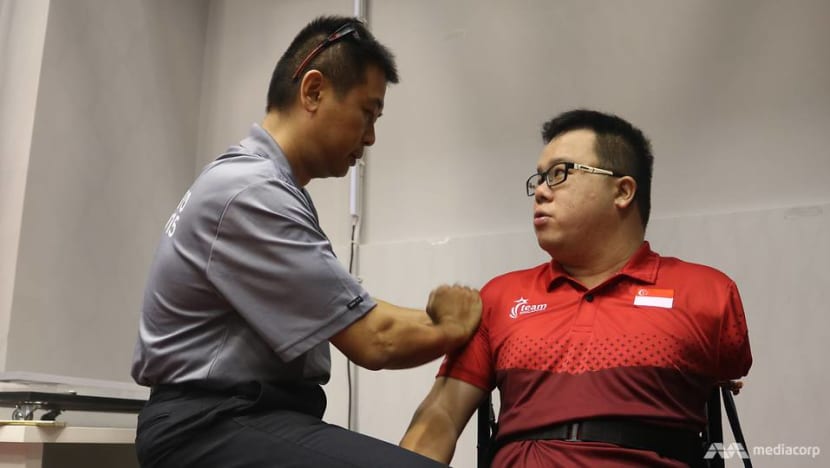 As a warm-up, Chee will go up against the best in the region at the International Table Tennis Federation Para Table Tennis Asian Championships, held in Beijing from Aug 23 to Aug 31. "I'm going to see how I perform with my one-eye vision," he said.
Chee rounded off by declaring that his biggest enemy is himself. "I have to overcome this fear and tell myself that even though I lost my right eye, I have not lost the game," he added.
"Because the game has not started, and I want to give my best to try to win every match."
"INSPIRATION TO ALL": NG ENG HEN
In a Facebook post on Thursday, Defence Minister Ng Eng Hen voiced his admiration for Chee's "fighting spirit".
Describing his visit to Chee after the para-athlete's surgery, Dr Ng said he had been concerned about how Chee would be affected.
"But from his voice and demeanour, I could tell that Jason would not let yet another setback depress him. More than that, his fighting spirit was still strong as ever," Dr Ng said.
"Each time I talk to Jason, it's to try to lift his spirits up, but invariably my spirit gets lifted instead," he said. "Jason's ability to withstand all of life's calamities, to press on, no matter how difficult the road and against seemingly insurmountable obstacles is an inspiration to all."