Karung guni men struggle with low profits, dwindle in numbers as Singaporeans purchase fewer used items
Due to gruelling work and low payoffs, many rag-and-bone men have given up on the job. Others are hoping that younger Singaporeans can jazz up the sunset trade.
SINGAPORE: At a flea market in Woodlands, vendors struggled to sell their wares over the Chinese New Year holiday as a relentless downpour dampened spirits and kept customers away.
For these vendors, who are traditional scrap dealers – better known as karung guni men – a dwindling customer base, low profits and waning interest are increasingly affecting their declining trade.
The Market Gaia Guni at Woodlands Industrial Park, which houses 15 stalls, is only open on weekends and public holidays.
The vendors collect used items including clothes, electronics, and antiques on weekdays and resell them when the market is open.
While the market saw sizable crowds during previous Chinese New Years and some other holidays, peddlers said overall profits are meagre.
"For those eight days a month (that our stalls are open), we make around S$1,000. After paying rent, I earn about S$600 to S$800," said an elderly dealer who has been working in the trade for more than 40 years.
"For the other days that I'm not here, I work elsewhere. No choice because on weekdays nobody comes here. Some vendors don't get much business at all and it's not worth it for them to set up shop here so they (leave the trade)," he added.
SUNSET INDUSTRY
"Karung guni" means "gunny sack" in Malay, which in the past was hauled on the backs of local rag-and-bone men as they visited homes door-to-door while sounding their horns.
They traditionally collected old newspapers, used clothing, discarded electrical appliances and other unwanted items that can be resold.
Today, due to the gruelling physical work and low payoffs, many of these scrap dealers have given up on the industry. Some vendors staying on in the trade said they are too old to change jobs.
"I'm already old, I don't want to change jobs. Business is not great but I'm getting by," said another stall owner at the Woodlands market, who earns a few hundred dollars a month.
"But a lot of my colleagues have changed jobs, because they can't do physical work anymore," he added.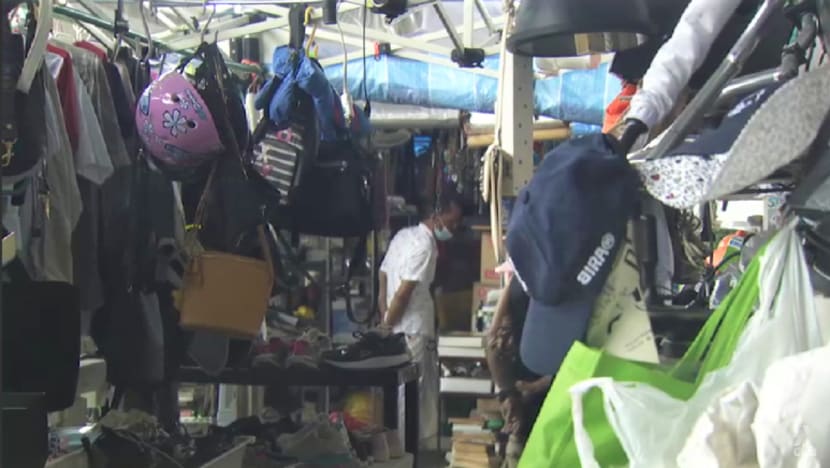 Shrinking interest in buying used items among Singaporeans continues to remain a challenge, said vendors at the Sungei Road Green Hub, where shops offer an immense selection of secondhand ware such as clocks, sculptures, bicycle helmets and other knick-knacks. 
These karung guni men are hoping that younger Singaporeans can jazz up the trade and revive the industry.
"Our trade is getting smaller and smaller," said a stall owner. "We hope that this culture can continue but it now depends on the younger generation to use new ideas. It's not up to us."
NEW GENERATION OF KARUNG GUNIS
One millennial hoping to revive the trade has turned to social media in his bid to save his father's karung guni business.
Mr Bryan Peh, 30, uses Instagram and Facebook to build awareness on scrap trading and to woo new customers.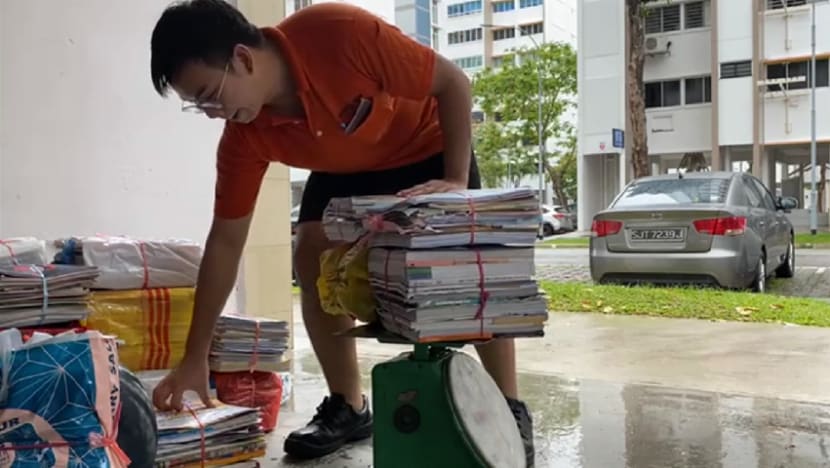 "With Instagram, I'm able to reach out to more people. Every month, we have a gradual increase of about 10 to 20 per cent of clientele from online, which I think is very optimistic," Mr Peh said.
He made his foray into the industry nearly 10 years ago by helping out in his father's traditional karung guni business Ace Recycle Trading, which collects and purchases unwanted material from customers to resell.
He recently set up his own disposal service company Earth Recycling Services, which helps customers clear bulky items from their homes, typically when they are moving house or during spring cleaning. 
Items in good condition go through a sorting process to determine if they are to be resold or donated. Unusable items are dismantled and recyclable materials will be extracted for sale.
"I try my best to revive this trade but there has definitely been a decline over the years in the karung guni (industry). A lot are leaving the industry due to old age and they would rather retire than to commit to new loans such as buying a new vehicle or hiring more people," Mr Peh said.
"Not a lot of youngsters are willing to come in to do this trade and I definitely hope that this trade does not go away because I see the uniqueness in it."
In hopes of revitalising the fortunes of karung gunis in Singapore, Mr Peh is now looking to expand both his own company and his father's business by bolstering manpower and stepping up social media engagement.
He said: "(I want to) create more educational content, share our lives as karung gunis, and (viewers) can learn from the tricks of our trade that we share on how we can all better benefit the environment."