Kinderland Woodlands abuse cases: Operator fined S$5,000; ECDA admits it should have removed teacher earlier
The Early Childhood Development Agency also issued a warning to another teacher at the Woodlands centre for pulling a child's shirt over the back of a chair to stop him from moving around.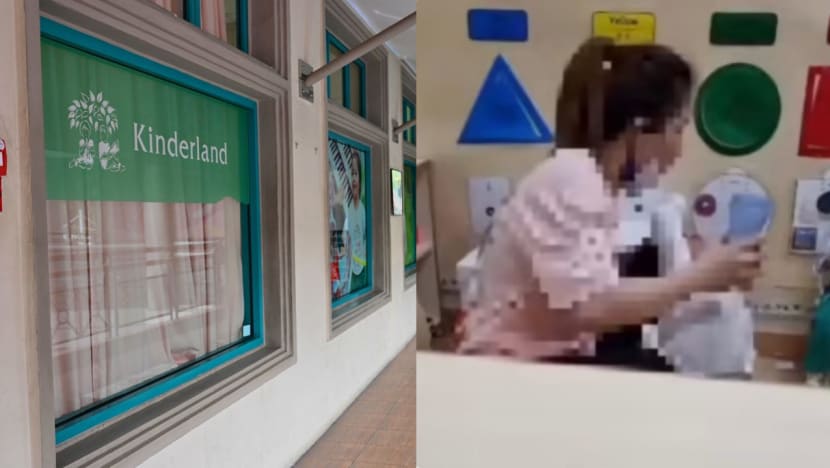 SINGAPORE: The operator of Kinderland Preschool @ Woodlands Mart has been fined S$5,000 (US$3,700) due to the severity of recent incidents at the centre, the Early Childhood Development Agency (ECDA) said.
In a press release issued on Monday (Sep 4), ECDA also admitted that it should have acted more quickly in removing a teacher it identified as educator A, who was filmed force-feeding and hitting a child, from her classroom role at Woodlands Mart.
Former teacher Lin Min, was charged in court on Aug 30 with ill-treating a child. Court documents showed that the 33-year-old Singaporean allegedly forced the 23-month-old girl to lie down and poured water into the girl's mouth.
The incident came to light on Aug 28 when three videos of Lin allegedly mistreating children under her care, including the girl, were circulated online. 
Lin has been issued a warning under Early Childhood Development Centres regulations and is barred from working in the preschool sector. Police investigations are ongoing.
ECDA's investigations also found that another educator at the preschool used "inappropriate methods" to restrict the movement of a three-year-old child on two occasions.
On one occasion, the teacher pulled the child's shirt over the back of a chair. The teacher also used straps from an infant chair to stop the boy from getting up.
The centre's principal did not exercise "adequate supervision" over her staff and "failed to prevent the use of inappropriate child management methods in the preschool", ECDA said.
She can no longer be deployed as a principal in a preschool and has been issued a warning. "ECDA will consider her suitability as a principal after she has completed refresher training and after a period of 2 years."
"Given the severity of the incidents at this preschool, ECDA has issued a warning, imposed a penalty of S$5,000 on the operator, and reduced its licence tenure to 6 months with immediate effect.
"At the end of 6 months, ECDA will not renew the licence if the preschool fails to demonstrate significant improvements in its standard of care to their children," the agency said.
ECDA's chief executive officer Tan Chee Wee said the agency could have done better.
"We apologise for not getting Kinderland to immediately remove the educator from her classroom role while investigations are ongoing. We will strengthen our protocols and training of our officers."
When the case involving educator A was reported to ECDA, "timely action" was taken, with investigations commencing by the next working day.
"However, (the investigation officer) failed to follow the established protocol that for cases with clear evidence that child safety is endangered, the staff should be immediately removed from classroom duties," the press release said.
"ECDA acknowledges this lapse in its case handling procedures. We are reviewing our systems and procedures to strengthen this protocol and ensure better oversight of cases under investigation."
Kinderland first addressed the incidents in a statement issued on Aug 29, a day after the videos of alleged abuse emerged online. It outlined its investigation and provided details of the individuals involved in the Woodlands Mart case.  
CNA spoke to the other teacher who had been placed in the same class as Lin before the statement was released. She told CNA that she was the one who filmed the videos. 
She said she had approached the principal twice to flag similar incidents, but no action was taken. She added that she also reached out to ECDA with the videos.
Some parents told CNA they withdrew their children from the preschool immediately after the videos surfaced, while others who met with Kinderland on Saturday said they felt the management was "insincere".
The operator of Kinderland Preschool @ Woodlands Mart has been fined S$5,000 (US$3,700) due to the severity of recent incidents at the centre, the Early Childhood Development Agency (ECDA) said. Jeraldine Yap with more.
INVESTIGATIONS AT SUNSHINE PLACE CENTRE
EDCA also provided an update on two reports that were made over incidents at Kinderland @ Sunshine Place in Choa Chu Kang. 
A teacher identified as educator C was seen "forcefully pushing" a three-year-old child in April 2022 and investigations by ECDA and the police are ongoing.
On Aug 29, a video of the Choa Chu Kang preschool teacher allegedly hitting a child surfaced on social media. She was suspended by the school and arrested.
The second report is a case that has been concluded, where two educators, whom ECDA referred to as educators D and E, admitted to strapping a two-year-old child in his chair on several occasions, using straps from an infant seat.
"The educators' intent was to get the child to focus on the activity and prevent him from hurting himself and other children," the press release said.
"ECDA instructed the centre to immediately stop this practice and ensure all its educators adopt appropriate methods and work closely with parents to manage the behaviour of each child," it said, adding that stern reminders were issued to the school and two educators.
More severe action will be taken if a similar incident happens in future, ECDA said.
Kinderland's headquarters have been asked to conduct an independent review of child management practices in all their preschools "in view of the recent incidents of child mismanagement", ECDA said.
It has to report back with its findings and recommendations within three months.
"During this period, ECDA will also place all preschools under Kinderland on close monitoring and conduct more frequent unannounced checks on their classroom management practices."
On Aug 31, ECDA announced that closed-circuit television (CCTV) cameras will be mandatory at all preschools and government-funded early intervention centres from Jul 1 next year.
Parents will be given access to footage to assist with the investigation of "serious incidents".
It noted that this implementation was not due to the Kinderland incidents.
Kinderland drew further ire from netizens last week when it posted on social media platforms that staff should not use personal devices during teaching hours.
The company's general manager Seet Lee Kiang said the reminder of an existing policy came at the wrong timing and said Kinderland has "always encouraged whistleblowing (as a) policy". 

Editor's note: This article was updated after ECDA corrected the age of the child in the case of educator C. The child is three years old, not five.
Is the punishment proportionate to the crime? Listen to Daily Cuts: