Labour woes, tighter deadlines due to COVID-19 contributing to workplace deaths: Industry players, experts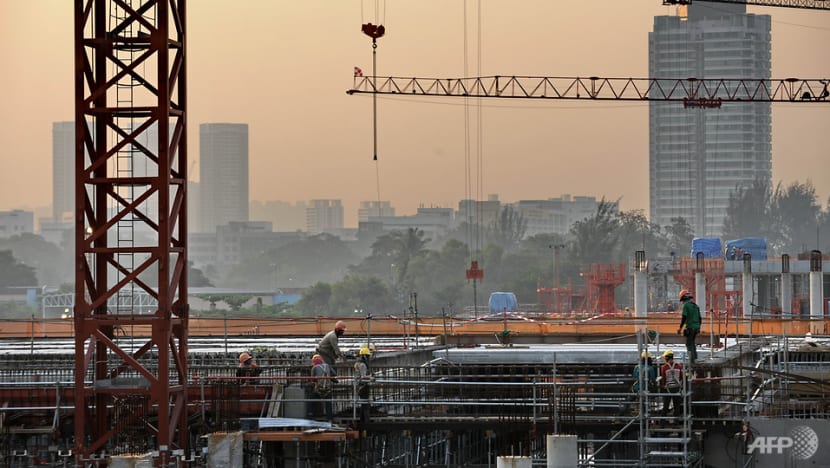 SINGAPORE: Manpower shortages and tighter deadlines due to COVID-19 disruptions may have caused the recent spate of workplace accidents and fatalities, said industry players and safety experts.
So far this year, there have been 25 workplace deaths, with three being reported over the past two weeks. The number of fatalities has since surpassed the 23 recorded in the first half of 2021.
Commenting on the issue last month, Prime Minister Lee Hsien Loong said safety standards and practices "seem to have slipped" as the economy reopens.
The number of workplace deaths thus far "is far too many, and not acceptable", he added in a Facebook post dated May 9. "We have lost ground. We must put this right."
Industry players and safety experts who spoke to CNA cited the pandemic's ripple effects as a key source of pressure.
"The aftermath of COVID-19 has led to tighter timelines, manpower shortages, unintended complacency of personnel and other contributing factors," said Mr Yong Jian Rong, who chairs the workplace safety and health sub-committee at the Singapore Contractors Association Limited (SCAL).
Mr Lim Boon Khoon, the founder of Hazard Evaluation and Loss Prevention Consultants, questioned if workers have been sent for refresher training, which would be necessary after being away from worksites or having segregated teams and duties for some time due to COVID-19 safety rules.
"But companies may be thinking that having workers at refresher training will not help the manpower shortage problem. It also adds up in terms of financial costs," he said.
Meanwhile, the expedition of long-delayed projects can result in workers overlooking safety elements to meet shorter deadlines. Fatigue from working longer hours further increases the risk of losing one's sense of judgment and attention to protocols while on the job.
"All these factors are interrelated to one another and unfortunately, can lead to terrible consequences," said Mr Lim.
Mr Han Wenqi, a registered workplace safety and health officer, has noticed construction workers feeling the toll of the labour crunch and pressing timelines.
"One worker is maybe expected to deliver the tasks of three people in the same timeline or even faster because they want to catch up. So you can imagine the physical and mental fatigue of these workers, as they are being pressured three times more," he said.
"It's not just the workers; it's usually a chain of instructions with everyone under tremendous pressure to (meet) unreasonable timelines."
Safety consultant Harry Ho reckoned that the reopening of the economy has been "a catalyst" of workplace accidents, but it should not be seen as "the real cause".
"It is the lack of ownership for health and safety that is really the issue," said the principal consultant of A-SK Safety. "People still have the mindset that accidents won't happen to me, accidents won't happen to my company, and I am not responsible."
Mr Han agreed, noting that there remains a "longstanding gap" in safety standards on the ground that is "accumulated through several risk-taking processes with no repercussions."
"For example, I dash across the road (when the) traffic light is red and nothing happens. The next time, I will do it again," he added.
Thin margins in the construction industry do not help, according to Mr Han, who said that has led to some companies placing more importance on work progress than ensuring safety.
An industry player who declined to be named said financials have always been an issue for the construction sector. Long before the pandemic, a price race to the bottom has seen firms trying to outbid each other by submitting "super low" tenders for projects.
"Everyone wants to be competitive, so the tender gets lower and lower by reducing this and that, like supervisory staff," said the business owner who has been in the industry for some 40 years.
Asked if the pandemic has resulted in more cost-cutting moves, he said: "Yes and no. Companies that can still sustain will not but some that are already dying may have no choice."
The recent spate of accidents has been "very sad and disappointing", added the industry player.
"Safety always becomes secondary when work is rushed. That should never be the case," he told CNA. "At the end of the day, it's the responsibility of the management to always make safety a priority."
WHAT CAN BE DONE
Mr Ho said authorities will have to continue stepping up on enforcement in the short run, or even implement another safety time-out.
A two-week safety time-out was called by the authorities last month amid a "worrying spate" of workplace fatalities across various sectors. Such a time-out typically involves firms taking a pause from work so that senior management can engage workers and unions on their workplace safety and health processes, and act on any issues raised.
Other experts noted the merits of having safety time-outs but suggested changes for the initiative to be more effective.
Mr Lim, for instance, described some safety time-outs as having evolved into a "mass toolbox meeting" with invited speakers giving presentations on topics that may not be that relevant.
"A safety time-out is basically to relook at your processes, finding out your weaknesses and making proper changes. It is a good programme, only if it is conducted properly and with commitment from the top management," he said.
Authorities can conduct checks, suggested Mr Han, so that safety time-outs will be more than just "paper exercises". "Now, there's no verification by the authorities. We can definitely do more."
Other players, such as insurers, can also do their part by conducting more regular audits to evaluate the safety standards of their business clients, he added.
But beyond these, safety experts noted that more needs to be done in the longer run.
One area involves fostering "psychological safety" at the workplace and in particular, empowering migrant workers to voice their concerns, said Mr Han.
The ability to speak freely is important to workplace safety, he added. 
"If (workers) can tell us their problems without fearing that they will be penalised, problems can be solved before accidents happen," he said.
To do so, Mr Han recommends having a dedicated safety officer at every worksite.
Mr Lim suggested that new rules be rolled out to require companies, such as those in construction, to have a board director focusing on safety.
Firms with higher-risk activities or poorer accident records should also be inspected by officers from the Ministry of Manpower on a more regular basis to bring about "effective" change, he added.
SCAL, in its reply to CNA's queries, made an appeal to all its members and stakeholders in the industry to "address this situation as a team".
"With all parties shouldering the burden, it will be better managed, and we will be better able to prevent any loss of precious lives," said Mr Yong.
The association also stressed the need for "education and competency", such as having adequate training, refreshers and monitoring during a transition phase until a worker has gained sufficient competency to do the task without supervision.
SCAL also called upon non-members to participate in its workplace safety and health activities, and respond to the planned safety time-outs that it conducts for the industry. Currently, the association holds four of such time-outs a year on a quarterly basis, and "will do more when necessary".