Safety time-out needed amid 'worrying spate' of workplace fatalities, say MOM and labour bodies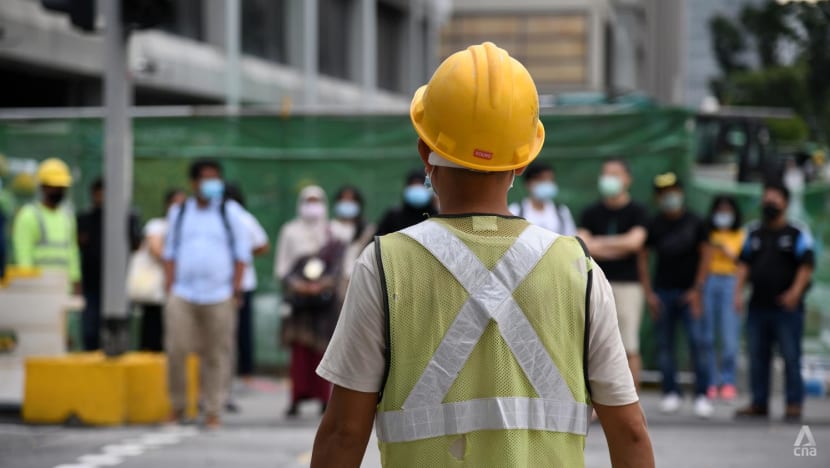 SINGAPORE: The Ministry of Manpower (MOM), Workplace Safety and Health (WSH) Council, National Trades Union Congress (NTUC) and industry partners have called on companies to conduct a safety time-out from Monday (May 9), amid a recent "worrying spate" of workplace fatalities across various industries.
There have been 20 workplace fatalities between Jan 1 and May 6, many of which could have been prevented with basic safety and health measures, said MOM and WSH Council in a press release on Sunday.
Ten of the deaths were in April alone.
"Preliminary investigations revealed that a common factor among these fatalities was that basic safety and health control measures – such as wearing of seat belts in forklifts, or fall protection gear while working at heights – were either inadequate or not in place at all," said MOM and WSH Council, adding that seven of the 20 deaths were similar in nature to cases that occurred last year. 
"Lives would have been saved if these well-established control measures were taken."
Safety time-outs typically involve taking a pause in work for senior management to engage workers and unions in reinforcing workplace safety and health processes, and to act on any issues raised.
Senior management should also ensure that learning points from past accidents are shared with all workers, said MOM and WSH Council.
The last time the WSH Council called for a nationwide safety time-out was on Jun 25, 2021, which lasted two weeks.
The current time-out is also expected to last for two weeks, during which time the WSH Council along with NTUC and industry associations will generate "mass awareness" on the need for companies to review their processes and learn from past accidents.
"It is alarming and unfortunate that a number of this year's fatal cases involved basic safety lapses," said WSH Council chairman John Ng.
"I strongly urge all companies to answer this STO (safety time-out) call to review your processes, communicate with your workers, and implement necessary control measures to uphold good WSH standards, particularly in preventing falls from height, working around fragile surfaces, and the safe use of machinery such as forklifts," he added.
Singapore's workplace fatality rate was 2.3 per 100,000 workers in 2011, compared with 1.1 in 2021.
Only four Organisation for Economic Co-operation and Development countries have a fatality rate of less than 1.0 per 100,000 workers.
This safety time-out will have two main focus areas: Working Safely at Heights, such as working safely on fragile surfaces and safe use of ladders, and Safe Use of Equipment, such as forklifts, said MOM and WSH Council.
During this time, companies should ensure they have effective workplace safety and health management systems, including reviewing their risk assessments, ensuring that all their workers implement risk control measures, and have safety training relevant to their roles.
Companies can also make use of WSH Council's WSH Alerts, which contain learning points from recent fatal accidents, to highlight potentially hazardous situations to workers, the release said.
Among some specific measures, top management are urged to do a walk-about on site to ask workers about their concerns and encourage them to report safety risks and near misses to their supervisors.
Companies should also consider assigning mentors to new workers, as those with less than three years of working experience in Singapore tend to be more accident-prone, said MOM and WSH Council.
"Performing work activities that are routine and repetitive does not guarantee that accidents will not happen," said Mr Silas Sng, commissioner for Workplace Safety and Health and divisional director of MOM's occupational safety and health division.
"We need all employers and employees to take WSH seriously and personally, and to implement the WSH measures before an accident occurs in your workplace."
The industry associations taking part in the May 9 safety time-out include: Association of Process Industry, Association of Property and Facility Managers, Association of Singapore Marine Industries, Singapore Contractors Association Limited, Singapore International Facility Management Association, Singapore Logistics Association and Singapore Manufacturing Federation.

Editor's note: This article has been amended to reflect the correct dates for Singapore's workplace fatality rate. We apologise for the error.