Leong Mun Wai's proposals for 'opposition hour', more flexible timekeeping in parliament rejected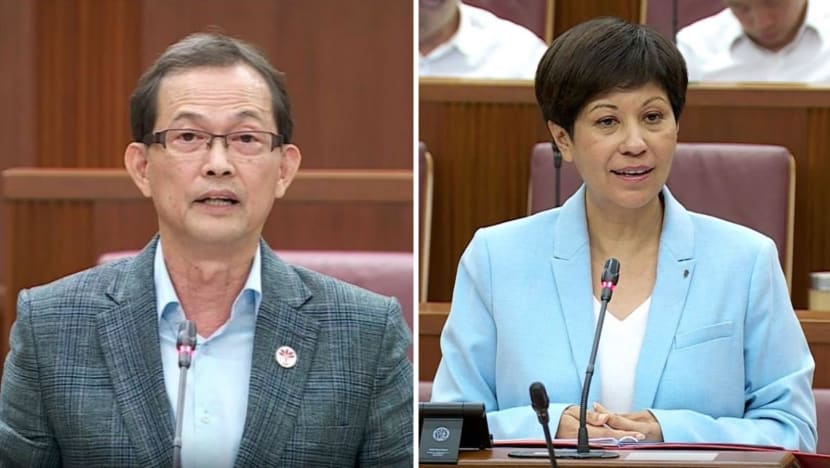 SINGAPORE: Non-Constituency Member of Parliament (NCMP) Leong Mun Wai on Monday (May 8) suggested introducing an "opposition hour" and more flexibility around timekeeping during parliament sittings as ways of helping opposition MPs to be more effective and hold the government to account.
The suggestions were rejected by Leader of the House Indranee Rajah, who highlighted how the current approach gives MPs, including those from the opposition, enough opportunity to hold the government to account, raise queries and debate matters.

"The answer lies not in changing the rules, but rather for MPs to develop the skills of listening, using the existing rules more effectively, to make a contribution to the debate," she said.
Mr Leong, who last month was elected secretary-general of the opposition Progress Singapore Party (PSP), said in an adjournment motion that based on his personal experience, some parliamentary processes and features were not "the most conducive" to facilitate MPs in doing their jobs.
Pointing out that elected MPs were provided with a monthly allowance of S$1,300 to hire a legislative assistant and S$500 for a secretarial assistant, he said this was "meagre" and "completely insufficient to hire even one full-time assistant".
Mr Leong also highlighted that NCMPs and Nominated MPs did not receive such allowances.
Former Leader of the House Wong Kan Seng's justification for the removal of NCMP support allowances after 1997 was that their duties were not as heavy and onerous as those of elected MPs, as only elected MPs sit in committees, Mr Leong noted.
"Today, NCMPs have full voting rights equal to elected MPs and sit on parliamentary committees," he said, adding that the workload has increased across the board, commensurate with the increasing complexity of Singapore's civil service and its parliamentary system.
To better support MPs in carrying out their legislative duties, he suggested increasing the allowance to hire legislative assistants and secretarial assistants and extending this to NCMPs and NMPs, adding that it was timely for the Government to review this.
But Leader of the House Indranee Rajah said it was indisputable that the workload of NCMPs was less than that of elected MPs, adding that they were also not responsible for constituencies or residents' matters.
"As such, in principle, it is reasonable to differentiate between the support the elected MPs and NCMPs received," she said.
Turning to the quantum of the allowances for hiring legislative and secretarial assistants, she said this was the same for elected MPs - whether they hail from the ruling People's Action Party (PAP) or opposition parties.
For Leader of the Opposition Pritam Singh, it was appropriate to allocate more resources given his expanded duties and responsibilities, said Ms Indranee.
"This is fair, given his role. This is an example of how we review and adjust according to the circumstances," she said.
MORE RESEARCH SUPPORT
Another suggestion raised by Mr Leong was to set up a parliamentary research department with a starting annual budget of S$1 million.
He pointed out that many MPs did not come from a public policy or legal background and might require more assistance.
But Ms Indranee said that many PAP MPs without such background have been able to work within allowances allocated to them, by pooling funds to hire full-time staff to support two or more MPs.
"They do not confine themselves to the legislative assistant allowance, but often also draw upon their MP allowance to top up the sum," she said. "It is quite open to opposition MPs and NCMPs to do the same.
"What is of note, however, is that the absence of such research facilities has not, in any way, deterred the PSP from asserting its ability to advance policy positions," she countered.
Citing quotes from the PSP's 2020 manifesto, she highlighted how the party had claimed that it offered a "better alternative to the current problems" Singapore was facing.
"Today though, Mr Leong espouses the view that the opposition lacks access to the resources of our excellent civil service," said Ms Indranee.
"'Handicapped by these lack of resources, alternative policies created by the opposition will not have the same breadth and depth of the government's' - that was his statement earlier.
"There is a marked contrast between the statements in PSP's manifesto and Mr Leong's statements in Parliament today," she added.
While the civil service works with the elected government of the day, it is ultimately the ministers who decide on the government's agenda and set the major direction of policies being implemented, Ms Indranee said.
"PROVIDE ALL DATA"
During his speech, Mr Leong also asked the government to provide all data in the "requested format" as asked for by MPs, unless there were national security or financial market sensitivities.
He also said ministerial statements and other speeches should be provided to MPs; and ministers provided with drafts of MPs' speeches beforehand, for members to contribute more meaningfully to debates.
In response, Ms Indranee highlighted that data collection as well as "slicing and dicing" it in different ways required time, money and effort.
"We will lean forward to provide what is reasonable and practicable but we cannot fulfill every whim," she said.
On providing ministers' speeches to MPs beforehand, she said MPs were given time to prepare, adding that the current system was designed such that MPs could always debate ministers irrespective of when their speeches were delivered.
MPs also have "more than ample" opportunity to engage ministers on their speeches, through a wide array of mechanisms such as adjournment motions and clarifications, she added.
REMOVING TIME LIMITS
Mr Leong then called for more flexible timekeeping in parliament, saying that the time for clarifications and questions should not end as long as there were "new, substantive" questions from MPs.
In addition, he suggested introducing an "opposition hour" during the first day of every parliament sitting, to discuss subjects chosen by the opposition.
This was being done in other Westminster parliaments such as in the UK and Canada, he noted.
But Ms Indranee said there was no need for an "opposition hour" when every sitting was an opportunity for PAP or opposition MPs alike to raise topics of their choice and to "hold the government to account, challenge policies and decisions and propose alternative policies".
She added that unlimited time for parliament questions and Committee of Supply speeches "would not be a good idea".
"It would be the surest way of triggering Parkinson's Law, the adage that work will expand to fill the time allotted for its completion," Ms Indranee said.
With parliamentary questions or PQs, the time for them has increased considerably given more sittings, but instead of allowing the House to deal with more PQs, it has led to more "and often repetitive" supplementary PQs on the same topic, she argued.
THE ROLE OF THE OPPOSITION
Other suggestions by Mr Leong included having the Public Accounts Committee (PAC) and Public Petitions Committee (PPC) chaired by an opposition MP.
The PAC scrutinises the government's financial performance and use of public funds while the PPC provides a platform for citizens to voice concerns and grievances to the government, he said.
As such, it was crucial for both committees to be seen as "objective and non-partisan".
Ms Indranee questioned whether having an opposition MP would really ensure that the committees were independent, impartial, objective and non-partisan.
"The composition of each standing select committee should reflect the balance between the government benches and the opposition benches in parliament," she said.
"If you think about it for a moment, that is fair, because it reflects the proportion of government and opposition MPs," she said, adding that this proportion was decided by the electorate.
"Hence, the chairmanship of the select committees is drawn from the authority of the people and we should respect that."
"In any case, opposition members serve on the select committees and are entitled to ask questions and argue this usefully. There is no reason to think that they have not done their job properly," she added.