Musicians, venues cheer return of live performances in Singapore but call for changes in industry
SINGAPORE: As he prepared to take the stage at a bistro in Punggol Marina Country Club, Mr Charles Wong took a look around him and felt a palpable sense of adrenaline.
"I was very nervous," the guitarist of local acoustic band Anchorblanc recalled of his first night back at live performing.
The setting was not unfamiliar and Mr Wong knew exactly what to do, having put up countless of gigs at bars and restaurants for almost a decade. Yet, there was a surreal feeling that night as he took the stage before a crowd – after a rough two years with live entertainment banned due to the COVID-19 pandemic.
"It's been an emotional rollercoaster. But finally, we're back," he said.
The audience was also an energetic bunch, singing along with the band and waving flashlights from their mobile phones, recalled the band's vocalist Ferlyn Chen.
"I guess they also missed listening to live music, so they were really excited. At one point, it felt like we were singing at our concert," she said.
It was a similar experience for homegrown band Roseville when they performed at Timbre X S.E.A at The Arts House on Mar 29, the first day that live gigs made a comeback.
"The moment I stepped onto the stage, I said very quietly into the mic: 'We're back' and the crowd started cheering," said Mr Seah Ze Wen, who plays the guitar.
"That is energy that you can't feel over the screen and it felt so good."
"A PART OF YOUR IDENTITY"
The live music scene first came to a standstill in end-March 2020 when entertainment venues had to be shut as part of pandemic control measures. Little did the small industry expect the cessation of gigs to last for two years, leaving musicians grappling with the realisation that their livelihoods had vanished.
Roseville's vocalist Enya Lim said many musicians felt "cancelled". "It's not just about the income, it's also about what you do being a part of your identity."
Ms Audrey Lim, a voiceover artist and freelance host and entertainer, said while people understood the need to chip in and bite the bullet at the start of the pandemic, being constantly left out from the reopening list eventually got "very disheartening".
"There was a little bit of financial aid which helped, but even that had an uneven amount of take-up because people who needed that help were sometimes not able to access it," she said, citing conversations in a Telegram chat group for musicians that she started.
"What I think a lot of people don't realise is that performers aren't hobbyists by and large. Most of us are professionals with mortgages and dependents, and it's quite taxing to be told: 'Oh for two years, you're just structurally unemployed'."
FINDING A WAY OUT
To make ends meet, musicians pivoted.
One obvious choice was to go online so bands, such as Anchorblanc and Roseville, experimented with livestreaming by setting up cameras at home and learning how to interact with audiences in a different way. This took some time, said Mr Wong, adding that the process was almost like "learning from the ground up".
Ms Lim started an online concert series in 2020 called Take Back The Nights to help the community. But while it sounded appealing, livestreaming "was never a viable alternative", she said.
First, competition for eyeballs was stiff, with even celebrities like John Legend and JJ Lin jumping on the livestream bandwagon. Second, with the lack of a tipping culture in Singapore, hours of work can yield minimal income, Ms Lim added.
Musicians also took up other jobs such as teaching, hosting weddings, or even those unrelated to their skills – like safe-distancing ambassadors and food delivery.
With a two-year-old child, Roseville guitarist Mr Seah said he was "worried for a while" but decided that he could either keep worrying or do something about the situation. So he focused on ramping up his other lines of work, such as teaching, video production and also became a producer for virtual meetings and seminars.
Anchorblanc vocalist Ms Chen ventured into selling face masks.
"Before COVID-19, I was selling food items I got from overseas on an online mart I started. When I saw people looking around for more fanciful disposable masks, I decided to tap into that opportunity."
Together with her sister, she procured a variety of masks from suppliers in China and took orders via Instagram, Shopee and Carousell. Earnings were "unpredictable", ranging from S$200 to S$300 a month, but it helped with living expenses, she said.
Though the lifting of curbs on live entertainment is a relief, it is also bittersweet, as some fellow musicians have left the industry for good.
"It was very tragic to see people who've been in this industry for such a long time selling their gear on Carousell or Facebook marketplace," Ms Lim, the voiceover artist, said. "If you start selling the tools of your trade, it is almost impossible for you to come back."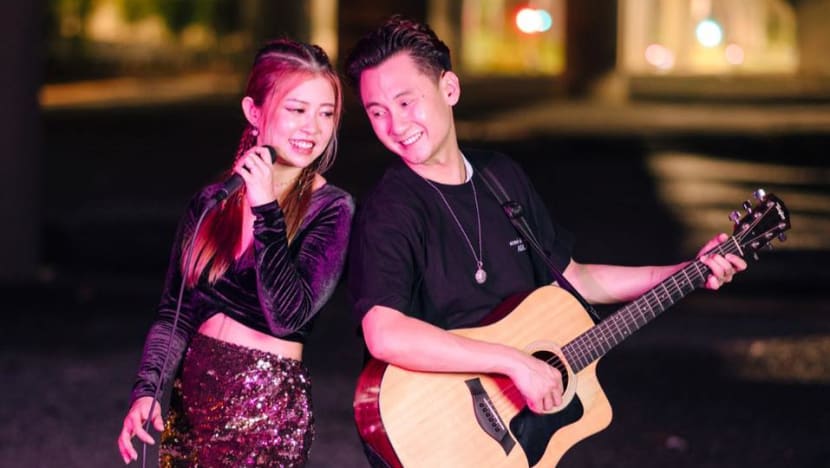 "PACKED SINCE DAY ONE"
F&B venues that offer live music have been bustling, especially after group size limits were removed and a 10.30pm cut-off for alcohol sales and consumption lifted.
"All these things coupled together have helped to get people out of their homes," said Mr Aaron Ang, a senior executive officer of the CEO's office at Tipsy Collective, which has live bands performing at six of its bars and restaurants. Reservations at many of these outlets are at "90 to 100 per cent of capacity", especially on Friday and Saturday nights.
Timbre Group said sales at its outlets have doubled since restarting live music performances on Mar 29.
"It's been packed since day one," chief executive Danny Loong told CNA. "It's really a nice time now to see people waiting for the band to start and dedicating a song. It's smiles everywhere."
Tin Box Group, whose venues Simply Live and Simply Jazz are homes to several local bands, said it is "fully booked for at least a month" on popular nights such as Fridays and Saturdays. This has been its busiest period in two years, during which its table reservations dwindled to just three on some days.
"We couldn't even play recorded music at one point," said group general manager Zolyn Low. "Our business is very music-centric so losing this sense of identity was definitely a huge blow."
"But we pushed through and maintained all our resident bands to date. We didn't ask them to leave or take pay cuts," she added. "This reopening is a big step-up for us and we are happy to be busy again."
Also holding on to what it calls a "core part" of its business, Tipsy Collective included stage spaces at the new outlets that it opened during the pandemic. "Because once live music comes back, we will be ready," Mr Ang said.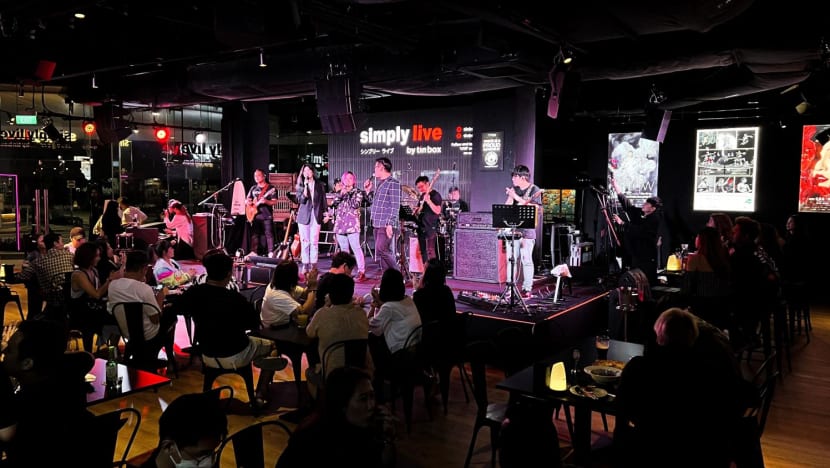 But not everyone managed to survive.
Starker Group announced the closure of all its seven bistros in June 2020, days after the country exited a gruelling "circuit breaker". Wala Wala, regarded as one of the stalwarts of live entertainment in Singapore, shut its second-floor gig space last year.
Timbre also lost two venues – one of which was its very first outlet opened at The Substation 17 years ago – although it said there were "factors beyond COVID-19" that contributed to the closures. For one, the premises of The Substation had to be returned to authorities for two years of renovation work.
"COVID-19 taught us and should remind all business owners the fundamentals of doing business," said Mr Loong. As safe-management measures take a toll on the F&B sector, especially on bars and restaurants, Timbre has been mulling how to restrategise its offerings.
"With bars and restaurants being the worst hit, you need to be very disciplined and ask what can I do? Do I shut some down and open others? Which we did," the chief executive added, referring to the group's Timbre+ Eastside food court which opened late last year at the Singapore Expo.
Moving forward, it plans to open a third Timbre+ at the NS Hub in Bukit Gombak and is also eyeing a new F&B concept focusing on its signature pizzas.
"COVID-19 is a reset button, both for musicians and everyone in the business," said Mr Loong, who is also an active musician with several blues bands.
RELIEVED, BUT STILL CAUTIOUS
Others in the industry are moving forward with some caution.
For one, the unpredictability of the pandemic has prompted repeated tightening and loosening of rules over the past two years. Being the first to be shut and the last in line to reopen has made the industry feel like it would be "the first to go again" if COVID-19 cases spike. As such, many musicians plan to continue their other lines of work even as invitations to perform regularly have streamed in.
"We've never experienced a lockdown and a cessation of gigs for this long. Once you've been hit hard enough, you're going to go in again very cautiously," said Ms Allie Soh, a keyboardist and vocalist with local band Too Much Drama.
Ms Soh, who decided to pursue a master's degree with Lasalle College of the Arts during the pandemic, said she is happy to receive gig invitations again but plans to "take it slow". For now, she intends to focus on finishing her studies.
Businesses like Tipsy Collective are also staying on their toes. "We do see this as the light at the end of the tunnel but speaking from experience, we are definitely proceeding with some caution," said Mr Ang.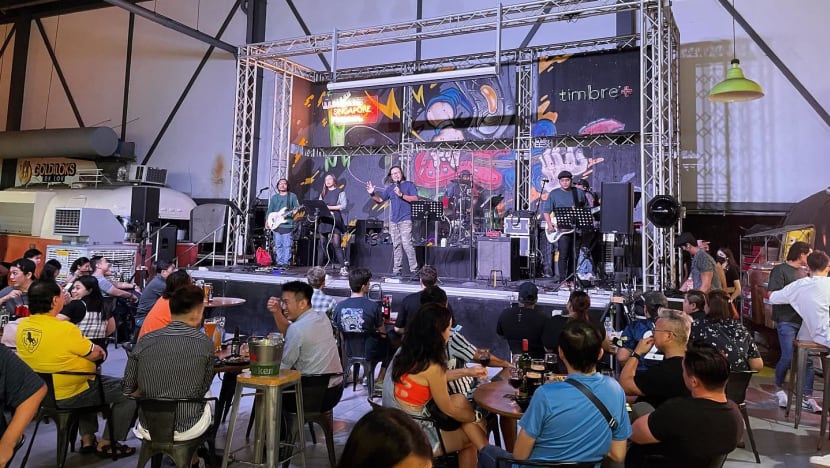 The business model for live music venues remains challenging, said Timbre Group's Mr Loong.
Local audiences "don't value live music in the same way" as other countries, such as Japan or America, where it is common for people to pay a cover charge or buy merchandise to support local bands, he said.
"At some point, audiences need to realise that a live music venue has its costs. Musicians are also not playing for free; they are trying to make a living. Yet, customers continue to pay the same price as a place that does not offer live music."
The industry also faces other curveballs, given the loss of several key live music establishments and the emergence of a new generation that has not been exposed to live music.
"So how do you inspire people to support the musicians?" Mr Loong asked, before adding: "There needs to be a new thinking on this."
Ms Lim said while it is understood that businesses are hurting, some have started "opportunistic conversations" of late, asking musicians "to take on lower rates until (the venues) get back on their feet".
"The peculiar thing about the live gig industry is that the rates for musicians have not gone up in about 20 years. So for venues that have been benefiting from what is essentially a stagnation of wages to ask performers to reduce their rates even further for an indefinite period of time – and have everything be loosey-goosey and not committed to writing – it sets a very scary precedent," she said.
Such venues should appreciate the value of live music or entertainment, she said. Performers themselves must also recognise their added value to a venue.
"It's different when you have a human who can banter with you, do your birthday song requests and just be there exchanging energy with you. You can't do that with a Spotify playlist."
Audiences will also have to do their part by coming out to support the return of live music, others said.
Mr Loong, whose Timbre Group rolled out various initiatives such as online concerts to tide local musicians through the pandemic, said he is hopeful that COVID-19 has presented the opportunity for "a new thinking" to live music.
"We have to value live music and musicians, and together we can make it better for the music scene and livelihoods of musicians."