Local Qualifying Salary will not be further raised 'for now', wage increases to be sustainable: Zaqy Mohamad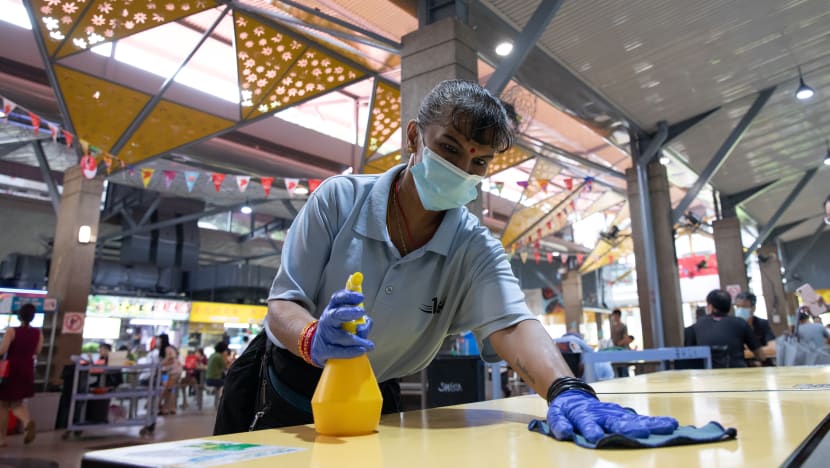 SINGAPORE: The Local Qualifying Salary (LQS) will not be further raised "for now" and wage increases will be sustainable, said Senior Minister of State for Manpower Zaqy Mohamad on Tuesday (Sep 14), as Members of Parliament raised questions about recent announcements to expand support for lower-wage workers.
Replying to parliamentary questions from MPs from both sides of the aisle, Mr Zaqy said that the Ministry of Manpower (MOM) recognises that a new requirement for firms hiring foreign workers to pay local employees at least S$1,400 will have "significant impact on employers".
"Hence, we have no plans to further increase the LQS for now, but will focus on the implementation of the new LQS rules, and also for the other sectoral and occupational progressive wages to establish their relevant wage benchmarks," he said.
LQS has been revised four times in the last five years and has risen from S$1,000 in 2016, to S$1,400.
Prime Minister Lee Hsien Loong said in the National Day Rally on Aug 29 that the Progressive Wage Model (PWM) and other measures to raise the wages of lower-wage workers will be rolled out to more people, extending to eight in 10 lower-wage workers over the next few years.
The major initiatives include expanding progressive wages to new sectors like food services, retail and waste management, and to occupations across sectors starting with administrators and drivers.
The Government will also introduce a new Local Qualifying Salary requirement from September next year. Employers will need to pay all their local workers at least S$1,400 in order to hire any foreign worker.
These recommendations are part of 18 proposals covered by the Tripartite Workgroup on Lower-Wage Workers, which submitted a report last month. The Government has accepted all the recommendations.
Mr Lee also announced that the qualifying age for Workfare wage supplements will be lowered from 35 to 30.
DON'T "ACCUSE FIRMS UNFAIRLY OF PROFITEERING"
To MPs' concerns on whether businesses will unfairly raise prices to justify paying higher wages, Mr Zaqy said that in the food services and retail sectors, there are many firms competing and barriers to entry are not high, so firms will be expected to "think carefully about cost increases".
"It is also fair to say that we have to expect some degree of cost increase to accommodate higher salaries for our lower-wage workers. This is where we as consumers have got to do our part in support of our lower-wage workers," he said.
"I therefore hope that Singaporeans will not accuse firms unfairly of profiteering, but let's also work together to address any unreasonable price increases or practices."
Going into more detail about how progressive wages are set, Mr Zaqy said that wage increases are "secured by tripartite consensus" through sectoral tripartite clusters for sectoral progressive wages, and the National Wages Council for occupational progressive wages.
He explained that the workgroup recommended that the National Wages Council helps to provide guidance on wage growth so as to enable the tripartite partners to weigh the impact of wage growth, inflation and general economic conditions every year, before finalising their guidance.
"Because the growth of progressive wages is negotiated through tripartite consensus, rest assured we have more assurance that wage increases will be sustainable for workers, employers as well as consumers," said Mr Zaqy.
5.3% OF WORKERS EARN LESS THAN S$1,400
In answer to MPs' queries, Mr Zaqy also provided a breakdown of the numbers of workers who will be affected or will not be covered by the announced measures.
He said that there are 103,000 full-time resident employees earning a gross monthly income of below S$1,400 in 2020, which is about 5.3 per cent of the full-time employed resident workforce.
"I'd also like to take the opportunity to highlight, that in 2020, many of our lower-wage workers were also impacted by the economic impact of COVID-19 and faced reduced work hours or reduced allowances," said Mr Zaqy. 
"These employees work in a wide range of industries from food services to administrative and support services, and occupy a diverse range of jobs, from cleaners to office clerks to shop sales assistants."
With the new LQS requirement, an estimated 77 per cent of these employees should see their wages rise to at least S$1,400 a month, he said. Those under sectoral PWMs can expect to earn more.
The remaining 23 per cent of workers who will not be covered are in businesses that do not hire foreign workers. Most of these businesses are "very small", hiring fewer than 10 workers, including hawker stalls and heartland shops.
"We are all familiar with such micro-businesses, familiar faces in our neighbourhoods and typically having family members – spouse, children, relatives helping out," said Mr Zaqy.
"They don't have the business scale or reach, and we are mindful that sudden wage shifts to these micro-businesses can result in business failure."
Mr Zaqy also assured MPs who asked about the implementation of the measures that there will be a run-in period when MOM will focus on educating employers on the requirements, and will not "jump straight into strict enforcement".
The Government will also provide support to businesses during the transition period and this will be announced "in due course".
GOVERNMENT COMMITTED TO WORKFARE 
Responding to a question on whether the Government will lower Workfare qualifying age further below 30 years old, Mr Zaqy said that below the age of 30, most workers would have just started work and most will have greater potential for future income growth.
It would therefore be "too premature" to consider them for Workfare and they could be better supported through training and upskilling efforts to help them access better jobs.
But for workers aged 30 to 34 who continue to remain in the lower-wage range, they are just starting their own families or are looking to buy their first home.
"We believe that Workfare will help them better cope with their current expenses, and to start saving for their retirement," said Mr Zaqy.
He also said that the Government is committed to Workfare as a permanent scheme.
Currently, workers earning less than S$2,300 a month get up to S$4,000 a year in income supplements, with older workers receiving more in payments, which are split between cash and the Central Provident Fund.
PEGGING WAGES TO COSTS
MP Gerald Giam (WP - Aljunied) asked in a supplementary question if it would be better to peg the base wage for local workers to the average household expenditure on basic needs, which is also S$1,400.
"This will allow the minimum wage to rise in tandem with cost increases so that the low wage workers will not lose out over time," he said.
Mr Zaqy replied that the ministry takes guidance for progressive wages from the National Wages Council because they should be sustainable and "not open to political auction". The council does look at data projections, including inflation and its impact on the cost of living, he said.
"These are quite complex matters in which we need to give assurance not just to the workers but to the employers and the consumers at large to create a fair system," he said.
To NCMP Hazel Poa's (PSP) question on whether the LQS requirement will "spell the end of part-time employment", Mr Zaqy clarified that there is also a rate for part-timers of S$9 an hour and this provides "some flexibility" for part-time workers.
MP Jessica Tan (PAP - East Coast) asked how the Government can ensure that the LQS of S$1,400 does not become the maximum wage for local workers in firms that hire foreign workers.
Mr Zaqy said that PWM will be the main driver of wage growth in the years ahead and it has shown good results in the sectors that it has been implemented such as cleaning and landscape sectors.
Wage benchmarks in occupational PWMs will also help to push up wages further and this will "drive market forces" to raise wages.
To a clarification from MP Edward Chia (PAP - Holland-Bukit Timah) on the link between productivity and upskilling of workers, Mr Zaqy said that the "narrative" on productivity gains has shifted.
"The approach so far with PWM has been that the worker has to upskill to improve productivity. And therefore you justify productivity gains against wage gains," he said. "But I think moving forward, we also have to think about productivity gains very differently."
Using the example of the security industry, he said that there is a limit to how much each worker's productivity can be improved through training, while many firms have now improved productivity by using technology.
"So there is the worker-level productivity as you train and upskill him, but there is also that level of productivity that you can get when firms make the effort to transform, do job redesigns," he said.