Firms look forward to hiring from new sources to fill specific roles
Among the roles that can be filled with employees from non-traditional sources are cooks in Indian restaurants, vegetable picklers, and condiments and sauce makers.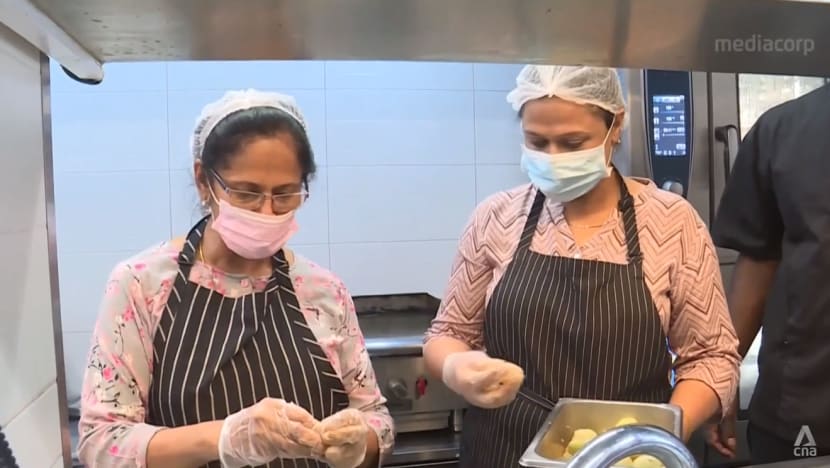 SINGAPORE: Some firms are looking forward to the lifting of restrictions on foreign hires for certain roles from September this year, which will let them employ workers from beyond traditional sources.
Firms in the services and manufacturing sectors are typically allowed to hire work permit holders only from Malaysia, China, Hong Kong, Macao, South Korea and Taiwan.
However, the new list will allow these companies to hire foreign workers for specific roles on work permits, instead of S Passes. These include cooks in Indian restaurants, which according to the Ministry of Manpower, will better support Singapore's multi-ethnic food culture. Other jobs include vegetable picklers, condiments and sauce makers and sheet metal workers. 
Among the firms looking forward to the list taking effect on Sep 1 this year is bakery Bob the Baker Boy. It is looking to hire a sauce maker and employees who can operate a saucer machine. 
The demand in the lead-up to Chinese New Year has brought its manpower crunch to the fore, despite already having all hands on deck to ensure that orders can be met, said its founder Mayee Fong. Demand for its goods this year is 10 per cent more than last year's, she said.
"I wouldn't say that we have a severe shortage of manpower, but we always have one or two positions that are not filled. And this is a small problem for us especially during seasonal periods where the demand is higher. People often have to work past their working hours to get things done," she told CNA.
MORE MANPOWER NEEDED DESPITE AUTOMATION
The firm has automated some of its processes like making sauces, Ms Fong said.
"Last time, someone had to stand by the stove, and you have to cook sauces for hours," she said.
Even with the aid of machines, additional manpower in this area of work will help, she added. 
"You still need someone standing by the counter, monitoring and operating the machine, so manpower has always been an issue," she said.
With the new scheme, Ms Fong is looking forward to potentially bringing in workers from India and the Philippines. She is also looking at sourcing employees from Vietnam.
EXPERTISE IN INDIAN COOKING
Another eatery that expects to benefit from the list is South Indian restaurant Podi and Poriyal, which last year faced difficulties in hiring a chef with the relevant experience to head its kitchen.
The talent crunch is "considerable", said Mr Kiran Raghavan, chief executive of Arpanam, which runs the restaurant.
"We did make an effort to recruit a head chef for the restaurant, and due to various challenges, whether it was criteria or eligibility of the candidate, that application was not successful. It still has left a gap to be filled."
He said that the manpower issue for Indian restaurants partly stems from lack of training, as learning how to prepare the ethnic cuisine is not a prerequisite needed to graduate from cooking school.
Having access to an Indian cook will therefore give small businesses like his the expertise that is currently missing, he said. 
"The chef and his team and the rest of the leaders in the kitchen will then have another colleague who they can leverage for our offering to be more rich, more diverse and have the depth that it needs," he said.