Long-time migrant worker whose work permit was not renewed made 'false statements' on Facebook: MOM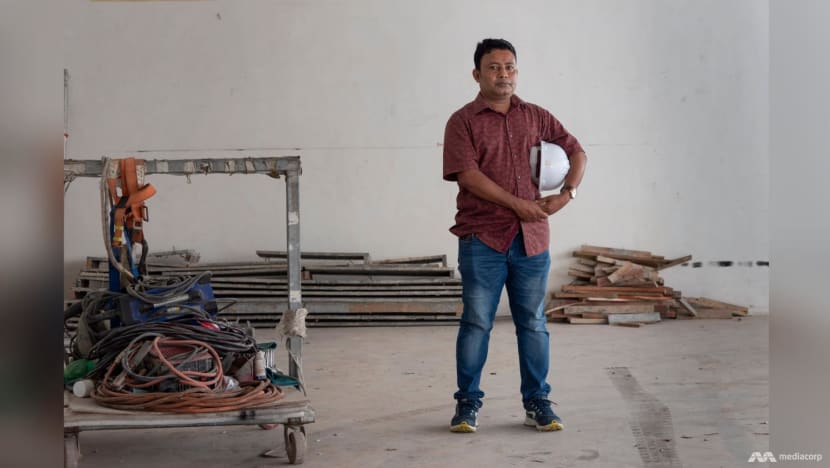 SINGAPORE: A long-time migrant worker whose work permit was not renewed by the Ministry of Manpower (MOM) had earlier made false statements in a Facebook post that could have incited workers at dormitories, the ministry said on Wednesday (Jun 22).
In response to CNA's queries, MOM said that the work pass of migrant worker Zakir Hossain, who has worked in Singapore for 19 years, was determined by the Controller of Work Passes to be ineligible for renewal.
He lodged an appeal which was considered by the authority, but it was unsuccessful. His employer did not appeal.
The Manpower Ministry added that Mr Zakir has often written about migrant workers during his time in Singapore. 
"We renewed his work pass many times despite his activism and writings. We draw the line, however, when public posts are misleading, false or deliberately provocative," said MOM.
2021 POST ON SITUATION AT WESTLITE TUKANG
MOM cited an example - a Facebook post Mr Zakir made on Oct 16 last year when he wrote about the living conditions at Westlite Tukang dormitory.
On Oct 13, 2021, there was heavy security presence at the dormitory, as MOM investigated claims about breaches of COVID-19 health protocols, a lack of access to medical support and poor quality of catered food at the dormitory.
Senior Minister of State for Manpower Koh Poh Koon later stated in Parliament on Nov 1, 2021 that there were "shortcomings by all parties" on the ground surrounding the Oct 13 incident.
"Mr Zakir called migrant workers in Singapore 'work slaves', and our dormitories 'work camps'. He also alleged that soldiers and armoured vehicles had surrounded a dormitory, Westlite Tukang," MOM said.
Calling Mr Zakir's post a "false characterisation", MOM said that police personnel were on standby close to the dormitory as a precautionary measure.
"They never surrounded the dormitory or engaged workers there. Rather, MOM officers and dormitory personnel engaged the workers to address their concerns. There were no soldiers, let alone armoured vehicles, around."
The Manpower Ministry noted that Mr Zakir signed off his post as from the "workers of Westlite Tukang", even though he has never lived there.
"Mr Zakir's false statements could have incited migrant workers at Westlite Tukang and elswhere (sic), inflamed their emotions and possibly caused incidents of public disorder. Fortunately, the real residents of Westlite Tukang saw that MOM, the employer and the dorm operation were serious about addressing their problems and calmed down."
MOM said that it, together with other government agencies, have taken "considerable pains" to safeguard the wellbeing of migrant workers during the COVID-19 pandemic.
"We reduced the risk of transmission among migrant workers, made effective vaccinations available to all of them at the same time as Singaporeans, provided them comprehensive and timely healthcare support, and ensured they were paid even during the Circuit Breaker period when they could not work.
"As a result of our efforts and the cooperation of our migrant workers, we have kept COVID-19 mortality numbers among migrant workers residing in dormitories low – only two deaths in 2020 before vaccinations were available, and none after."
VARIOUS FACTORS ASSESSED FOR WORK PASS RENEWALS: MOM
In a Facebook post on Wednesday, Mr Zakir, under the profile name of "Amrakajona Zakir", said that the system reflected him as having "adverse record with a government agency" when he received notice that his work permit had expired and could not be renewed.
Mr Zakir claimed that in a recent communication from MOM, the label of "adverse record" had been an "administrative error". He added that the reason for non-renewal should have been "ineligible".
"I thought very hard about what would make me not eligible for a work permit, as I have done nothing wrong. I am writing this open letter as I have exhausted almost all options of appeal," added Mr Zakir, who said he came to Singapore in 2003 to work in the construction industry. 
MOM said that it takes into account various factors to assess an applicant's suitability to work in Singapore and for work passes to be renewed.
"Non-residents do not have an automatic right to work in Singapore.
"The ability of a foreigner to work in Singapore is not an entitlement. Mr Zakir has been permitted to work in Singapore for a long time, though he was a long-time activist. His work pass has since expired," said MOM.
"He cannot prolong his stay when he no longer has a job in Singapore. He has over-stayed his welcome."