Meta layoffs: Singapore employees affected across many departments; spreadsheets circulating to help job hunt
Affected Singapore employees of the Facebook parent, who were among the 11,000 laid off worldwide, took to LinkedIn to announce the news and seek new job opportunities.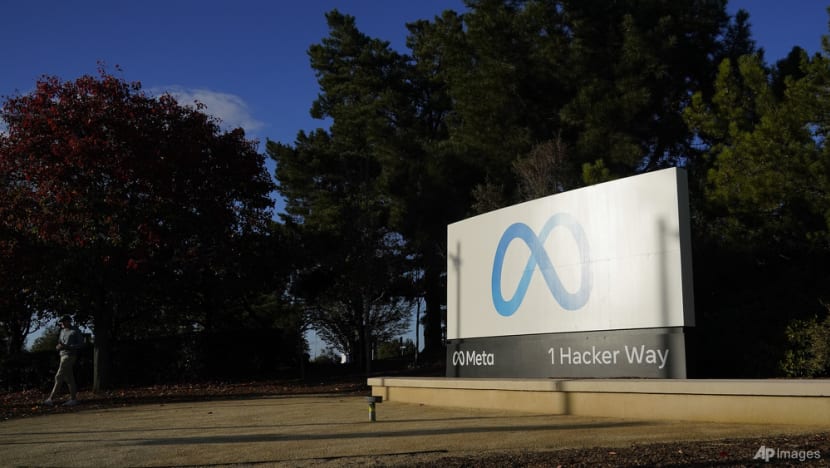 SINGAPORE: Following Meta's announcement that it would lay off 11,000 employees, affected staff in Singapore – in departments ranging from marketing to engineering – took to networking platform LinkedIn to share the news of their retrenchment.
Employees of the Facebook parent were among the latest casualties in large-scale layoffs plaguing the tech industry.
Besides reducing its workforce by about 13 per cent, Meta is also "cutting discretionary spending and extending our hiring freeze through Q1 (of 2023)", said chief executive Mark Zuckerberg in a message to employees on Wednesday (Nov 9). 
The mass layoffs, among the biggest this year and the first in Meta's 18-year history, came after thousands of job cuts at other tech companies including Elon Musk-owned Twitter, Microsoft and Snap. 
According to tracking website layoffs.fyi, the number of tech layoffs in 2022 accounts for more than half of all redundancies since COVID-19.
Many people fear that the tech bubble has burst, said a research specialist in technology, well-being and human behaviour who spoke to CNA on Friday.
"The period of rapid growth in tech seems to have ended, but it remains to be seen how the tech sector adapts through the changing global landscape," said Ms Jean Liu, assistant professor of psychology at Yale-NUS College. 
The tech industry always goes through "periods of major adjustments and corrections", such as the "dotcom bubble" in the mid-1990s to early 2000s, added Dr Natalie Pang, principal investigator at the Centre for Trusted Internet and Community at the National University of Singapore.
Widespread adoption of tech at work and at home drove "significant growth" for the industry during the last two years of the pandemic, but the post-pandemic era has highlighted the need to adjust and correct, she said.
"In the case of the recent layoffs, I would say that tech is in a major period of adjustment – some of them may (have) outgrown their markets while facing more competitors, and at the same time having to find more cost-efficient ways to work as the organisation grows bigger," Dr Pang added. 
"Meta has also invested heavily in the metaverse, and it still remains to be seen whether or not this will take off."
RESOURCES FOR AFFECTED INDIVIDUALS
Asst Prof Liu also shared a few public spreadsheets in a LinkedIn post on Thursday that contained the contact details of people in Singapore who have been affected by tech layoffs in 2022 from Meta to payment processing platform Stripe. 
In the same post, she shared another excel sheet of open roles in tech in the Asia-Pacific region. 
Another excel sheet that has surfaced online since Meta began its layoffs contains the contact details of affected Meta employees around the world looking for new roles. At 6.15pm on Friday, more than 1,300 ex-employees were on the list.
Asst Prof Liu said sharing such resources is her way of standing with the community as a tech researcher.
"We've had the privilege of working with many fine and talented individuals through seminars, roundtables and research projects," she wrote in her post. 
"As a start, there have been several public spreadsheets of individuals looking for jobs (shared for each company). We've now collated them for the Singapore offices, and you'll see a wide range of functional areas: HR, marketing, product, UX/UI, engineering, public policy, etc." 
The roles affected by the layoffs span a wide range, from product to marketing, said Asst Prof Liu. 
"For Meta, they shrunk their recruitment teams because there's a freeze on new hires. But if you look at the layoffs.fyi tracker or our spreadsheet, you'll see that sales and marketing roles are also affected, perhaps reflecting the slowdown as pandemic restrictions ease," she said.
"Product-related roles have also taken a hit as companies try hard to improve their profitability, and across the sectors teams seem to be getting leaner."
SINGAPORE EMPLOYEES WRITE ABOUT LAYOFF
Despite being laid off, many Meta employees in Singapore expressed gratitude for the chance to have worked at the company. 
"Today I was let go by Meta as part of mass layoffs. This is a first in my career and presents a whole new set of emotions to work through," wrote Mr Alex Fenby, head of news partnerships for Southeast Asia. 
Mr Fenby, who was at Meta for four years, said he got to work on "many impactful initiatives" that he hoped "contributed positively to the APAC (and global) news and media ecosystem". Future employers of retrenched Meta employees would be "so, so lucky", he added. 
Another employee, Roy Tan, who was the head of politics and government outreach for APAC, penned a LinkedIn post with three lessons he learnt from Meta over the last six years: Be an ally to your colleagues, listen to one another and show compassion.
Recruiter Jikun Li wrote that he took the time to send his children to school while processing the "devastating" news, but it "still hit hard when reality finally sunk in". 
"I mean it from the heart and say with pride that Meta has the best recruiting team truly dedicated to providing excellent candidate experience, and it's because we have the best sourcers/recruiters in the world. I had benefitted from it as a candidate, and had the privilege to provide it as a recruiter," wrote Mr Li. 
And in Mr Varun Chawla's LinkedIn post, the partner solutions lead for Southeast Asia said his entire team at Meta had been impacted by the layoffs.
In a bid for help from his LinkedIn network, he highlighted his 15 years of experience across digital marketing, enterprise partnerships and business development, and said he would prefer Singapore-based opportunities as he and his family had "relocated here to start a new life". 
When contacted by CNA, Meta declined to comment on the number of affected employees in Singapore or the assistance they would be provided.