RSAF takes part in 17-nation air combat exercise in Australia, gets 'valuable insights' on F-35 fighter jet
Singapore is among a bumper crop of countries taking part in Exercise Pitch Black in Darwin.
SINGAPORE: The Republic of Singapore Air Force (RSAF) is learning more about its upcoming F-35 fighter jets while it participates in a multilateral air combat exercise in Australia.
Singapore is part of a bumper crop of 17 countries - including Australia, the United States, United Kingdom, Germany, France, India and Japan - taking part in Exercise Pitch Black, a biennial event being held in Darwin from Aug 19 to Sep 8.
This year's exercise involves up to 2,500 personnel and 100 aircraft from participating nations "pitting their air combat skills against simulated threats in a challenging and realistic training environment", the Ministry of Defence (MINDEF) said in a media release on Tuesday (Aug 30).
The previous exercise in 2018 had nine nations training across a smaller area, while the 2020 edition was cancelled due to COVID-19.
This year's training area is 240 nautical miles wide and 300 nautical miles long, at least 20 times larger than RSAF's usual training area in the South China Sea. The bigger space allows for more realistic and complex scenarios.
The RSAF has deployed 400 personnel, eight F-15SG and eight more F-16D+ fighter aircraft, one Gulfstream 550 airborne early warning aircraft, as well as one A330 multi-role tanker transport taking part for the first time.
This makes RSAF one of the largest participants in terms of manpower and assets, MINDEF said.
RSAF's exercise director Colonel (COL) Mark Tan, 44, told reporters in a video call from Darwin that the larger number of participants means an increase in aircraft numbers and type, making the exercise more comprehensive and challenging.
"Your ability to integrate and operate becomes a little bit more difficult. So, the considerations and the execution become that much more complex," he said.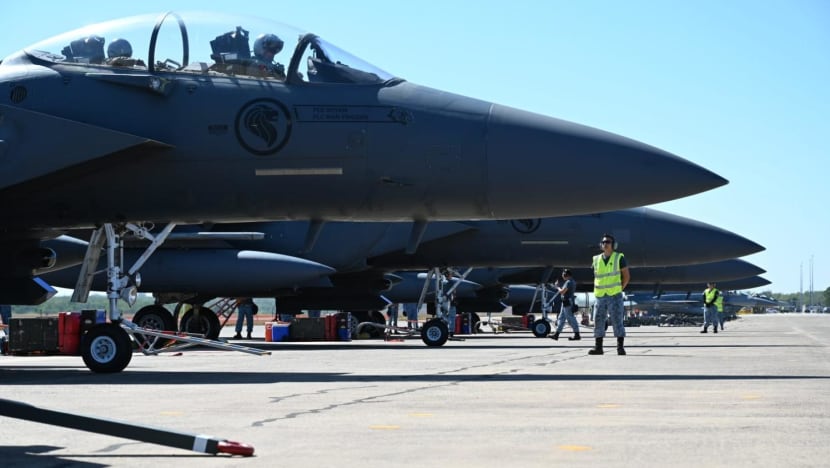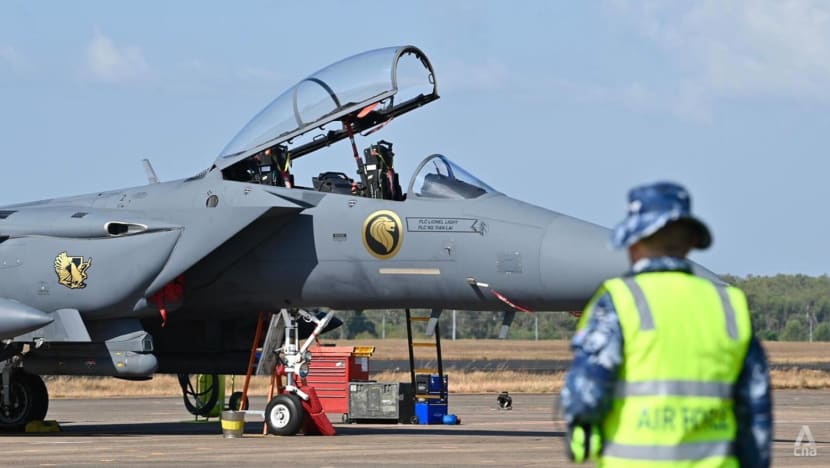 For instance, COL Tan highlighted that the MRTT will be able to do aerial refuelling with fighter jets from other countries.
"That means they are able to develop their ... interoperability a little bit more and their (aerial refuelling) capability as a whole much broader than we would as compared to just being limited to RSAF fighters," he said.
SIZING UP THE F-35
The RSAF has also trained alongside the Royal Australian Air Force (RAAF) and US Marine Corps F-35s at the exercise, which features these fifth-generation fighter jets for the first time.
Singapore has agreed to buy four F-35Bs - the short take-off and vertical landing variant - with the possibility of another eight. Delivery is expected by 2026.
"This has offered us valuable insights into the F-35 Joint Strike Fighters' advanced capabilities and how they can be integrated into the Singapore Armed Forces' warfighting systems to enhance our operational edge," COL Tan said.
Chief of Air Force Major-General Kelvin Khong said in February that the RSAF has been following F-35 developments "closely", amid a string of crashes involving the roughly US$100 million plane.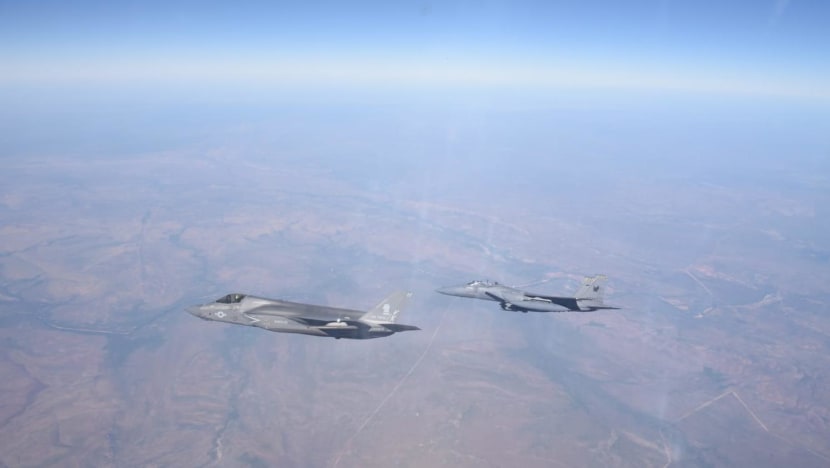 There is a hardly a better opportunity to get closer to the F-35 than to engage it in an aerial mission, and that is what RSAF F-15SG pilot Major (MAJ) Arumugam Sivaraj did at Exercise Pitch Black.
MAJ Sivaraj, 36, had flown his jet as an "enemy" against RAAF F-35s in a "very challenging scenario", and said his opponents handled it "very well".
"Through this we can actually see how capable the F-35s are in their teamwork. The way the aircraft flies, how they target the adversaries and how they work together as a team was quite impressive to see," he said.
COL Tan said the F-35s flew against a dedicated opposing team with up to two times more jets, but were still able to "effectively target and terminate all enemies".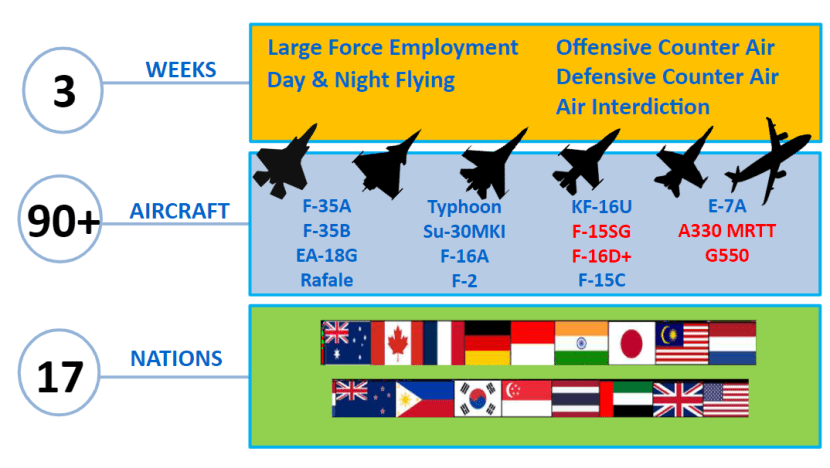 MAJ Sivaraj said he is looking forward to the next stage of the exercise involving more assets participating simultaneously, and seeing how his fourth-generation jet can integrate with the F-35.
"But from how we have seen the F-35s fly, they're really capable aircraft. They bring a significant advantage in the mission and they are a key enabler to some of the missions that we are going to be doing in this exercise," he said.
"It was quite exciting to fly together with them on the same side, and also against them to understand how they're fighting and their capabilities."
The RSAF fighter jets, however, will not be showing off their firepower. COL Tan confirmed that they will not use their weapons - be they live or inert - due to "local constraints".
"When we go overseas, we always drop ordnance - inert, live, general-purpose bombs to laser-guided weapons to precision weapons. So, we try to exercise the full range of weapons we have available to us," he said.
"So while we have put a request to employ weapons in this year's exercise, we are unable to do so."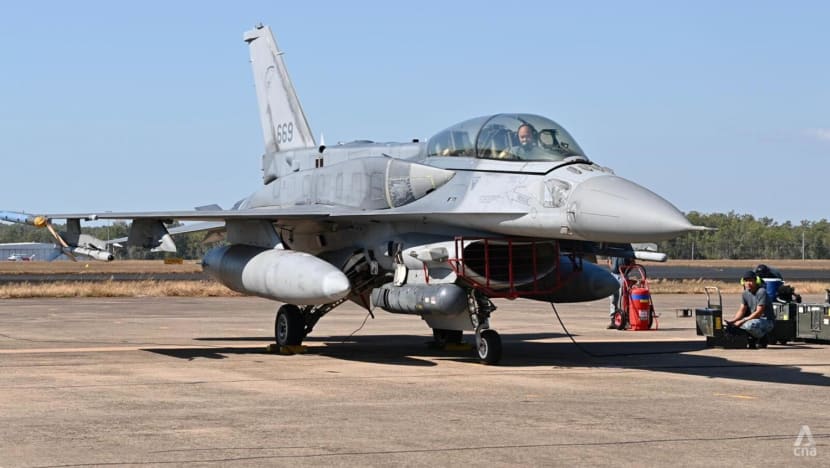 BENCHMARKING THE RSAF
MAJ Sivaraj also acknowledged the challenges that come with such a big multilateral exercise, pointing to issues like language barriers as well as differences in capabilities and tactics.
"Looking at the number of aircraft there are in this exercise is to find a common ground and how to best employ each aircraft to achieve the same objective in every mission," he said.
"As we have flown for this week, I think a lot of the teething issues have been ironed out ... Now we can focus on tactics, force integration, how to work together as a team together with different types of aircraft within different nations in order to achieve mission objectives."
MINDEF said RSAF personnel had the chance to build "strong bonds" as well as share best practices and operational ideas with their foreign counterparts.
When asked how working with the foreign F-35s could help RSAF integrate the jet into its warfighting concepts for future conflicts, COL Tan said it would be too early to say.
"Exercises like this just help us understand these aircraft in a large-force scenario, and that kind of knowledge will help us form and shape some (operational concepts) that we think we can employ subsequently," he said.
"Until we receive the aircraft and really operate it on our own, I think it will be premature right now to say how ... the aircraft will be employed or how it will fit the overall (command) employment of its air combat capabilities."
Ultimately, the exercise will allow the RSAF to test itself against other air forces, said Captain Clarence Ng, an F-16D+ weapon systems officer attending Exercise Pitch Black for the second time.
"It allows us to benchmark ourselves further with more countries around the region, to see where we actually stand in the region and to maintain our operational readiness," the 30-year-old said.
Exercise Pitch Black was established in 1981. The RSAF first took part in the 1990 edition, when it became the first air force in the region to join the United States Air Force and RAAF in the exercise.