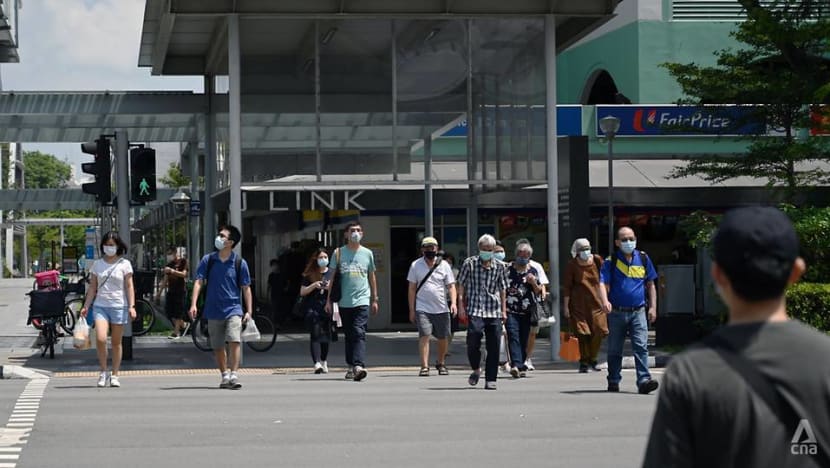 SINGAPORE: Singapore reported 3,003 new COVID-19 cases as of noon on Thursday (Nov 4) and 17 more deaths from complications due to the coronavirus.
The fatalities, aged between 55 and 93, all had various underlying medical conditions. The Ministry of Health (MOH) did not specify what these conditions were.

This brings Singapore's death toll from the coronavirus to 459. 
The number of new cases reported on Thursday is down from the 3,635 infections reported on Wednesday.
The weekly infection growth rate fell further to 0.93 from 0.96 on Wednesday. This refers to the ratio of community cases in the past week over the week before.
Co-chair of the COVID-19 multi-ministry task force Lawrence Wong had indicated that the weekly infection growth rate would be used as a marker for the possible easing of COVID-19 restrictions. 
Of the new cases reported on Thursday, 3,000 infections are locally transmitted, comprising 2,780 in the community and 220 in migrant workers' dormitories. 
The remaining three are imported cases, MOH said in its daily update released to the media at about 11.15pm. 
As of Thursday, Singapore has reported 210,978 COVID-19 cases since the start of the pandemic.
HOSPITALISATIONS
A total of 1,683 cases are currently warded in hospital, with 286 patients requiring oxygen supplementation in general wards.
Another 66 cases are unstable and under close monitoring in the intensive care unit (ICU), while 72 are critically ill and intubated. The current overall ICU utilisation rate is 70.2 per cent.
A total of 5,087 cases were discharged over the past day, of whom 698 are seniors aged above 60.
Of the 93,978 cases over the last 28 days, 98.7 per cent had mild symptoms or were asymptomatic, while 0.7 per cent required oxygen supplementation in the general ward, 0.3 per cent were in the ICU and 0.2 per cent died.
VACCINATIONS
As of Wednesday, 85 per cent of Singapore's population has been fully vaccinated with two doses of a COVID-19 vaccine. Eighty-five per cent received at least one dose and 17 per cent received their booster shots.
ACTIVE CLUSTERS
MOH said it is currently "closely monitoring" 10 active large clusters.
Nine new cases have been added to the cluster at the Institute of Mental Health (IMH), which now has a total of 338 cases. Twenty-one of them are staff members and 317 are patients.
Another seven cases were added to the cluster at Acacia Home, bringing its total to 32 cases, while two more infections were reported at Jamiyah Home for the Aged (Tampines) which now has 50 cases.
Public officers in Singapore who choose to remain unvaccinated against COVID-19, despite being medically eligible, may be placed on unpaid leave as a last resort, said the Public Service Division (PSD). 
This is largely in line with the measures outlined last month by the manpower and health ministries, together with the National Trades Union Congress and the Singapore National Employers Federation.
Responding to queries from CNA, a PSD spokesperson said that from Jan 1, it "will do its best" to allow unvaccinated officers to work from home if the job allows.
These officers may otherwise be redeployed to other work that can be performed from home, if such jobs are available, with remuneration "commensurate with the responsibilities of the alternative jobs", the spokesperson added. 
"If an officer chooses not to be vaccinated even though he is medically eligible for vaccination, and if he cannot be redeployed, we may place the person on no-pay leave as a last resort or allow the contract to lapse with no further renewal."