Extended Saturday operating hours at COVID-19 vaccination centres to remain in place until February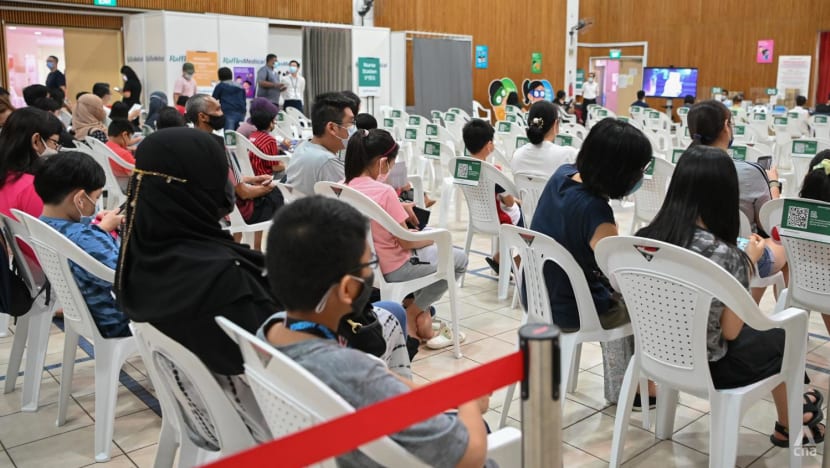 SINGAPORE: The extended operating hours at Joint Testing and Vaccination Centres (JTVCs) and Children's Vaccination Centres (CVCs) on Saturdays will remain in place until the end of February, the Ministry of Health (MOH) said on Thursday (Dec 22).
Last month, operating hours at JTVCs and CVCs on Saturdays were extended to 9am to 7pm from the previous 9am to 1pm.
The later closing times had been scheduled to remain in place until the end of December. However, MOH said it decided to keep these hours in place until the end of February after seeing strong demand for jabs.
"We encourage everyone to take advantage of the extended operating hours at the vaccination sites to receive their vaccinations as soon as they are eligible," said the ministry, adding that those aged 50 and above can walk into a JTVC to receive their vaccinations without appointments.
"They are reminded that the less crowded hours are from Mondays to Thursdays before 6.30pm, and on Saturdays after 2pm."
The ministry advised against walk-ins during peak periods – throughout the day on Fridays and on Saturday mornings.
Those aged between 12 and 49 will be invited via SMS when they become eligible to receive their jabs, and they should use the personalised booking links in the messages to secure their appointments, MOH added.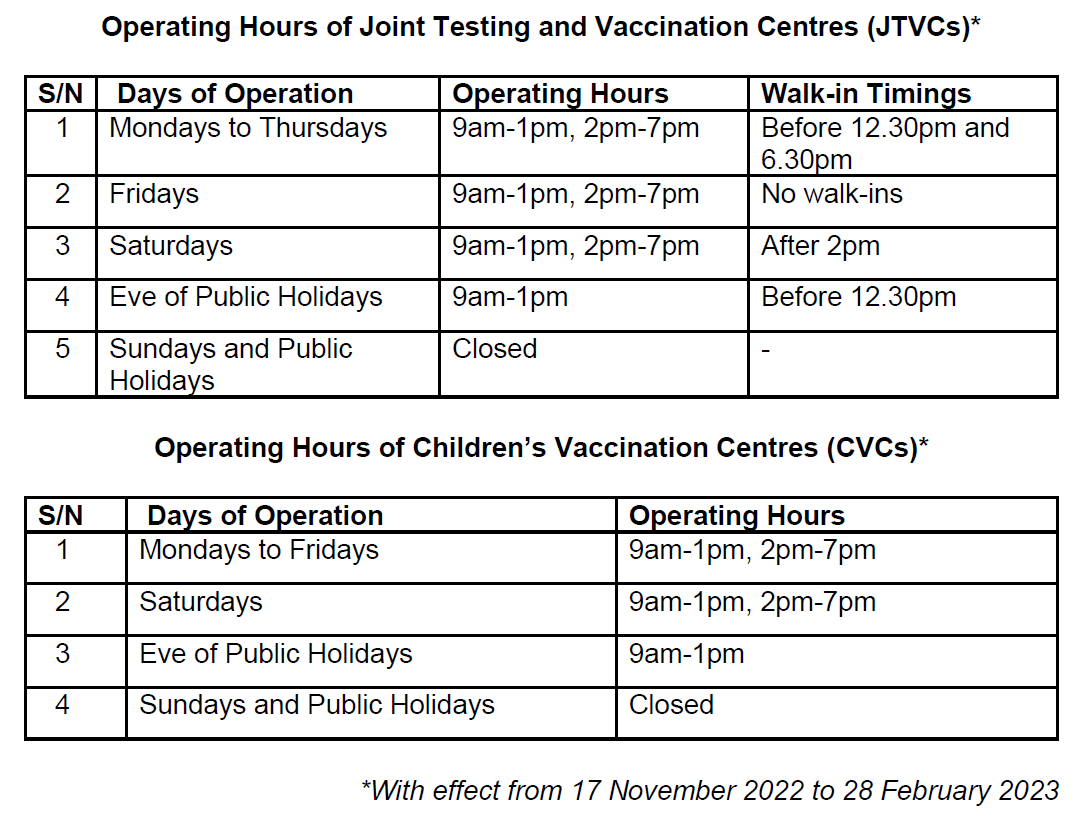 On Thursday, MOH also announced that the Novavax/Nuvaxovid COVID-19 vaccine would no longer be available at polyclinics from Dec 25.
The vaccine is currently available at Jurong Polyclinic and Yishun Polyclinic, in addition to selected Public Health Preparedness Clinics (PHPCs).
After Dec 24, the vaccine will only be available at PHPCs that currently offer it.
"Eligible individuals who wish to receive the vaccine may make an appointment at these participating PHPCs," MOH said.
From Jan 3, Jurong Polyclinic will offer the bivalent Pfizer-BioNTech/Comirnaty vaccine for those aged 12 and older, while Yishun Polyclinic will offer the Moderna/Spikevax vaccine for children between six months and four years of age.
Vaccination locations offering the Novavax/Nuvaxovid COVID-19 vaccine from Dec 25, 2022
Advantage Medical Clinic (Geylang East)
Belief Family Clinic
EJ Family Clinic
Everwell Clinic & Surgery
Island Family Clinic (Sengkang)
Loh & Loh Clinic & Surgery
My Family Clinic (Segar)
My Family Clinic (Toa Payoh Central)
Norwood Medical Clinic
OneCare Clinic Clementi
Physicians Practice Family Medical Center
Plushealth Medical Clinic & Surgery
ProHealth Medical Group @ Punggol North Shore
Prohealth Medical Group @ Punggol Spectra
Pulse Clinic
Q & M Medical Clinic (Buangkok MRT)
Sims Drive Medical Clinic
Suncare Medical Clinic (Sengkang West)
The iClinic